'The Mindy Project' at PaleyFest: Chris Messina Impressions and More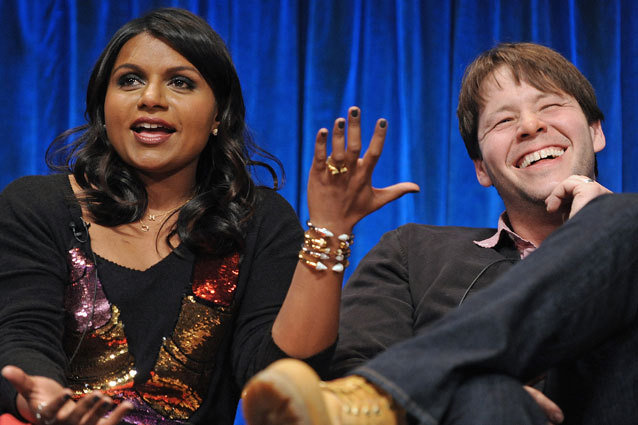 The Mindy Project cast ostensibly gathered onstage for a PaleyFest panel at the Saban Theater in Beverly Hills on Friday night to talk about the first season of their delightful Fox comedy. But in addition to talk of casting, writing, and running the show, a good chunk of time was simply dedicated to making fun of Chris Messina, complimenting Chris Messina, hitting on Chris Messina and impersonating Chris Messina. In short, it was hilarious.
Messina was a man of few words, mostly ceding stage time to his chattier castmates (so they could tell stories about him and perfect their New York-y impressions of him). Since that doesn't really translate to print, you can take our word that everyone on the cast has a Messina impression — all with varying degrees of accuracy.
Aside from poking fun at arguably the most lovable cast member, Mindy Kaling, Ike Barinholtz, Ed Weeks and the rest of the main cast did manage to share some juicy tidbits of information. Here's what else we learned from the panel:
On leaving The Office:
It was "so hard" to exit the show Kaling had worked hard on, but her own show was too good an opportunity to pass up, Kaling says. But leaving such a tight-knit group of people has its perks: "I knew all of them so well, which is why they come on the show," she says. Expect to see more Dunder Mifflin-ites pop up throughout the show's run, along with the ones we've seen already. B.J. Novak will be back for at least one more episode in Season 1, Kaling confirmed.
On the magic of Mark Duplass:
Duplass will be back for at least two more episodes. In addition to the next new episode (which was screened before the panel), Duplass just shot an episode in which he gets intimate with Messina. It's an indie-movie-lover's dream: Messina in a Speedo and Duplass in a singlet wrestling on the beach together. "They're submitting it to Sundance," Barinholtz joked. Speaking of Mindy's exes, Tommy Dewey will return for more episodes too.
On Weeks' British charm:
The role of Jeremy Reed was originally envisioned as a "Bradley Cooper type," Weeks says. But after practicing the audition pages in his American accent, his roommate encouraged him to go with his native accent instead. Clearly it worked out, though Kaling jokes she was so mesmerized by Weeks' looks that she invited him to her house for a late night casting couch session and that's how he got the role.
On Nurse Beverly:
Now that Beth Grant has re-joined the cast full time, we'll learn more about the curmudgeonly character. She's had many different boyfriends of varying ethnic backgrounds, Grant says. At one point, she was engaged to the recently convicted Drew Peterson, Kaling and Barinholtz joke.
On Danny and Mindy's chemistry:
The writers' room is very divided between wanting Mindy and Danny to get together and wanting to watch their friendship blossom some more, Barinholtz says. Obviously no one would hint at which way it goes, but they did note that the Season 2 pickup didn't change how they're writing the rest of the season.
As for her non-Mindy-related projects, Kaling confirmed that she'd just read the script for the finale of The Office, which she's shooting in a few days, and that she plans to spend her summer hiatus writing another book.
Follow Jean on Twitter @hijean
[PHOTO CREDIT: Kevin Parry/AP Photo]
---
From Our Partners:


Kim Kardashian's Maternity Style: So Wrong? (Vh1)


60 Celebrity Bikini Bodies: Guess Who! (Celebuzz)