The Dos and Don'ts of Dating from 'The Mindy Project': When Chloë Sevigny is Your Ex-Wife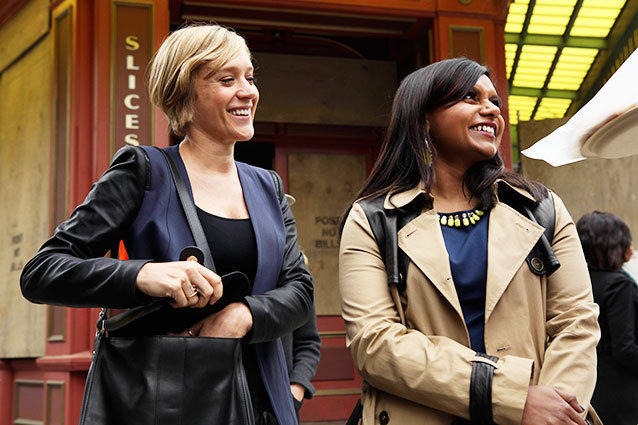 Remember earlier in the season when Morgan had the brilliant idea of mailing a years-old letter written by Danny to his ex-wife Christina? Well that decision came back to haunt Morgan and Danny on Tuesday night's episode of The Mindy Project. Turns out, Christina (played by the most manic of manic pixie dream girls, Big Love star Chloë Sevigny) may have still had a fleeting feeling or two — and that's putting it lightly — for our dear Dr. Castellano. 
In the episode, titled "Triathlon," Danny's emotional pain put him on the warpath: on and off the course. First, he fired Morgan, then he spent the rest of the episode either stewing in his own anger and mixed emotions, or ignoring them through exercise. It all came to a head on the trick though, with an emotionally-fueled Charlie Horse forcing Danny to fall into the warm and gentle arms of Morgan (now an employee of the DesLauriers) in order to cross the finish line. All while he's rockin' a seriously tiny Speedo. America, if you missed Tuesday night's episode of Mindy, then you missed Chris Messina in a Speedo. And trust, everybody knows that a tiny Speedo is both hilarious and curiously alluring (but that's only when it involves Messina).
So what sort of dating tips can you glean from such a calamity? Plenty! So read on, my friends, and learn all you need to know about love thanks to Mindy Kaling and The Mindy Project. It's good for your health.
1.) Do Not Defend Nazis On Your Dates: Or anytime, really, for that matter.
2.) Do Be Honest About How You Feel: Honesty is always, always, always the best policy.
3.) Do Not Surpress Your Emotional Pain: They're called feelings for a reason. You need to feel them, even when they hurt. It sucks, I know.
4.) Do Not Mail Stuff That Isn't Yours: Especially if it contains the deeply emotional and personal feelings of a coworker. And definitely don't be surprised when it comes back to bite you in the butt. 
5.) Do Respect Your Body: It's the only one you get so be nice to it.
6.) Do Remember: Sometimes Bribery is OK: Hey, if pancake batter works for you, it works for us.
7.) Do Not Casually Jump into a Triathlon Competition: They're really hard, you guys. Like, trying to finish Ulysses in one night because you have to write a paper about it tomorrow, hard.
8.) Do Wear Padded Bras: You never know when someone might try to hurt your boob by throwing a water bottle at it.
9.) Do Not Rip Up Personal Letters: there might be birthday money in there!
10.) Do Not Convert Religions For a Dude: I mean seriously, you guys. Stop changing who you are and what you believe for some sweet, sweet pastoral lovemaking.
11.) Do put Chris Messina in a Speedo: This is more of a life rule. Also because I'm confused whether I should be laughing or finding it oddly sensual.
What did you think of this week's episode of The Mindy Project? Sound off in the comments!
Follow @AliciaLutes on Twitter
More:
'The Mindy Project' Recap: Santa Fe
'The Mindy Project' Recap: Pretty Man
'The Mindy Project' Recap: My Cool Christian Boyfriend 
---
From Our Partners:


Miley Goes Braless for Magazine Cover (Celebuzz)


33 Child Stars: Where Are They Now? (Celebuzz)