'The Mindy Project' vs. 'New Girl'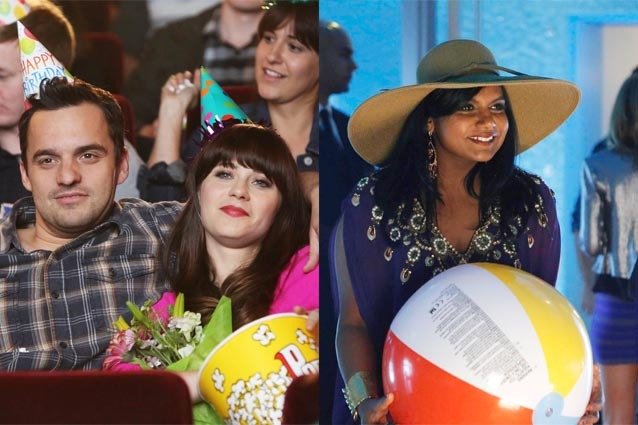 Fox Broadcasting/Fox Broadcasting
It's fair to compare The Mindy Project with New Girl. After all, both are relatively new female-helmed Fox sitcoms with an acerbic wit. But which one walks out of the ring as champion? Let's take a look.
The Protagonist
Maybe it's because I recently read Mindy Kaling's memoir Is Everyone Hanging Out Without Me? and developed a deep and unabiding appreciation for her sense of humor, but I would go out on a limb and say that Kaling has better comic chops than Zooey Deschanel does.
There's also something worth noting about the construction of the two characters: Mindy is self-centered, vain, and at times superficial, while Jess is nurturing, artistic, and quirky – in other words, Mindy's characterization teeters on the edge of unlikable, while Jess seems perfectly engineered to pull on our hipster heartstrings. But in the end, who's the more relatable character? Who do we root for more? And most importantly, who's funnier? Mindy, Mindy, and Mindy.
New Girl: 0, The Mindy Project: 1
The Romance

There's a bit of an uneven playing field here. Mindy and Jess are in different points in their love story timelines, after all (Mindy and Danny just kissed for the first time, while Nick and Jess have been dating for months). Now that the New Girl pair has gotten together, it seems that the Moonlighting curse has gotten to them. Their couple storylines are for the most part unsatisfying and, well … bad (running away to Mexico? Really?). Time will tell if The Mindy Project handles Mindy and Danny better – we hope and pray and cross our fingers that they'll be able to maintain their sizzle at least a little longer.
And when it comes to Danny vs. Nick? Danny all the way – his "Try Again" Christmas dance alone is enough to secure him the prize.
New Girl: 0, The Mindy Project: 2
The Main Players
Both have had their fair share of flailing: New Girl has notoriously struggled with the characterization of Winston, and The Mindy Project's regular cast seems to have some sort of revolving door policy, with quite a few characters inexplicably disappearing, never to be seen again. That said, with the core casts they have now, I think New Girl has Mindy beat. Dr. Jeremy Reed, Dr. Peter Prentice, and Morgan Tookers (funny as they are) can't quite edge out Schmidt, Coach, and Winston – even though they do fit the same basic archetypes (womanizer, masculine bro, and just plain weird).
New Girl: 1, The Mindy Project: 2
The Story
New Girl started strong with a critically well-received freshman season, and continued to crank out good storylines throughout the second season. Their third season is another story – it's experienced a pretty steep decline, with only a few episodes ("Birthday" is one example) hitting the caliber of earlier seasons. The Mindy Project, on the other hand? Still on the rise, with consistently good writing (so please don't cancel it).
New Girl: 1, The Mindy Project: 3
I've shown my true colors as a staunch Mindy Project champion with growing anti-New Girl leanings. Now, what about you?