The MLB Network: A Lifeline For Baseball Addicts In The Cold of Winter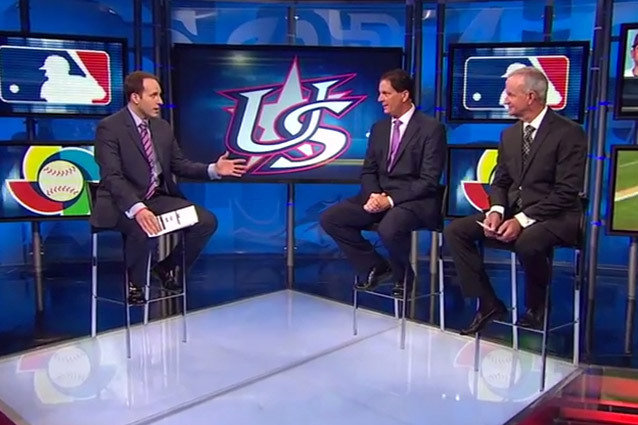 MLBNetworkClips/YouTube
It's the baseball offseason and I'm handling it just about as well as someone with a very strong addiction can. Not well, that is. I miss the fact that there's usually a game on sometime, somewhere, even if its not my beloved Mets. (Some may say that my rooting for a team who hasn't won a World Series in nearly 30 years presents a possible flaw in my personality.) Football offers some comfort, but the time between games is too long for me. Hockey and basketball can't gain my interest until at least June, during the playoffs and Finals. I'm a baseball addict and having to face months at a time without new games to watch is a very, very daunting task. That is, until I got the MLB Network. It'll keep me going until Spring Training starts anew.
What sets the MLB Network apart from, say, ESPN's Baseball Tonight is that it is a 24/7 station devoted to baseball and nothing but baseball. From the time that people rise in the morning to when they go to sleep, the topic is baseball:  Trade talks, free-agent signings and even things like Arizona Fall League. They'll show baseball movies. I feel like Barney Gumble did in that episode of The Simpsons when he saw the tanker truck full of Duff Beer: "Just put it in my veins!"
It doesn't get boring either, because the network has enough of a rotation of former players and front office people who are articulate and knowledgeable enough to be able to share space with other on-air talent who have never played an inning of professional baseball at any level. The recognizable names, among others, are Dan Pleasac and Harold Reynolds. Red Sox fans must love seeing Kevin Millar on Intentional Talk; he was an integral cog in their winning the 2004 World Series, the first for Boston since 1918.
Even the sets are able to evoke baseball memories: they look like baseball diamonds in some parts of the studios. If I were to visit, I'd be tempted to try to run around some bases. It's the perfect combination of a news studio and a stadium. I wouldn't bat an eye if a popcorn vendor suddenly walked behind one of the anchors, though the programming brass might frown at a beer vendor.
There are plenty of sports channels out there vying for eyeballs, but as the days grow shorter, I'll be watching the MLB Network and thinking of warmer days to come.