'The Mob Doctor': What You Need to Know Before Watching Jordana Spiro's New Series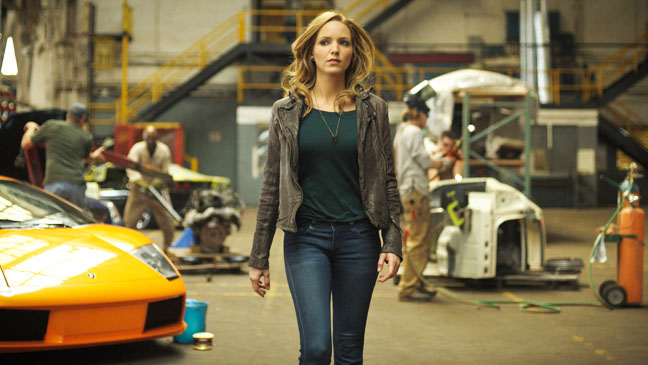 Over the next few months, we'll see new series soar, old series sour, and so much Jersey Shore madness, we'll want to shower. Let's face it: The Fall TV season is intimidating. With dozens of new and returning shows hitting our small screens, we know we have some big choices to make. So, to help you determine what to watch, we're digging deep into the most notable series premiering this season. Where did each show leave off? Where is it headed? And who should you watch it with? Today, we're checking out new series The Mob Doctor, starring My Boys charmer Jordana Spiro. So leave the gun… and take on this deep dive of the new FOX series.
Series: The Mob Doctor
Premiere Date: Monday, Sept. 17, 9 pm ET
Synopsis: A gifted doctor is forced to pay off his brother's debt to local Chicago mafia by healing its gangsters… and possibly killing off its enemies.
Cast: My Boys tomboy Jordana Spiro as Dr. Grace Devlin, the big-hearted — but big-time conflicted — title character; William Forsythe as mob boss Constantine Alexander who's too old for this s**t; Zach Gilford as Grace's impossibly perfect boyfriend and co-worker, Dr. Brett Robinson; and Michael Rapaport as a hot-headed gangster.
You'll Like It If…: You need your doctor soaps to come with an extra dose of danger. Also, you still have episodes of My Boys saved on your DVR for nostalgia's sake.
You'll Hate It If: TV's sheer volume of medical dramas gives you an anxiety attack. Also, what's My Boys?
Mob Doctor's Formula: (House – antihero) + (Grey's Anatomy – indie pop – whine/wine) + (The Sopranos – HBO) Oh, the Places You'll Go: The Mob Doctor travels to a Bridgeport, a neighborhood on the South Side of Chicago known for its diversity and pizza. There has been little of both seen in the pilot.
Most Cringe-worthy Moment: Grace helps a mob associate by extracting a screwdriver from his skull. Too bad — if she let his condition continue, he'd have his own TLC show by now.
Most Shocking Moment: The Mob Doctor does what shows like Lost wouldn't: The series kills off a main character in its first episode.
PSA Moment: In the pilot, Grace treats a teenage virgin who gets pregnant following a too-close encounter with her boyfriend. Think you're staying safe? Stay safer and invest in one of these.
Will There Be Blood?: Based on the series' pilot, which came complete with a high-stakes surgery and the aforementioned screwdriver scene, yes, there will be enough blood to satisfy the most insatiable Daniel Plainviews out there. Just look at Mob Doctor's one-sheet.
More Improbable Than Its Premise?: Grace's impeccably styled hair.
Soundbite Most Likely to Become Series' Tagline: Brett, fighting Grace's desire to perform an abortion without consent: "This is not legal!" Grace: "Then it's a good thing we're not lawyers."
How Dr. Grace's Hospital Is Different from Seattle Grace: Both run rocky operations — but Grace's professional in-fighting is career-focused, not carnal. And, so far, no ghost sex.
How Dr. Grace's Hospital Is Different from Princeton Plainsboro: No Lupus.
Sure-to-Be Fan Favorite: Impossibly perfect Brett is mostly impossibly perfect because he starred in Friday Night Lights. But he's also The Mob Doctor's only shot of eye candy.
Who To Watch It With: Your young, hip mother who needs something to tide her over until Grey's premieres Sept. 27.
Who Not to Watch It With: Mike Callahan.
Necessary Wine and Cheese Pairing: A nice bland Merlot with mozzarella (that sits atop a deep dish pizza).
Biggest Mafia Cliché?: Surprisingly, clichés were an offering The Mob Doctor could refuse. Props to the show for featuring nary a "fuggetaboutit" in sight.
What You're Most Likely to Yell at the Screen: "Who's your stylist?"