The New 'Beavis and Butt-head': The Same As It Ever Was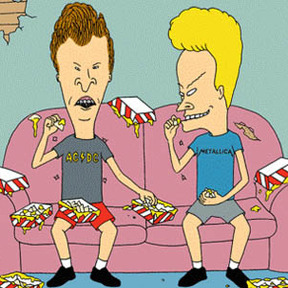 As the saying goes, if it ain't broke don't fix it. And Beavis and Butt-Head ain't broke. The cult cartoon series returns Thursday, Oct. 27 at 10 p.m. on MTV and it picks up right where it left off: with grunting jokes about butts and boobs. And that's just the way we like it.
Nearly 15 years after its debut on MTV, the series' first new episode and the duo's trimphant return takes on a few things outside of their sweet spot — music videos — but it's nothing the lewd pair can't handle. Besides, in a day and age when MTV airs more reality shows than music videos, it only makes sense. And what makes for better low-brow fodder than series like 16 and Pregnant and Jersey Shore? Not many things, that's for sure. It creates a bit of a different dynamic for the cartoon buddies to have their base commentary laid against base programming instead of against actual music and music videos (though they do manage to find one to drool over). The result is that the idiots who are too stupid to tell the difference between a werewolf and a homeless man (just wait) end up looking smarter than the cretins on Jersey Shore, which is pretty pitch perfect criticism. Imagine that.
Other than that slight change, the artist formerly known as Cornholio and his cohort are back to their old tricks, this time with a girl-nabbing scheme inspired by Twilight. Right. We'll see how well that goes.
If you're easily offended, you probably won't want to tune in and if you weren't a fan in the 90s, you won't be a fan now. Beavis and Butt-Head is not for the faint of heart, but the only problem is that with a whole slate of programming in that vein over on Cartoon Network's Adult Swim, MTV had better hope the nostalgia holds out or our couch-critic friends could find themselves swallowed up by the sea of innovative and ridiculous late night programming on other cable networks. Heh, heh. I said "swallowed." Heh, heh.