The New 'Downton Abbey' Trailer Introduces New Characters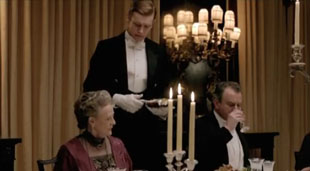 Between the upstairs and the downstairs, the masters and the servants, there are more characters on Downton Abbey than there are free tote bags at your local PBS station's pledge drive. And now there are going to be even more. The newest trailer for Season 3 of the hit drama gives us a preview of some of the new faces.
Thanks to the contraband trailers that already came out, we've seen Shirley MacLaine work her bitchy wonder already. We also met the accountant who tells us that the Crawleys are now without any money. But there is still another newbie to keep track of: Alfred, a very very tall footman. He seems to be the dastardly O'Brien's new ally (maybe a family member?) after she had some sort of falling out with the equally dastardly but twice as gay Thomas. Not sure who he is or what he's going to be doing, but Lady Edith seems to find him a little bit amusing.
All of these little details keep rolling out and we're still so excited for the season to start. Too bad we have to wait until January for it to start airing Stateside. It begins soon across the pond though. Any British friends want to send us over a synopsis? Thanks!Follow Brian Moylan on Twitter @BrianJMoylan
More:
TV Network Swap: What if 'Downton Abbey' Were on CBS?
'Downton Abbey' Dish: Season Three is Shirley vs. Maggie