'The New Normal' Creator Dishes on Tonight's Episode; What's In Store for Later This Season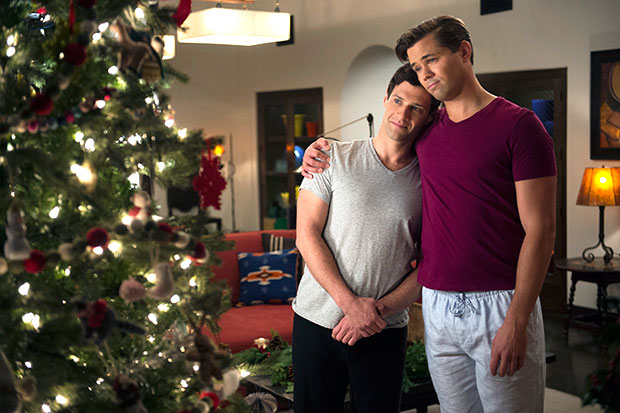 Considering The New Normal is about a gay guy named Bryan who runs a show called Sing, Glee creator Ryan Murphy gets most of the credit for putting stories from his real life on the NBC comedy. But don't forget about co-creator Ali Adler (formerly of Glee and Chuck) who does just as much of the heavily lifting, especially considering Murphy is spread as thin as Jennifer Hudson in her Weight Watchers commercial. "It's a true partnership," Adler says, adding that the show may seem to be crafted from Murphy's home life, but she is a mother raising children with another mother, so her normal is pretty new to most people too. "I think less than same gender parents, [the show is] about all parents. Every story is about everyone's story and the struggle to have a family."
So far the struggle to find a family — at least for Bryan (Andrew Rannells) and David (Justin Bartha), their surrogate Goldie (Georgia King), her daughter Shania (Bebe Wood), her grandmother June (Ellen Barkin), and Bryan's assistant Rocky (NeNe Leakes) — has been a hit with viewers, and after tonight's "mid-season finale" (God, I hate that term) the show has been picked up for a full first season for NBC. So, what can we expect from tonight, the show's first Christmas — I'm sorry — holiday episode?
"When you start having children, all the traditions you've come to expect shift a little bit," Adler says. "So it's about when you bring a baby into a home while preparing for the holidays, and dealing with the loss of the things in the past you might not get to do in the future. But then there are all the wonderful things that come along with having a child."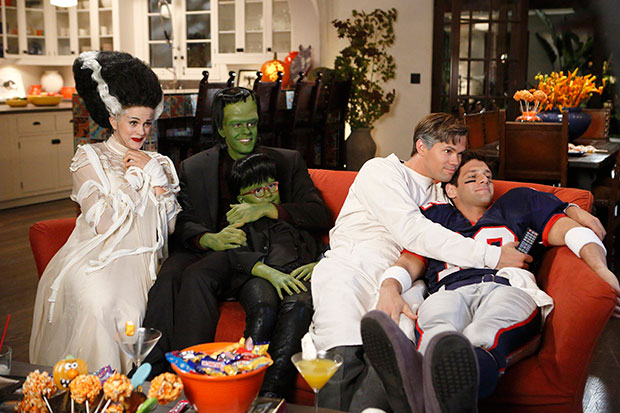 But speaking of holiday episodes, because of Hurricane Sandy, NBC preempted The New Normal, and we never got to see the show's Halloween episode and all of the elaborate costumes that went along with it. "That was so sad for our crew and our makeup team," Adler says. "The actors were in the chairs for hours getting all these prosthetics done. We'll figure out a way to bring it to people in the future. Shania was Honey Boo Boo." (Between Honey Boo Boo, Little Edie Beale, and Cher, is there a gay icon that Shania hasn't dressed as?) "It's such a special episode. What the audience missed is the resolution about the custody of Shania. Her father came down from Ohio and saw what an amazing mom Goldie is, and what an amazing family they are building in LA, and decided to stay and in his own way become another parent. Instead of pulling the family apart he became a part of this new family."
But we don't really want to hear about the episodes we missed — we want to hear about what to expect in the future. "We're going to get a visit from Matt Bomer, who is an amazing actor and hilarious. He plays Bryan's ex-boyfriend," Adler says about the openly gay Magic Mike actor's first openly gay role. "We're talking about all the stages of being pregnant and baby showers and a wedding for these guys. There should be some big surprises in there." But what about the biggest surprise of them all: the baby? Adler is coy about whether or not Bryan and David's son will be born by the season finale in May.
Adler says there won't be any more Real Housewives joining Miss Leakes on the show, but we'll see more of Sing, and Bryan and Rocky's work life. Adler hopes that they'll get to show off their cast for years. "I hope even more people start to watch the show," she says. "We're excited to bring fresh characters and a new perspective to the comedy genre. We have so many stories to tell, and it's hard because we have this limited number of episodes. Hopefully we'll have a lot of episodes in the future to tell all these stories. We're so excited to figure out ways to showcase our talent." And that talent is much more than just Mr. Ryan Murphy.
Follow Brian Moylan on Twitter @BrianJMoylan
[Photo Credit: Neil Jacobs/NBC; Trae Patton/NBC]
More:
Matt Bomer is 'The New Normal'The Least Normal Things About 'The New Normal': We're Having a Boy Edition
The Least Normal Things About 'The New Normal': Christ on a Cross Edition

Kate Middleton Pregnant: Could Her Royal Baby Be Crowned Queen Diana? (EXCLUSIVE GUEST BLOG)

Taylor Swift, Harry Styles Sing Karaoke, Hold Hands in New York City (PHOTOS)