'The Newsroom' Preview: Where the Show Left Off and What to Expect in Season 2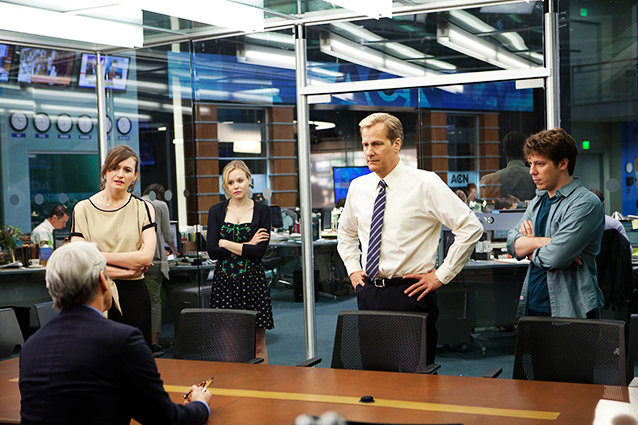 Season 2 of The Newsroom premieres on Sunday, and whether you love it or love to hate-watch it, I think we can all agree that it's been too long since last year's finale. If you don't remember where Season 1 left off, here's a quick refresher.
When we last saw the News Night gang, Will (Jeff Daniels) had narrowly avoided being fired for being high on-air when it was revealed that the president of the network only knew about the incident by hacking Mackenzie's (Emily Mortimer) phone. After a scorching magazine profile is published about him, Will comes back to the anchor chair with a vengeance, calling out the Tea Party by naming them the "American Taliban." Uh, Will, there might be some blowback from that.
And oh yes, we can't forget about the romantic entanglements. The sexual tension between Maggie (Alison Pill) and Jim (John Gallagher Jr.) came to a head after Maggie confessed her feelings for Jim in front of a Sex and the City tour bus…that Jim just happened to be on. Even though they kissed, Maggie decided to stay with Don (Thomas Sadoski) after he promised to commit to her. Meanwhile, Sloan (Olivia Munn) admitted that she liked Don on what she thought was her last day of work (it wasn't), and the finale also hinted that Will might not be entirely over Mac.
So where will The Newsroom go from here? In the show's timeline, Season 1 ended in the recent past of August 2011. This was a simpler time, before the 2012 election, the Aurora and Sandy Hook shootings, Hurricane Sandy, the Benghazi attack, Kimye. What major news stories will the show choose to cover? The trailer hints that Occupy Wall Street will play a role, and creator Aaron Sorkin stated earlier this year that the Trayvon Martin case will be covered.
But perhaps the biggest headline will involve the news team itself, as they get caught in a scandal when they report a huge story that ends up being false, known as Operation Genoa. Sorkin told The Hollywood Reporter that he based the Genoa story off of CNN's 1998 coverage of Operation Tailwind, which accused the US of using nerve gas during the Vietnam War. The story was later retracted, and Sorkin consulted former CNN employees about the controversy.
But Season 1 of The Newsroom caused quite a bit of controversy on its own, so it will be interesting to see if anything changes in Season 2. Will the obvious liberal bias be toned down? Will the female characters have more agency? Will there be any more dramatic scenes set to Coldplay? We'll have to wait and see. 
The Newsroom Season 2 premieres on July 14 at 10 PM ET/PT on HBO. 
Follow Mary Oates on Twitter @mary_oates | Follow Hollywood.com on Twitter @hollywood_com
More:
'The Newsroom' Season 2 Trailer Deals Some Serious Drama
First Promo for 'The Newsroom' Season 2 Delivers the Dramatics
Is This a Teaser for 'The Newsroom' or for Mission Control?
---
From Our Partners:


What Happened to 33 Child Stars (Celebuzz)


40 Most Revealing See-Through Red Carpet Looks (Vh1)