The Next 'Bachelor': Who Will It Be?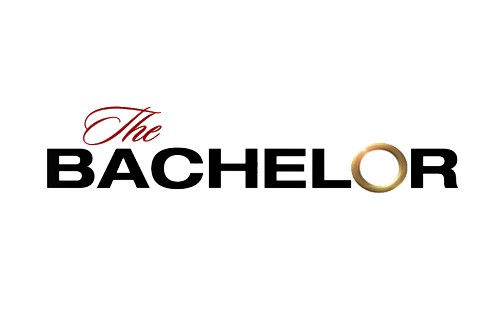 Ooh SNAP, America! Life and Style is reporting that beloved winner (and now, subsequently, loser) aka ex-fiancé of Ali Fedotowsky of The Bachelorette, Roberto Martinez may just be the next man to look for love on ABC's rosy reality dating show. Now, ABC has told Hollywood.com they cannot and will not confirm rumors or speculation, so there is nothing official about any of the talk–though we have to admit it would be fabulous to see the very handsome fellow looking for love on another season of his very own, even though we were totally on Team Ali & Roberto and hoped those two crazy kids would actually make it work. Alas, that was not in the cards. So, this is definitely the next best thing.
We know that finding love again is hard, and harder still when you've done it before on national television. But young men of The Bachelorette shouldn't be afraid to open up their hearts again. With that in mind–and a lack of fear when it comes to being servicey–we've gone ahead and created some handy online dating profiles for Roberto and two other men we would love (and hate, or love to hate/hate to love) to see on next season of The Bachelor. Let's begin, shall we?
Username:
RobertoM773 (aka Roberto Martinez)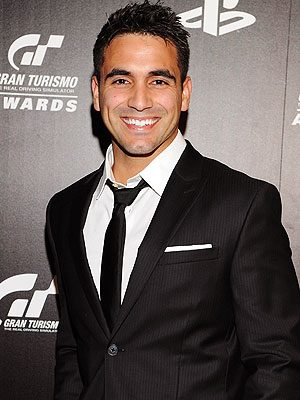 What qualities are important to you in a future match?:
Loyalty, honesty, respect! Someone who can make me laugh and laughs themselves. Someone who doesn't take life too seriously, and someone who isn't shy! Also, if you're not skittish around paparazzi, that would also be great!
Describe your perfect first date:
A stroll on the beach followed by a moonlit, candlelight dinner for two.
What are you most passionate about?:
Finding love, my family, staying fit! Also insurance.
What is your five year plan?:
Open up my own insurance agency, settle down and have a family!
Boxers or briefs?:
Boxerbriefs.
[Image via Startraks]
Next: Behind this door…Bachelor No. 2Username:
OnTheProwl69 (aka Bentley Williams)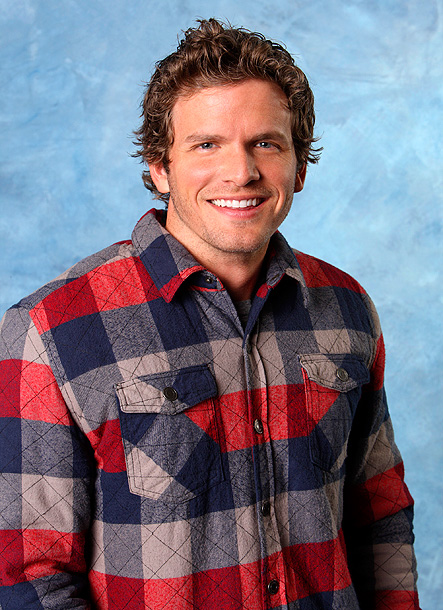 What qualities are important to you in a future match?:
Blonde, nice body. If you look like Emily Maynard, that'd be dope. Actually, if you are Emily, just give me a call right now: 555-123-4567 (and stop reading this because this profile won't show you who I really am). If you're not, um, I guess…someone who listens to what they believe in–who isn't easily influenced by the words of others.
Describe your perfect first date:
Something outdoorsy so I can wear my flannel shirt. Even if I'm not overly attracted to you, I'm very competitive, so I feel like I'll do whatever it takes to impress you. To win. So let's just have some fun and go back to your place and hook up now and then. Just don't cry, it's really unattractive when people cry. I hate tears. And emotions.
What are you most passionate about?:
Girls on trampolines. (I own a trampoline/indoor sports center.) I like playing games. All kinds of games. What do you like to do? I'm also passionate about my hair. …Oh yeah, I guess my daughter, too. Yeah.
What is your five year plan?:
Make a lot of money, do my thang, man. I like doing what I like to do. Some people call that manipulative, I call it honest. Does my hair look OK?
Boxers or briefs?:
Underwear? Who needs it!
[Image via ABC]
Next: And behind THIS door…Bachelor No. 3!Username:
IH8V78 (aka Jake Pavelka)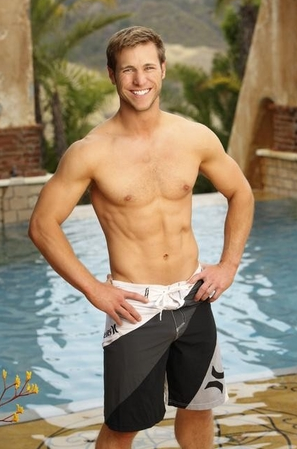 What qualities are important to you in a future match?:
I'm not looking for the most beautiful girl. I'm looking for the most beautiful heart! A beautiful soul. I'm easy that way. Just be yourself! Also someone who isn't totally crazy like my last girlfriend. She was totally a b**h, so don't be like her! You've probably heard of her, her name was Vienna. Boy, was that a very public mistake! LOL!!
Describe your perfect first date:
Somewhere nice and quiet where we can sit and talk for hours and get to know each other. Italian maybe?
What are you most passionate about?:
Living my life, fulfilling my dreams! Hopefully becoming really famous one day. Avoiding Vienna like the plague.
What is your five year plan?:
I'm the classic all-American guy! I want what every regular Joe wants. I respect women and I'm always looking for love, just usually in the wrong places! LOL 🙂 Second time's the charm, right? LOL. I'm an airline pilot, but I recently danced with the Chippendales guys, and that was totally wild. I would do it again! 🙂
Boxers or briefs?:
I've got a g-string on when I'm workin' the stage! LOL
[Image via In Touch]
So who do you want to see as the next Bachelor? Would you date any of these guys (judging from their brand new dating profiles or otherwise)? Leave your thoughts and predictions below in the comments!
Follow Alicia on Twitter @alicialutes
More:
'The Bachelorette"s Ali Fedotowsky and Roberto Martinez Split
Chris Harrison: 10 Reasons He Should Be The Next 'Bachelor'