'The Office' and 'Extras' Co-Creator Gets HBO Series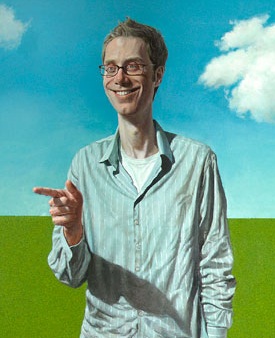 Behind every great man, there is another, much taller, significantly thinner, admittedly less recognizable but without question no less great, man. Stephen Merchant is this man. Merchant has played equal partner with Ricky Gervais in the creating and writing of programs like the original incarnation of The Office, and Extras,  and although the name and face most associated with these and other projects are Gervais', they couldn't possibly exist up to their standing exemplary caliber without Merchant. Deadline reports that the esteemed multi-hyphenate is now branching out to develop his own series for HBO: Hello Ladies, a comedy that Merchant will write, direct, and star in.
The program will feature Merchant in true The Office/Extras/Life's Too Short form: as a big-dreaming man with little to no self-awareness. The lanky Englishman will take to Los Angeles to find the woman of his dreams, more confident than capable. If there is any doubt on whether or not Merchant can handle a series on his own, you should think back to the Extras scenes featuring incompetent talent agent Darren: a character played by Merchant. His material and delivery made for some of the most hilarious content throughout the series' run; it's about time the man got a headlining role.
Hello Ladies is co-written and co-produced by Lee Eisenberg and Gene Stupnitsky (writer/producers of the American The Office and of the film Bad Teacher).
[Photo Credit: Stephen Merchant]
More:
Zooey Deschanel Gets 'New Girl' Love Interest
TCA 2012: 'Ben and Kate' Stars on Family, Comedy, and Mr. Oscar
Ricky Gervais on 'The Daily Show': "Nazis Must Be Stupid" — VIDEO