'The Office': At Long Last, We Meet the Dunder Mifflin Documentary Crew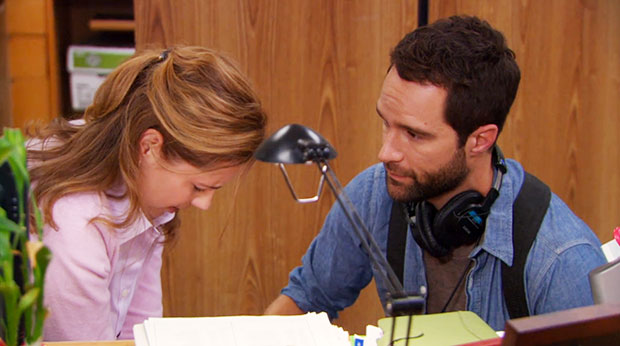 Even if you jumped ship from The Office the minute that Steve Carell did, last night's episode was one worth tuning in for. In fact, now might be a good time to start watching again as the series winds down. That's because after nine mysterious seasons, we figured out what the hatch was all about. Just kidding. But we did, at long last, meet the documentary crew that's been following around the staff of Dunder Mifflin. While we still don't actually learn why cameras have been capturing the every move of these Scranton office drones, we did finally get to see some of them.
The reveal happened during a moment that was jarring in and of itself: a frustrated Jim (John Krasinski) and Pam (Jenna Fischer) having their worst fight yet over the phone. The heartbreaking then took a turn for the surprising when Pam broke down in tears, looked up and asked "What am I doing wrong?" Cut to a camera man, whose name we learn is Brian (The Three Stooges star Chris Diamantopoulos, pictured with Fischer). Brian comforts Pam — who got in a fight with her husband after she botched filming their daughter Cece's dance recital while Jim was away on business — and then urges his fellow crew members to turn off the cameras so that she could have some privacy.
Between Jim and Pam's fight and getting our first glimpse of the very people that the office have been confiding in for nine years, it was a lot to take in. The documentary filmmakers, for whatever reason they might be there, have seen the ins and outs of these people's lives. Think about it, Brian witnessed Jim and Pam's first kiss, their wedding, the birth of their children, and now this. The Office, currently in its final season, broke down a big wall and broke Jim and Pam fans' hearts. You can watch the full episode, called "Customer Loyalty", here. The camera crew makes their big debut at the 18:10 mark.
[Photo credit: NBC]
More:
'The Office' Finale: Mindy Kaling, B.J. Novak In, Steve Carell Still Out
Dwight Schrute's 'The Farm' is No More Says Rainn Wilson
Can John Krasinski Break Free of Jim Halpert?

Celebs as Kids: Guess Who? (Celebuzz)