'The Office' Finale: Mindy Kaling, B.J. Novak In, Steve Carrell Still Out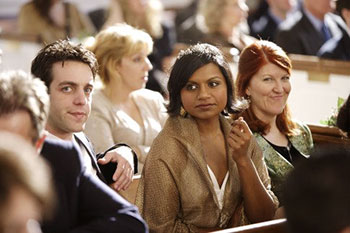 More familiar faces are headed back to Scranton for the final goodbye of The Office: Mindy Kaling and B.J. Novak are almost certainly returning to say goodbye to Dunder Mifflin for good in the NBC sitcom's series finale — and possibly another episode too.
Showrunner Greg Daniels told reporters gathered on the Office set that fan favorite characters Kelly Kapoor and Ryan Howard are likely coming back for at least one more installment. "Mindy and B.J. should be in the finale," he said. "We're talking about possibly another episode, although Mindy's in production on her show."
Of course, there are still several episodes left to film before the finale, so it's not 100 percent certain how scheduling will shake out. Daniels confirmed that Zach Woods would be back as Gabe before season's end, joining former recurring actors David Denman (Roy) and Melora Hardin (Jan) in making one final visit. One person you won't see in season nine, however, is Steve Carell.
"Steve was very much of the opinion that the 'Goodbye Michael' episode and the story arc leading up to it was his goodbye from the show," Daniels said. "The stuff we are doing this season is the goodbye the rest of the show gets to have. At the moment we don't have any plans for him to come back."
The show's sendoff will still be great, paying tribute to the rest of the great cast. "There's still a lot of good things we have planned for the rest of the goodbyes," Daniels said.
Follow Jean on Twitter @hijean
[PHOTO CREDIT: NBC]
MORE:
Stephen Tobolowsky Out, B.J. Novak to Guest on 'The Mindy Project'
Dwight Schrute's 'The Farm' is No More Says Rainn Wilson
Stephen Colbert on 'The Office' Causes Increase in A Cappella Jokes

Craziest Celebrity Swimsuits (Celebuzz)