'The Office' Wraps Shooting! Cast Shares Series Finale Hints
Even when a television show is long past its prime, churning out only sad shadows of the quality for which it was once famous, it's still hard to say goodbye. The Office might be a few dozen rungs below its Season 2 prime, but the final bow for Dunder-Mifflin is bound to earn a few sweet tears.
On Saturday, the NBC sitcom officially wrapped shooting, closing the doors on the Scranton-based paper company once and for all. The cast and crew hit Twitter to express their sentiments on the end of the line for their Thursday night mainstay.
RELATED: 'The Office' Goes to the Farm: Could a Schrute Spin-off Have Worked?
John Krasinski (Jim)
Last day of shooting…

— John Krasinski (@johnkrasinski) March 16, 2013
There is truly nothing any of us can say that could be enough.But to each and every fan of our show we simply say… We love you.

— John Krasinski (@johnkrasinski) March 17, 2013
You are the reason we made it on air…You're the reason we stayed on this long…And you're the reason we all had the time of our lives!

— John Krasinski (@johnkrasinski) March 17, 2013
It was the greatest honor to be a part of this show!Thanks for getting behind it.Yup… That's what she said.

— John Krasinski (@johnkrasinski) March 17, 2013
Jenna Fisher (Pam)
That's a wrap.

— Jenna Fischer (@jennafischer) March 17, 2013
Rainn Wilson (Dwight)
Getting ready to go to work at Dunder Mifflin for the very last time. It's a sad day for comedy. And paper.

— RainnWilson (@rainnwilson) March 16, 2013
Wilson also tweeted the below image of the empty set post-shooting…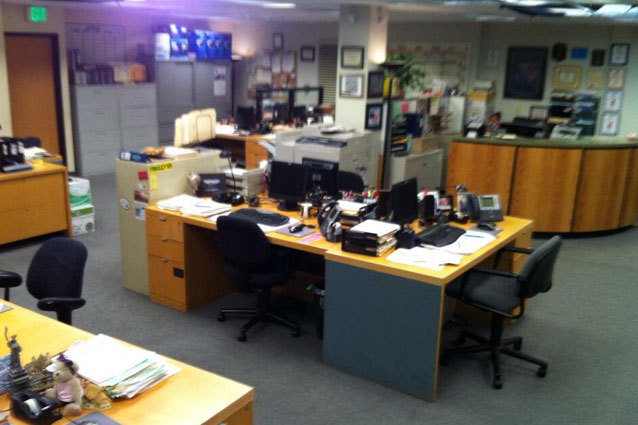 Ed Helms (Andy)
Last day of shooting on The Office. Oof. Kind of hard to act and blubber at the same time.

— Ed Helms (@edhelms) March 16, 2013
Angela Kinsey (Angela)
I am so tired but my brain won't shut off. Lots of emotions today. Laughs and tears. Tomorrow is our last day. Very surreal. #theoffice

— Angela Kinsey (@AngelaKinsey) March 16, 2013
Brian Baumgartner (Kevin)
Today is our last day at Dunder Mifflin Paper Company. Last one here- remember to turn off the lights. #TheOffice

— Brian Baumgartner (@BBBaumgartner) March 16, 2013
Kate Flannery (Meredith)
Can't believe this is the last day at Dunder Mifflin. Greatest desk job in the world! I'm one lucky TV drunk. Thanks to u all #theoffice

— Kate Flannery (@KateFlannery) March 16, 2013
Even one former cast member took the time to tweet about the show coming to an end…
Thinking of the cast, crew, writers, et al of "The Office" on your final day of filming. Love you.

— Steve Carell (@SteveCarell) March 17, 2013
RELATED: Ricky Gervais' New 'The Office' Episode Is Here!
Over at Entertainment Weekly, some of the major players shared a few hints about how the characters' stories might end.
Jenna Fisher talks Jim and Pam
"I think this year we really portrayed them as a real married couple with real obstacles. People often don't really deal with change well and Pam didn't deal with the idea of Jim changing and his job changing. So I'm really proud of us for tackling some of those things in a realistic way and not a soap-opera way."
Ellie Kemper talks Erin
"Erin has a spectacular end that I can't really tell you about. It involves some amazing people that I also can't tell you about, but I'm really happy with how we see her in the last episode. … Basically my wishes for her send-off came true."
Kate Flannery talks Meredith
"I think in Meredith's mind, it's [a] positive [ending], but I'm not sure everyone else will think [that]. It's all subject to the crazy reality of Dunder-Mifflin … I think the fans are going to be really excited. Everyone is going to be very satisfied."
Leslie David Baker (Stanley) talks the series finale
"It's going to be very heartfelt. It will give you a chance to see what people do when they leave — just like at a real office when people start to go their own separate ways."
But just because the characters' time together might be coming to a close, that doesn't mean the same will be the case for the actors. Star Ed Helms said, "We hang out as it is, so there will be much more of that … These are my dearest friends and family." Yep, there are those sweet tears we were talking about.
Follow Michael Arbeiter on Twitter @MichaelArbeiter
[Photo Credit: NBC]
---
You Might Also Like:


15 Oscar-Winning Nude Scenes


Young Jack Black Is Totally Unrecognizable