The Oz Story in 'Once Upon a Time' Is Wickedly Awesome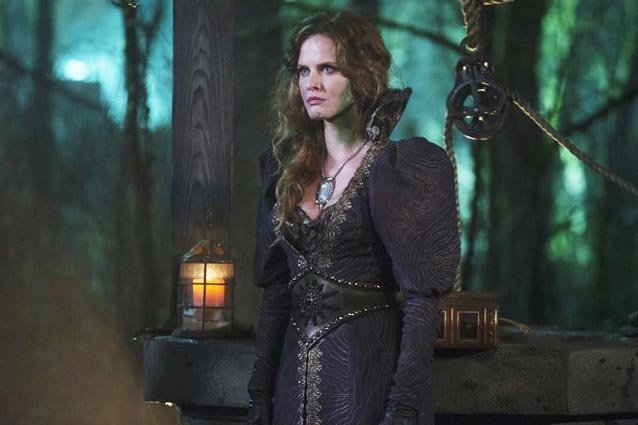 ABC Television Network
You would think that incorporating Oz into the storyline would make the show even more complicated, but Once Upon a Time has made it work! Between its depiction of the real world, multiple dimensions filled with different storybook characters, and countless flashbacks, the ABC program can get messy. However, the series has seamlessly incorporated a new villain — The Wicked Witch of the West, a.k.a. Zelena (Rebecca Mader) — and the land of Oz into the show's canon without it feeling forced. It's really refreshing to not feel the heavy-handed Disney tie-in vibe.
Why It's Refreshing
Given the nature of the show, Once Upon a Time often tries to tackle too much. Having characters split between two realms while trying to tell stories through flashbacks can get exhausting. The introduction of the Zelena storyline brings everything back to basics. Everyone's back in Storybrooke, there's a new curse, a new wicked witch, and a mystery you're dying to see solved. Even though the story incorporates some of the conventions you've grown to accept — like the fact that everyone is somehow related to each other — for some reason, this time it just makes sense. It feels organic that such a powerful witch would be related to Cora (Rose McGowan) and trained by Rumpelstiltskin (Robert Carlyle). It's also nice that the show opens the door to Oz but doesn't linger there, as it did in Neverland. So often the show will rush to reach out to new characters when there's an entire town we barely know. Meghan Ory was so underutilized as Red Riding that the actress took a job on CBS' Intelligence. At least this time around unites the town against one common enemy and leaves room to include more core cast members. 
A Less Mean-a Regina
Lana Parrilla is the best part of the show. All the other characters have to be so good that there isn't much room for the rich complexity that gets you invested in a character. But Regina is just delicious. Not only is she full of sassy one-liners, a whole lot of 'tude, and a ton of magic, she's sympathetic. She can't seem to get a break. One minute she's the all-powerful super witch the next minute she's losing her kid, her heart, and her mother. She's already lost her father, the love of her life, and her kingdom. Having Zelena be the big bad, with uneven green make-up that makes her infuriating, Regina can lighten up. Now she has a love interest in Robin Hood (Sean Maguire), a better relationship with Henry (Jared Gilmore), and a worthy adversary to fight head on.
A Nail-Biter
At the beginning of the series, you sort of knew that Regina was going to keep winning until Emma stopped her. Then you sort of knew Cora and Peter Pan would be stopped. However, with Zelena, all bets are off. Could she succeed and go back in time? Could someone get trapped in the past with her? Will the next season take place in the past and a new future? It's unclear what will happen so there's a major must-watch urgency for these next few episodes. Suffice it to say the season finale will be one to watch.