'The Real' May Be The Coolest Daytime Talk Show Ever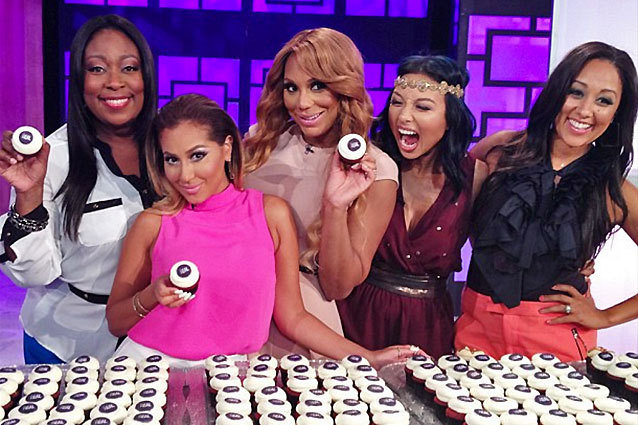 therealdaytime/instagram
For many of us, daytime talk shows just aren't all that exciting. Blogs have taken over the world and if we want to see bizarre people with strange family lives breaking down in front of a bunch of cameras, we have a plethora of reality shows to watch. There's also an entire young, hip, culturally diverse demographic that shows like The Talk just don't cater to. Enter The Real: a new daytime talk show for folks who could care less about daytime talk shows. After a very successful summer trial run, the show (starring Loni Love, Tamar Braxton, Tamera Mowry-Housley , Adrienne Bailon and Jeannie Mai) was picked up for a full season by Fox. In Fall 2014, we seriously recommend setting those DVRs. Here are a few reasons why you'll absolutely love The Real.
Loni Love Is Everything
The comedian who many folks will recognize from Chelsea Lately  hosts the show, and if you're not already a fan of hers you will be by the time you watch that pilot episode of The Real. Of all the ladies up there, we have to say that Loni probably keeps it the realest. Whether waxing poetic about food, sex, or Miley Cyrus she's always on point and always hilarious.
There's An Abundance of Chocolate And Fried Foods
The producers of this show know what women want: food. All of the time, with all of the calories. In its trial episodes, The Real never, ever featured a healthy eating section, where some chef came through and made asparagus and carrot smoothies. Instead the women indulged in fried desserts, crazy huge burgers, and then there was that strawberry pop-tart ice cream sandwich thing. EPIC!
The Hot Guys
Tyrese, Ginuwine, Morris Chestnut, Tank, Pauly D – these are just a few of the cuties who were guests on the show. Pretty much all of them ended up shirtless at some point, so that's plenty reason to tune in next fall.
They Actually Do Keep It Real
Probably one of the greatest episodes of The Real (or of daytime television ever) was the one in which an entire conversation about weaves, wigs, tracks, and sew-in hair occurred. The women openly admitted to which ones they had tried, and what type they were currently rocking — it was awesome. Another reason this show really works is because the ladies have a lot in common but also aren't afraid to disagree with one another and/or shut each other down; watching them give conflicting relationship advice to audience members makes for a great time. We get the sense that — even though they're on tv and, granted, Adrienne's accent is a bit over the top — these ladies are keeping it real with us. And for that, we thank them.