The Second Presidential Debate: Who Won?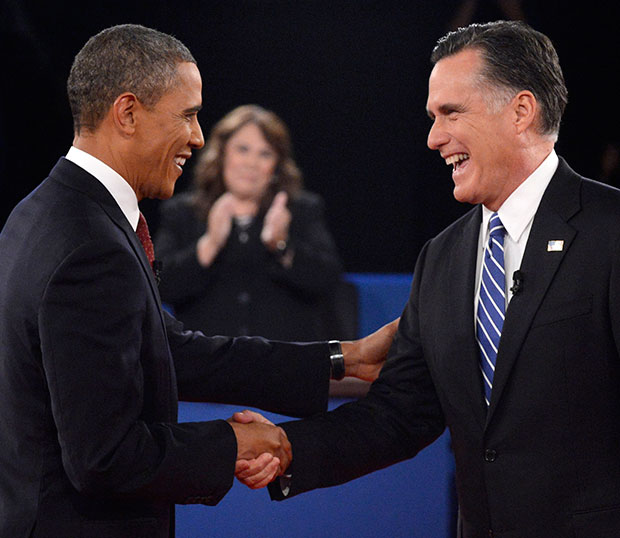 Tonight's Town Hall-style debate was a doozy, wasn't it? Both President Barack Obama and Republican nominee Mitt Romney were ready and rarin' to go this time around. The men battled each other, interrupted each other, all while moderator Candy Crawley tried to reign them in. Undecided voters representative of the entire American electorate took up the 80 seats at Hofstra University tonight.
Far and away the most spirited debate so far, with many political pundits foaming at the mouth to decide who won the ten or so topics brought up by the undecided voters, both Obama and Romney pushed as hard as they could to have their voices heard.
There was talk of binders full of women, the dreaded Big Bird, a blunder on Romney's part regarding the situation surrounding the Benghazi attack, fights over pension and lots and lots and lots and LOTS of interruption and rule-breaking. It was exhausting! We do not envy Crawley's job tonight–she did it very well, though. So we ask you, fair readers of Hollywood.com: who do you think won tonight's presidential debate? Cast your vote and sound off in the comments below.
<a href="http://polldaddy.com/poll/6614267/">Who Won Tonight's Town Hall Debate?</a>
[Photo Credit: Nicholas Kamm/AFP/Getty Images]
Follow Alicia on Twitter @alicialutes
More:
What is Malarkey? The Vice Presidential Debate Glossary
Michelle Obama: Barack's Secret Weapon or Arch Enemy?
Joe Biden vs. Paul Ryan: Funniest Tweets About the Vice President Face-Off