'The Secret Circle' Shelley Hennig On Dark Magic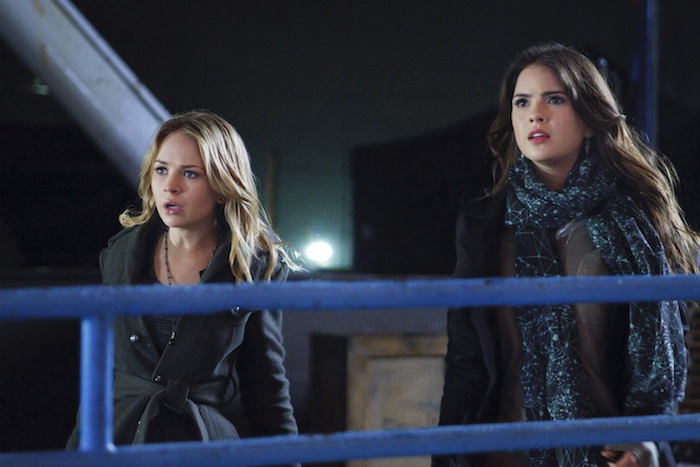 Ever since November's spellbinding mid-season finale of The Secret Circle, fans have been dying to learn the identity of dark magic master John Blackwell's second "circle" child. And let's get real here: You, me, and everyone's mother thought it would be the delightfully witchy Faye — including poor Faye herself. When last week's episode revealed that it was the sweet-natured Diana who was Cassie's long-lost half-sibling, fans were left reeling. How would Diana, who was recently planning to leave the circle, adjust to this news? Would she try to access her dark powers?
The synopsis of May 10th's finale has finally been released, and it's a doozy — John Blackwell tells Cassie and Diana that the only way to save the recently-attacked Faye is to access their deepest, darkest magic to unleash the "Crystal Skull." Cassie will need the reluctant Diana's help to defeat the Witch Hunters once and for all, but convincing her will not be easy. Hollywood.com spoke to Ms. Diana herself, Shelley Hennig, to get the scoop on what's ahead.
Even though Hennig was the last person to know that she was the second Blackwell child, she claims that once she found out, it made perfect sense. "It explains why [Cassie was] the first person she ran to after her and Adam broke up," she said. "I remember shooting that, going, 'Oh my God, this is strange. Why would Diana go to Cassie?' When I heard that we were [making Diana Cassie's sister], I was like, 'Oh, that really makes sense.' I expect Diana to feel closer to Cassie because of that."
This doesn't mean that they'll immediately become family. "It definitely creates a new dynamic between the two, but I don't think Diana is extremely happy about it," Hennig said. "Because, let's face it — that means Charles isn't her father. Here's another thing added to turn Diana's life upside down. I don't know if she wants to be Cassie's sister."
Thankfully, fans won't have to wait very long to hear Charles' side of the story. "She confronts Charles, because she doesn't necessarily believe it," Hennig said. "Diana goes to Charles, the only person who she thinks could tell her the honest truth. Then they have to deal with that. It's a really great scene; it changes the dynamic between Charles and Diana."
Diana will also have to deal with a third changing dynamic: The one she has with Faye. Before Faye is attacked, she is openly hostile towards Diana, as she actually wanted to be the Blackwell child. "Faye is definitely jealous," Hennig said. "You'll see it. She's really not happy about it." But Hennig explained that it isn't all about the magic. "I think besides just being jealous, she didn't know her father that well," she said. "We were young when all of our parents died, so to know that someone who is living may be your father may actually be cooler. You can start over. I think she's looking to fill that void."
Cassie has started to fill her fatherly void, but Hennig said that Blackwell's motivations may not be so innocent. "Cassie and Diana have to work together to get the Black Crystal," she said. "We realize that John Blackwell's intentions may not be what Cassie thought his intentions were, and it could be a threat to the circle. They have to deal with that. I don't think Diana thinks John Blackwell is trustworthy."
Watch The Secret Circle tonight at 9 p.m., and be sure to check out The CW's brand new, interactive Secret Circle app!
Follow Shaunna on Twitter @HWShaunna
[Image Credit: The CW]