The Stars of 'Pretty Little Liars' Talk 'Explosive' Flashbacks — VIDEO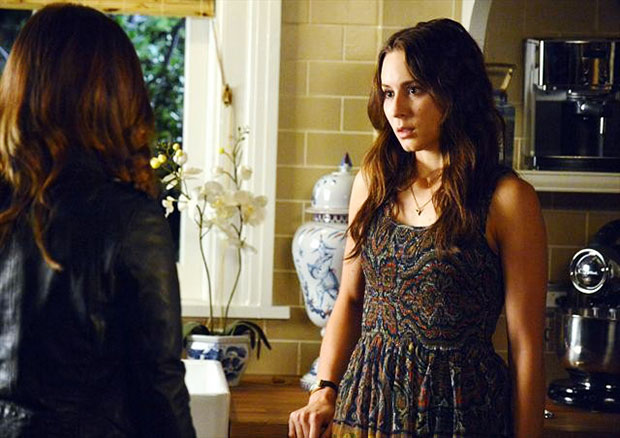 After Spencer's heart-wrenching revelation about Toby on last week's Pretty Little Liars, many fans are wondering the same thing: now what?! PLL is known for its dramatic twists and exhilarating turns, and without a doubt the rest of Season 3 will lead viewers on a rollercoaster ride of emotions and surprises. To help get you prepared for the shocks ahead, Hollywood.com sat down with the pretty little stars — Keegan Allen, Troiain Bellisario, and Shay Mitchell — to talk flashbacks, A's next move, and the return of Alison DiLaurentis.
In tonight's episode, "Out of the Frying Pan, Into the Inferno," three of the Liars will still be in the dark about Toby's double life. That's right, Spencer keeps her former beau's black hoodie secret — but how will this deception affect her typically perfect facade? "A in this second half is really pushing the girls further than they've ever done it before," Mitchell says. "I think one of the girls is really going to have that meltdown quicker and heavier than the other girls do."
Fans should also be prepared to see one of the most helpful (and at times, terrifying) tools used in the teen drama: flashbacks! Bellisario says there will be plenty of trips down memory to show more about life in Rosewood before the DiLaurentis murder devastated the town. "You get to see these amazing sides of the girls that have been shut down," she says. "There's a great scene coming up between Spencer and Allison where you see that actually they're much more like — and it's funny, I say like sisters because they share a brother — but there is such a connection between them and such a sense of brokenheartedness and fear of the world."
It looks like Spencer is not the only one who is sharing some screen time with our dearly departed Ali. Allen reveals that Toby and Ali have a lot more history than we originally thought. "There was a lot that went on with Alison framing Toby for blinding Jenna, and we kind of get a little glimpse into that time frame that he went missing before the show really started," he says.
The actor says he's eager to see how fans will react after seeing the scene. "It's exciting; it's explosive to play these moments. That's one of those moments that not only do I get to hear about it, but I actually get to be a part of it. I got to step into his shoes and go back in time and feel that."
Check out our full interviews with the Pretty Little Liars cast below to learn even more amAzing secrets from the upcoming episodes.
Make sure to tune into Pretty Little Liars tonight at 8 PM on ABC Family!
Follow Leanne on Twitter @LeanneAguilera
[Photo Credit: ABC Family]
MORE:
'Pretty Little Liars': Keegan Allen and Troian Bellisario on Spencer and Toby's Big Reveal
Leanne's Spoiler List: Which 'Pretty Little Liar' Could Be A? 'Glee,' 'The Following' and More
'Pretty Little Liars' Recap: Spencer Learns a Secret, and We Are Sobbing

20 Hottest Celebrity Bikini Bodies