'The Taste' React: Like 'The Voice,' with Food (and Charlie Sheen's Chef)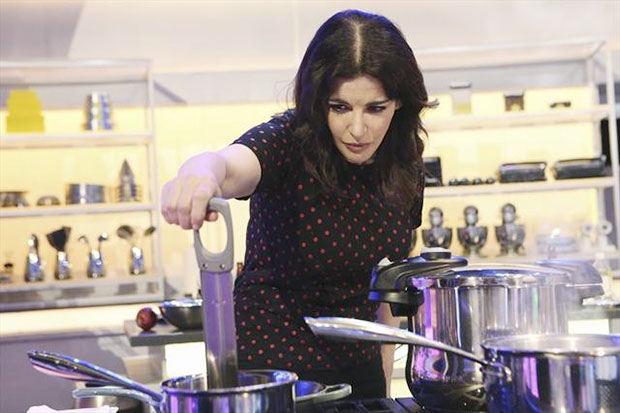 Are you a fan of competitions? What about food? What about the structure of the show The Voice? Take all of those things, put on a grill pan, and season with celebrity foodpeople to taste. ABC suggests: Chef Anthony Bourdain, Chef Brian Malarkey, writer and cook Nigella Lawson, and Chef Ludo Lefebvre. From home cooks to top chefs, the group of potential cooktestants (can't call a non-trained cook a chef, y'all) run the gamut in terms of experience.
Let your food do the talking. It's all about the single bite, the one taste to rule them all. Welcome to The Taste.
Yes, the show is damn-well identical to the format of The Voice, but in one of the very few instances of the matter — it actually works, at least so far. The blind auditions involve a single taste of food produce by contestants that are then chosen to be team members (or sore losers) for the the four judges-cum-mentors. Sure, there's a lot of the typical heartstring-pulling sob stories and delusional know-it-alls (this is a reality show, after all), but the smart and often witty commentary from the judges makes up for all the American Idol-esque grandma-baiting that comes with establishing characters and backstory.
As for those judges — well, it's all about them this first episode. But aren't all reality shows these days? When your show's star is Anthony Bourdain, you get yourself a load of credibility and a tell it like it is spirit — in the most blunt (and expletive) of manners. Fans of Bourdain will be pleased to know that none of that is lost, but it certainly is weird to see the man who slams integrated marketing efforts (remember Cadillacgate?) on a show that has bumpers advertising a Hellman's Mayonnaise-fronted recipe competition in support of the show. Can't win 'em all, though, eh?
Luckily for Bourdain, the show has Brian Malarkey to do the shilling and host-esque chilling. A former Top Chef-er, Malarkey also runs five restaurants in San Diego. It'll be interesting to see how Malarkey's contributions pan out in the long-run. Because at the moment, he feels more like an overeager puppy who just wants to run with the big dogs than a culinary authority. That said, Malarkey is no idiot. And while most shows have at least one judge who is meant to be more of an entertainer than an authority, The Taste's judges are all constructive critics with the knowledge base to back it all up — Malarkey and his delightful last name, included.
The next judge is sensual British foodie goddess, Nigella Lawson. A champion of the home cooks, Lawson serves as more than just the "token lady judge." She's smart, sensual, and can hang with the big personalities in Bourdain and Lefebvre. Admittedly, she seems perhaps edited a bit too much to look like she only cares about the amateurs, but every good underdog needs a champion. That said, Lawson knows more than a thing or two about good food. She pairs well against Bourdain's gruff business, and works especially well with the final of the four judges, the tattooed French rooster, Ludo Lefebvre — arguably the show's greatest asset.
And undoubtedly the breakout of the show he is! Lefebvre is all parts French, charming, French, smart, outlandish, and caring. And also French (as a half-French/half-Belgian American, this is more than A-OK with me). Lefebvre is a lightning rod. He's arrogant, angry, and surprisingly caring. He develops a soft-spot for Reneé, a culinary instructor who quit her job to audition for the show. While her technique was flawless, her dish didn't make the mark, taste-wise. And though she was sent home, it wasn't totally empty-handed: Lefebvre was so impressed, that he offered her a job, on the spot. Awwwww, Ludooooooo! Regardless of what happens to The Taste, Lefebvre's got a hell of a lot of television starring in his future, no doubt.
But for those worried about the near-required terribleness that comes with every reality competition show? Oh, it's there. Look no further than the awesomely awesome kickboxing chef of awesome who makes "food for awesomeness, not just food for tasting good. Oh, and also the oh-so-unfortunate chicken mole from a home cook who also separates s**t from water at a waste management facility. (Yep, I sure did mean that s**t literally.) Watch out to see if very-impressive personal chef of Charlie Sheen injects the show with a little bit of tiger's blood — or at least, some more "winning!" jokes. A word to the wise: if you work with s**t, try really hard to make sure you food doesn't a.) look or b.) taste like the aforementioned. If you're a fan of Top Chef, this show might fit quite nicely into your TV-viewing repertoire. It's hard to judge an entire series on a single, premiere episode, so we won't, but we're intrigued. Get your mis-en-place prepped and ready, The Taste.
The Taste airs Tuesdays at 8e/7c on ABC.
Did you watch The Taste? Let us know in the comments!
[Photo Credit: Adam Taylor/ABC]
Follow Alicia on Twitter @alicialutes
More:
Anthony Bourdain on the 'Hipster Apocalypse,' 'No Reservations,' & Moving to CNN — EXCLUSIVE
Anthony Bourdain Also Slams Guy Fieri's Restaurant
TV Tidbits: Anthony Bourdain is Mad at Travel, Matthew Lillard Jumps on 'The Bridge'

Craziest Celebrity Swimsuits Ever (Celebuzz)