The 'Two and a Half Men' Ashton Kutcher Scorecard: Week One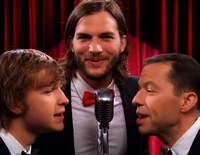 S9E1: I don't think anyone could have guessed that, after eight seasons and 177 episodes, Two and a Half Men would be conjuring up controversy, anticipation or excitement. Charlie Sheen's abrupt departure (and subsequent breakdown) was a pop culture nuclear bomb that would have slowly dissipated…had it not been for the high profile replacement search.
Show creator Chuck Lorre is a smart man. He kept the fire burning through his casting quest until he landed on an equally shocking, crazed and hilarious choice: Ashton Kutcher, the man with a zillion Twitter followers.
So after months of reboot momentum, tonight's the night. The big premiere. So the big question is: can Ashton Kutcher fill Charlie Harper's shoes? As a scholar of sitcom science, I'm going to tune in each week to chronicle Ashton's return to primetime, quantifying the stand-out moments in the show with a calculated points and ranking system. Here's the breakdown:
One Charlie Sheen Head (1 – 10 Points): Ashton, you were in this episode.
Two Charlie Sheen Heads (11 – 20 Points): Ashton, you landed a few jokes, but we can't stop thinking about good ol' Charlie.
Three Charlie Sheen Heads (21 – 30 Points): Ashton, you earned tonight's laugh track. Solid.
Four Charlie Sheen Heads (31 – 40 Points): Ashton, we're impressed. You've surpassed Sheen-level kookiness.
Five Charlie Sheen Heads (41 – 50 Points): Ashton, you're scaring us with classic levels of comedy. Charlie who?
That's that, now on with the first round of the Ashton Kutcher Two and a Half Men scorecard!
"Nice to Meet You, Walden Schmidt"
1. Walden appears in the window. Alan throws Charlie's ashes in the air.
Points: 7
At the beginning of the episode, Alan finds himself in a predicament: Charlie's dead and no one's around to pay for his house. Cut to a potential buyers montage— featuring random John Stamos and Dharma & Greg (Jenna Elfman & Thomas Gibson) cameos—which would have been an easy place to slip in Ashton's goofy Walden Schmidt intro. But no, we soon learn Walden's a thousand times creepier than that, appearing at Alan at the backdoor in the middle of the night, soaked after attempting suicide. Ashton plays his biggest card up front: the deer-in-headlights stare. But it's no Kelso—more like Robert De Niro in Cape Fear. Creepy…but funny.
2. "I'm Sorry I Made You Spill Him"
Points: 6
I was surprised to find that Walden Schmidt isn't the Ashton I know from Dude Where's My Car the back seat of the Punk'd van. Gone is the too-cool-for-school attitude, replaced with a manchild version of Jesse Eisenberg's Mark Zuckerberg in The Social Network. Odd to say, but the show is evolving with Walden, putting Alan in the driver's seat while Ashton acts like a spaced out loon. After startling Alan, forcing him to comically spill Charlie's ashes across the house, Walden quietly sits down next to Jon Cryer's bumbling bachelor to comfort him with the above quote. If there wasn't a laugh track, Ashton's portrayal of Walden might be slightly more uncomfortable. Kind of like the real life Charlie Sheen, actually.
3. "You Bought a Zune?"
Points: 8
I'm always down for a good Zune joke, especially when it follows Jon Cryer saying the word "penis."
Ashton doesn't have much screentime in this episode (his first appearance is preceded by Charlie's funeral), but he still spins his shoehorned exposition with unexpected comic grace. It's apparent that Walden is modeled after every famous, introverted Silicon Valley-type—including an irrational snappiness. When the subject of the web master's $1.3 billion fortune comes up in conversation (over a few appletinis), Walden takes a jab at Alan for owning a Zune. Completely random, but it does liven the character up a bit, which means we probably won't be seeing mopey, disaffected Ashton for too long this season.
4. Wooing Women with Emotional Damage
Points: 5
Later in the lengthy bar scene, Alan and Walden cross paths with two, busty bar patrons (clearly out of Alan's range—Charlie's spirit obviously lives on). You might expect Ashton to lay it on thick here…but you'd only be half right. Somewhat in character, Walden breaks down in front of the women, admitting he's still in love with his wife Bridget. Apparently that's attractive, as the two women become enamored with him. It appeared Ashton was trying hard not to crack up mid-scene, but it didn't stop the moment from working. Really, Ashton Kutcher acting like a sad puppy is the whole reason you hire Ashton Kutcher in the first place. Why do you think he grew the beard?
5. Nude Descending a Staircase
Points: 3
In the span of one episode, we're treated to two Ashton Kutcher full-frontal shots. By the last scene, when the gangly, long-haired dude moseys down to the kitchen in his birthday suit (much to Berta's delight), we've seen enough of Kutcher's blurred-out, bare body. While Walden may turn out to be a funny, authentic stretch for the actor, it's bit like this that feel like the easy route. Walking around naked and looking adorable for laughs? That's the Ashton Kutcher I already know. Thankfully, there are signs that, down the line, we may get more of the one hinted at at the beginning of the episode.
Total Points: 29 – Three Charlie Sheen Heads!

A solid start for the Two and a Half Men reboot. It's definitely the humor we're already familiar with (two fart jokes, one self-pleasure joke and two threesome references), but Ashton adds enough of a twist to make it feel fresh.
Oh, did I forget to mention the .5 man Jake? He disappeared for this episode. Make room for Ashton—he's back!