The 'Two and a Half Men' Ashton Kutcher Scorecard: Week Six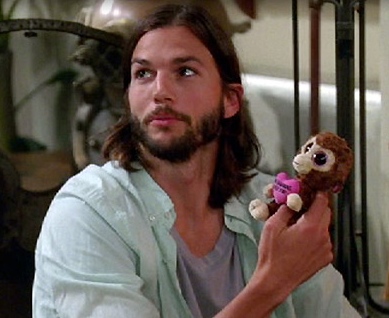 S9E6: A request to the creative team behind Two and a Half Men: Please decide what kind of character you would like Ashton Kutcher to play. Based on last week's episode, the show's many devoted fans and I are in agreement that the shotgun approach to Walden Schmidt…isn't working. Ashton is a funny, versatile actor, but switching the gears every scene doesn't allow the show to hit a groove. One minute Walden's a self-pitying shlub, the next, a too-cool-for-school stoner. We need consistency!
Here's hoping tonight's episode can hunker down and win me back. Here's the scorecard breakdown:
One Charlie Sheen Head (1 – 10 Points): Ashton, you were in this episode.
Two Charlie Sheen Heads (11 – 20 Points): Ashton, you landed a few jokes, but we can't stop thinking about good ol' Charlie.
Three Charlie Sheen Heads (21 – 30 Points): Ashton, you earned tonight's laugh track. Solid.
Four Charlie Sheen Heads (31 – 40 Points): Ashton, we're impressed. You've surpassed Sheen-level kookiness.
Five Charlie Sheen Heads (41 – 50 Points): Ashton, you're scaring us with classic levels of comedy. Charlie who?
That's that, now on with the Ashton Kutcher Two and a Half Men scorecard!
"The Squat and The Hover"
1. "My house. My couch. My junk."
Points:  1
Well, this wasn't the uplifting start I was hoping for.
Two and a Half Men regurgitates one of its lamest, go-to jokes in the opening, Walden strolling in to Alan and Jake's couch conversation in nothing but his birthday suit. As if that weren't enough, it's back-to-back poop/penis enlarger joke before the trio finally hits the crux of the scene: Walden's been mailed his divorce papers. This is when I like Ashton the most, wallowing in self-pity while Alan takes potshots at himself. It's a fun dynamic the show could theoretically always have. But instead, more often than not, Men relies on crass, potty humor. Oh, well.
2. "I am bananas over you. Burn in hell monkey!"
Points:  5
In the wake of finalized divorce, Walden decides to burn all of his possessions that remind him of Bridget. Wedding video, CDs, stuffed monkeys with adorable messages embroidered on to hearts—the usual. But Alan, realizing he'll be stuck without a home if Walden completely abandons his current lifestyle, convinces his shaggy friend to opt for therapy over hightailing it out of town. This was a great scene, allowing Jon Cryer to do what he's been doing successfully for nine years and Ashton to play and balance his sad puppy and goofily idealistic sides.
3. "That's not an angry gesture, this is an angry gesture. GRRR!"
Points:  7
The biggest surprise of the episode—which ended up working out quite well for Mr. Kutcher—was a surprise appearance by Jane Lynch as the therapist. There are few roles, crazed or muted, that Lynch can't knock out of the ballpark and Ashton steps up the plate in the scene. Walden pours his silly life facts to the doc like they're encyclopedia entries (as opposed to the depressing anecdotes of youth that they really are), but little progress is made. Lynch insists Walden returns for more sessions. Could we be seeing more of Lynch in upcoming episodes? Cross your fingers. These two were great.
4. "I used to make my G.I. Joes touch each other inappropriately."
Points:  1
Later, Walden and Alan take solace from life's many woes by heading to the movies. Sitcom logic dictates that in the exact moment the duo goes for snacks, Bridget must show up with a new beau and show up she does—along with her new, dashing man. The encounter sends Walden into another tizzy, and while it's not quite on par with episode two of the season, it does result in many an appletini.
As if the writers forgot to create an actual arc for the episode, suddenly there's a scramble to start a new through-line. Enter Danny, a lesbian who looks strikingly similar to Bridget (and, in fact, is played by Judy Greer in a wig and make-up). Hoping to strike up a new friendship, Walden and Alan pretend to be gay and bring Dani and her girlfriend Kiki back to the house. This moment feels convoluted and sloppy—really guys, gay jokes? Alan hoping to "turn" Kiki? Tonight, even with some humorous Ashton slapstick, Two and a Half Men took a step backward for social progress. All the way back to 2 Broke Girls territory.
5. "My problems will follow my wherever I go. Also, how could I leave my best friend."
Points: 5
After Danny forcefully punches Alan in the face for pretending to be gay and making out with Kiki, the bumbling bachelor and Walden once again head to the movies. The show's erratic set of events slows down to a hushed finish, with Walden deciding not to move to New York, instead opting to remain in California with his best friend. Ashton can sell these hammy moments and "The Squat and The Hover" earns its "awww" moment. But by then, it's too little too late and the touching finale acts as a reminder for a show that has the platform to strive for more, but settles for less.
Total Points: 19 –  Two Charlie Sheen Heads!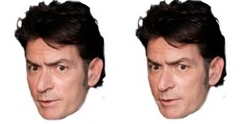 Two and a Half Men's sixth round was a wildly inconsistent episode. One minute it was hitting all the right marks, building up a two-man shtick that I'd actually be anxious to watch on a week-to-week basis. Between those shining moments, lowbrow, archaic, flat out horrible jokes. "The Squat and The Hover" manages to squeeze out three Charlie Sheen heads, but keep an eye on those scores. This was a close one—and not in the favor of the show.