'The Vampire Diaries': Previously, In the Murder Capital of Fictional America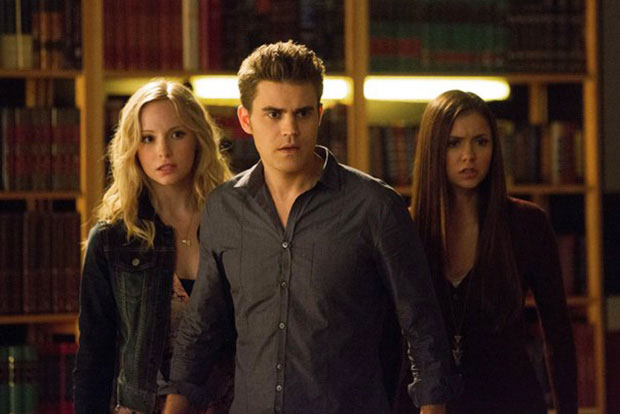 When we last visited Mystic Falls in December's very first Christmas episode of The Vampire Diaries, the murder capital of Fictional America, Klaus had brutalized his pack of un-sired hybrids before murdering Tyler's mom. The overarching mystery involves everyone looking for this mysterious vampirism cure, with each character trying to find it for their own reasons. Brush up on your recent vampire history before your favorite CW hit returns on Thursday, Jan. 17:
Where we left off: Elena is still sire bonded to Damon, although he ordered her to stay away from him for the time being. Klaus massacred the hybrids who'd broken his sire bond before murdering Tyler's mother. Bonnie is getting in deeper with Professor Shane, who we know is up to no good but our favorite witch does not suspect of evil. Jeremy wore a lot of tank tops (and also discovered that he's part of some ancient race of vampire hunters, making it even more awkward that his sister is a vampire). Stefan got jealous. Caroline got shrill.
Biggest Jaw-Dropper of the fall: Klaus murdered Tyler's mom. RIP, world's most mediocre mayor!
Biggest Let-Down of the fall: Bonnie's general existence. (And for some, the fact that Damon and Elena finally got together — but under suspect circumstances.)
Most Improved Character: Jeremy, for getting an actual, interesting plot. And arm muscles.
Least Improved Character: I mean, Bonnie. Duh.
5 Reasons You Should Keep Watching: 1. We'll get a lot more information about the latest TVD riddle, the hunter's mark. Showrunner Julie Plec tells Hollywood.com, "This next chapter is all about that hunter's mark and trying to complete it and trying to get our team to the location of the cure, which the more we learn about it and the more we'll learn about Silas the more we'll recognize there's extreme jeopardy attached to even seeking it out in the first place." 2. Rebekah's fangs are out, which means she'll cause some delicious trouble. "Hell hath no fury like a Rebekah daggered and scorned," Plec warns. 3. Klaus will get some unlikely allies as pretty much the entire Mystic Falls gang pursues the cure. 4. Caroline and Stefan are going to bro out. Both feel hurt by the Damon/Elena situation, and Plec says that'll bring them closer together. 5. Tyler is mourning the death of his mother, and he's kind of a mess about it. For some reason, we are excited about this. Probably because Michael Trevino does emotionally damaged so well.
What we ultimately want to see: Poor Rebekah deserves to go to one freaking dance. Also … wherefore art thou, Elijah?
What would make us turn our backs: Honestly, not much. This show is awesome. But since we know the next few episodes will be mythology-heavy, a little too much exposition and explanation at the expense of story and character development will be a disappointment. Unless it involves Elijah, in which case, explain away. (Seriously, we'd watch 42 minutes of Daniel Gillies just walking around set in his flashback wig any day. Not a problem. Maybe that should be the next spinoff?)
The Vampire Diaries airs Thursday nights at 8 p.m. on The CW.
Follow Jean on Twitter @hijean
[PHOTO CREDIT: The CW]
More:
'The Vampire Diaries' Boss on Klaus' Holiday Massacre and More
Candice Accola talks 'Vampire Diaries' Christmas Outing, Klaroline and Forwood
'Vampire Diaries' Recap: Tainted Love

The Cutest Celebrity Kids! (Celebuzz)