'The Vampire Diaries' React: I Was Bawling Like a Baby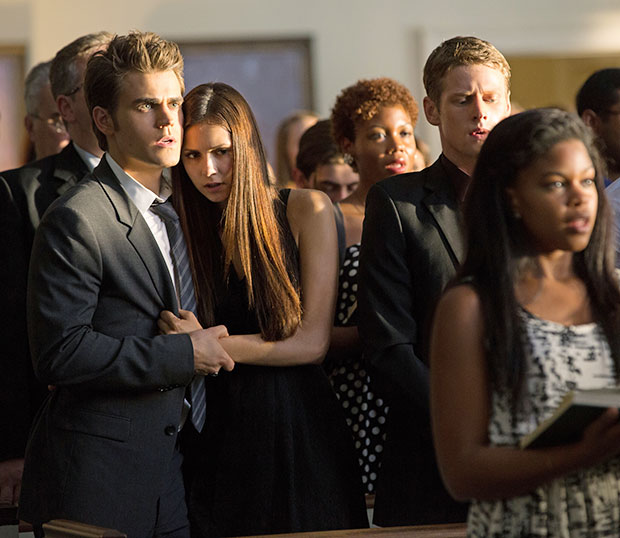 Alright, I'm getting tired of having to say SPOILER ALERT every time I write a react, but there we go. SPOILER ALERT. SPOILER ALERT. SPOILER ALERT!
Now that we got that out of the way, let's discuss last night's episode of The Vampire Diaries. Read the full recap here if you need to catch up on all the crazy stuff that went down last night – hint, there was a lot. In short, we have a new vampire hunter in town, Elena had an extra tough time being a baby vampire thanks to her doppelganger-ness, and we got a rather hot Delena moment. Am I forgetting anything?
Oh yeah, there was an ALARIC SALTZMAN SIGHTING. In a true surprise cameo, Matthew Davis reprised his fan favorite role at the end of last night's episode. When Elena, Stefan, Caroline, et al. were busy lighting Japanese lanterns in honor of all their loved ones they lost when vampires came back to Mystic Falls (the list was long…), Damon chose to spend his time at the graveyard venting to his dearly departed friend's gravestone. What he didn't know was that Alaric was there with him in spirit. The deceased vamp even replied to Damon's booze-filled rant with a simple, "I miss you too, buddy."
UH OH, CUE THE WATERWORKS. Guys, I am not ashamed to admit I was bawling like a baby. The entire episode, when Damon was refusing to allow anyone to sit on the bar stool on his left, we knew it was in honor of Ric. That alone had me feeling like I was in a glass case of emotion.
But the true punch to my gut came in that last minute, when Damon was talking to Ric's gravestone. All of sudden we pan to his right and there was Matthew Davis as Alaric, sympathetically listening to Damon. I felt like all the air left my lungs, and I was just floored. This was a true secret, a surprise cameo that hadn't been spoiled at all. In the recent trend of announcing cameos and guest stars way in advance (I'm looking at you, Ryan Murphy), I am glad Alaric's brief reappearance stayed a secret. It was so moving to see him without any advance warning. The emotional scene really packed a wallop and was just another testament to the brilliance of EP Julie Plec & Co.
I was also glad that they chose to end this episode on an emotional note rather than a major cliffhanger. TVD is known for huge plot developments, twists, and cliffhangers, which is one of the major reasons why I am absolutely obsessed with it enjoy it, but this episode was about mourning. It revolved around the town council's funerals–most specifically the pastor's–and while there were definite reveals and shocking turns of events, ending with an emotional scene was appropriate. It reminded me that not only can TVD entertain me with action and suspense, but they can twist my heart with tearjerkers like none other.
It was also a nice gift for the fans to see Alaric and Damon's bromance for one last time, when we thought it was over for good. To be honest, that bromance became one of my favorite parts of the show. To see it one last time was pretty much the nicest thing TVD could have done for us fans.
So thank you, TVD, for sending me into a crying fit last night. Much appreciated. (But actually, no sarcasm.)
Follow Sydney on Twitter @SydneyBucksbaum
[Photo Credit: Bob Mahoney/CW]
More:
'Vampire Diaries' Recap: Growing Pains
Barack Obama and Jon Stewart Prove Comic Chemistry on 'The Daily Show'
From Our Partners:

Justin Timberlake and Jessica Biel Celebrate Wedding Weekend in Italy — PHOTOS
(Celebuzz)

'Hunger Games' Stars Jennifer Lawrence, Josh Hutcherson Pose With Fans at Atlanta Movie Theater — PHOTOS
(Celebuzz)