'The Vampire Diaries' Twist: TV's Best (And Worst) Game Changers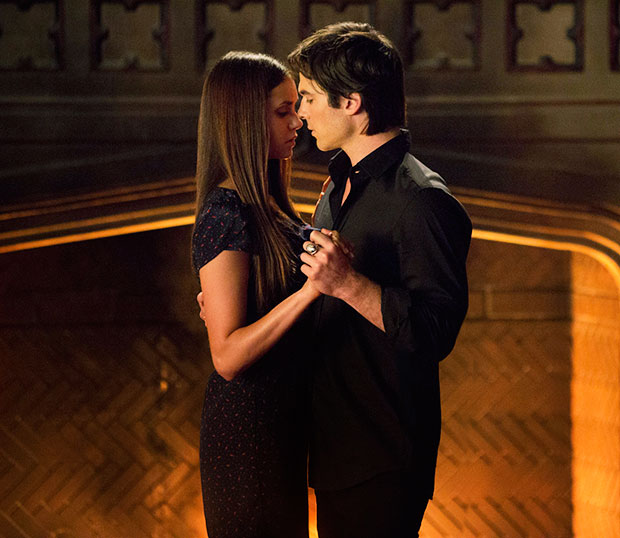 Ummm… what?!?
If you didn't watch The Vampire Diaries last night, avert your eyes now! For those who did catch "My Brother's Keeper" in all of its glory, the last five minutes of the hour were absolutely heart-attack-inducing insane (read the full recap here).
After her break-up with Stefan, Elena ran straight into Damon's arms… and his bed for some hot, vampire sex that the show has been leading to for seasons. Delena fans everywhere let out a resounding cheer and almost immediately a cry of despair. You see, Caroline came up with the theory that the reason Elena wants Damon more than Stefan is because she is sired to Damon.
Siring is rare, but it can happen in TVD's world when a newbie vampire feels an unbreakable, grateful bond to the vampire who turned them and will obey their every command. This could undermine everything Elena has been going through post-transition, implying that her growing independence and strength, not to mention her feelings for Damon, is all thanks to a supernatural enslavement. The sire bond would change the entire direction of the series from here on out.
Whether or not this sire bond theory is true, and whether this will change TVD for good or bad, we can pinpoint the exact game changing moments in other shows that steered them in new directions. From the Sideways World reveal on Lost, to Michael's departure on The Office, to Carrie's impulsive reveal of Brody's confession tape on Homeland, we look back at more shows that had big "what now?" moments and how they handled them. Did their game changers make the show better or worse?
TV's Best and Worst Game Changers
Follow Sydney on Twitter @SydneyBucksbaum
[Photo Credit: Bob Mahoney/The CW]
More:
'Vampire Diaries' Recap: Somebody That I Used to Know
R.I.P. 'Emily Owens, MD': A Tribute to a Show Canceled Too Soon
'Supernatural' React: What's Up Doc?

'Friday Night Lights' Movie Not Likely, Says Zach Gilford — EXCLUSIVE

'Les Mis,' 'Dark Knight,' and More: The Best Trailers of 2012