'The Voice': Adam Levine Opens Up About New Coaches Shakira and Usher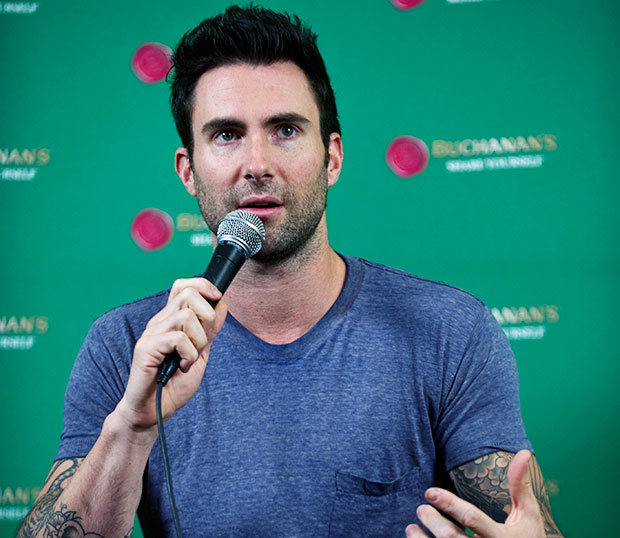 This afternoon I had the distinctive pleasure of having a lunch date with the seriously dreamy Adam Levine. I think that he proposed. OK, it wasn't a lunch date so much as a press conference, but lunch was served (I had chicken and three desserts which may be why Adam does not want to marry me) and Adam and I were in the same room and we were talking about our future. By our future I mean the future we share together while watching The Voice, his hit NBC singing competition. He gave me a first look into what life is like in season five of the show, which is currently filming even as we're watching season four.
As we know, Christina Aguilera and Cee Lo Green are sitting out for the second cycle this season and are being replaced by Shakira and Usher (just as many panelists, half the names). How do they fit in? "I wasn't happy about [Christina and Cee Lo sitting out] at first but when I found out Usher and Shakira were replacing them temporarily, I was optimistic to begin with because they're amazing artists in their own right…You can never account for the chemistry being there, but it is there, and it's a different kind of chemistry…We're getting along great. Trust me, as far as Shakira is concerned, she's not afraid to knock me out."
Did he and his bromantic interest Blake Shelton find any ways to haze them? "It's funny Blake and I had all these designs to make them feel very uncomfortable but we saw how excited and nervous they were–well, Usher doesn't get nervous– in a strange place for the first time. Then instinct came in and we got nice and didn't do anything too crazy. We just welcomed them because that's what they deserve."
What else can we expect from the fourth season of the show? Well, Adam had to ask permission from the "boss of the stuff" before he could even talk about it, each mentor's teams are shrinking back to 12 singers from the 16 they had this season. "16 is just ridiculous," he says. "It's hard to find anyone who is an amazing singer but 16 people is overwhelming for the coaches and just for the audience, its' a lot. We're back to 12 now. I think that works for everyone." Oh, Adam, I think all you really need is one, and that's me. Lunch was great. Call me!
Follow Brian Moylan on Twitter @BrianJMoylan
[Photo Credit: Ronaldo Schemidt/AFP/GettyImages]
More:
'The Voice' Nabs Shakira, Usher to Sub for Cee Lo, Christina
A Singing Showdown: 'The Voice' Vs. 'The X Factor'
'The Voice' Recap: Beg, Borrow, or Steal
From Our Partners:

Jon Hamm Goes Shirtless With Bikini-Clad Jessica Paré
(Celebuzz)

Kardashians Share Scary-Cute Childhood Halloween Pics
(Celebuzz)