'The Voice': The 5 Most Memorable Performances From The Season 4 Premiere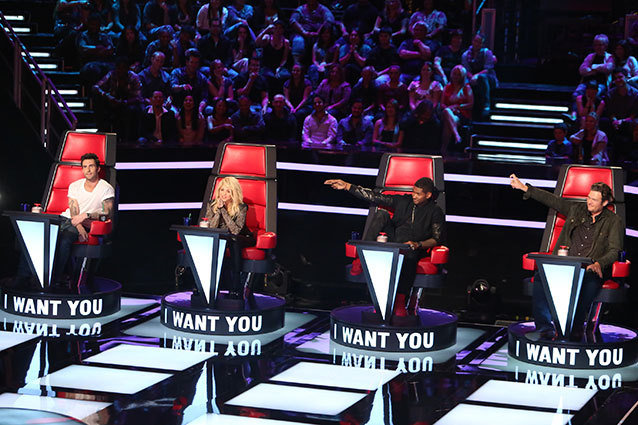 In a special two-night season premiere of The Voice, fans watched as the two new judges — global hip-shaker Shakira and eight-time Grammy winner Usher — took their places alongside veterans Blake Shelton and Adam Levine ready to fight for the best of the best to join their team.
Each coach quickly demonstrated their unique — and sometimes successful — strategies for luring a talented contender onto their team. Shakira chooses to pull out the lady card at any chance she can and if applicable, bond with the contestant through Spanish. Usher uses his flirty eyes and smooth buttery voice to sooth the singers while also looking effortlessly cool with one leg up on his giant red chair.
RELATED: Did Usher And Shakira Spell Ratings Success For 'The Voice'?
Shelton enjoys dropping the fact that he's a two-time victor, has countless connections in the country world, and when The Voice hopeful is thinking about their choice, he silently — yet adorably — points to himself over and over again. And what about Levine you ask? The Maroon 5 front man is like smooth-talking lawyer who lets his confidence and ridiculously attractive face ease the singers towards his team.
In their first performance together, the coaches joined forces to kick-off Season 4 of The Voice with the appropriate song-choice "Come Together." With Levine on drums, Shelton and Usher rocking out on the guitar and Shakira shaking it on the mic, the foursome sounded fantastic. In a surprising musical twist, Shakira whipped out a harmonica and started wailing on it like a seasoned pro.
Now lets take a look at the top five contestant performances of The Voice's two-night season four premiere:
RELATED: 'The Voice' New Judges: How Did Shakira And Usher Do? — Poll
1. Judith Hill: After singing with the legendary Michael Jackson, Hill took some time after the icon's death before she was ready to step back into the limelight. Hill graced the stage and immediately gave the audiences chills as she sang former judge Christina Aguilera's sophomore hit, "What a Girl Wants." Hill put her own unique and captivating spin on the song and ended up getting a four chair turn-a-round. After Levine threatened to light himself on fire, "claw everyone's freakin' face off," and have a panic attack, Hill decided to join Team Adam.
2. Sarah Simmons: Rounding out the end of the second night, Simmons was allowed to leave her Memphis college in order to audition for The Voice. Singing "What If God Was One of Us" quickly earned her a four-chair turn-around due to her feminine and beautiful trills yet rough and at times raspy powerhouse voice. In an attempt to bond with the singer, Usher and Shelton pointed out that they too were from Tennessee, Shakira nodded in agreement while Levine yelled, "I'll be from wherever you want me to be!" Simmons chose Levine's smooth-talking pleas and politely joined Team Adam before telling everyone "bless you," when she walked off the stage. Levine beamed saying, "She is magic and I cannot wait to work with her!"
3. Midas Whale: This Folk duo were all giggles and light-hearted fun backstage with Carson Daly, but as soon as their hit the stage they channeled their focus. While one played an acoustic guitar the other donned an accordion and the duo chose Johnny Cash's "Folsom Prison Blues" as their audition song. Usher turned his chair first but soon all four coaches aimed to snag these Bill Nye look-a-likes (fun-fact they're actually scientists in real life). Despite Usher's early approval, Midal Whale felt a connection with Levine.
RELATED: 'The Voice': The Coaches Speak Put!
4. Danielle Bradbery: At just 16-years-old this teeny tiny country darling took the stage in her cowboy boots ready to rock out to Taylor Swift's "Mean." Her "perfect pitch" and silky voice caused the judges to pull out all their best arguments — especially after learning that this was Bradbery's first big performance. Usher even fumbled over his geography knowledge while trying to win over the starlet saying, "You have an opportunity to be an artist that could speak to the world — Nashville is a state. You have so much more potential then just Nashville." After sufficiently mocking Usher, and clarifying that Nashville is actually a city, Shelton won Bradbery for his team.
5. The Morgan Twins: The first set of identical twins to come on to the voice, these 27-year-old blondes walked onto stage with their high heels and short red dresses looking like two Barbies fresh from their box. The duo shocked audiences and the coaches with their perfectly harmonized rendition of Alicia Keys' "Fallin'" and when all four chairs turned around the pros fought over who would nab the two singers for the price of one. In an interesting move, the Morgan Twins chose Team Blake, to which Levine taunted, "You're wife's going to kill you!" Shelton admitted, "Yeah, I know…"
What was your favorite performance from the season premiere of The Voice? Are you excited for more blind auditions next week? Sing your thoughts in the comments below!
Follow Leanne on Twitter @LeanneAguilera
[Photo Credit: NBC]
---
You Might Also Like:


Topanga's Revealing Lingerie Shoot: Hello '90s!


13 Most WTF Fan Tributes