'The Voice' Changes Season 3 Format, Adds 'Knockout' Round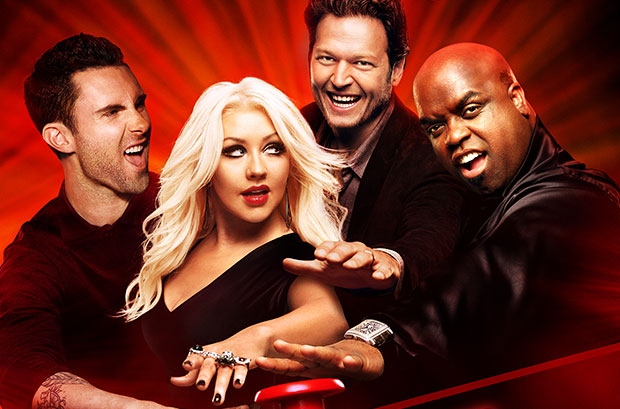 The Voice is shifting gears yet again for its upcoming third season, with an announcement coming today from executive producer Mark Burnett that the reality singing competition will be changing up its format dramatically when the show premieres on September 10.
Deadline reports that Burnett revealed new details about the vocal slugfest during a press event at his Malibu beach house. "This year there's much more at stake," said Burnett. "When [the coaches] have their battles and select one person to stay with them and one person to leave, the other coach can buzz in and steal that person that the coach has sent home. It's called the steal."
After the Blind Auditions and Battle Rounds, the contestants who have been saved (or stolen, depending on whether you're a pessimist) will compete in a Knockout Round wherein the coaches will whittle down the saved artists before entering the Live Rounds.
That means that we may have a glimmer of hope when our favorite contestants are painfully kicked out during the Battle Rounds. What a shame it is that some of Season 2's fan favorites (like Justin Hopkins, Gwen Sebastian and Anthony Evans) could have been saved in this new format!
Initially, I wondered whether The Voice would pick up flack for giving the judges even more power — a complaint that has been harbored towards the coach-driven show by fans in the past who worried that too much of the program's outcome is based on the coaches' decisions. However, the new Knockout Round should actually please fans of specific contestants by allowing for even more performances and opportunities for them to stick around. This new round, plus the reduction of mentors from two to one and the overall super-sizing of the series, will no doubt make for another surprise-laden season for NBC's Emmy-nominated hit. 
Michael Buble, Mary J. Blige, Rob Thomas and Billie Joe Armstrong join the program this season as team advisors for Blake Shelton, Adam Levine, Cee Lo Green and Christina Aguilera, respectively. The Carson Daly-hosted reality competition returns on September 10 on NBC.
Follow Marc on Twitter @MarcSnetiker
[Photo Credit: NBC]
MORE:
Emmys 2012: Carson Daly Talks 'The Voice' First Nomination and Season 3
Rob Thomas Joins 'The Voice' on Team Cee Lo