'The Voice': Christina Milian Grills Production Designer on Coach Style — EXCLUSIVE VIDEO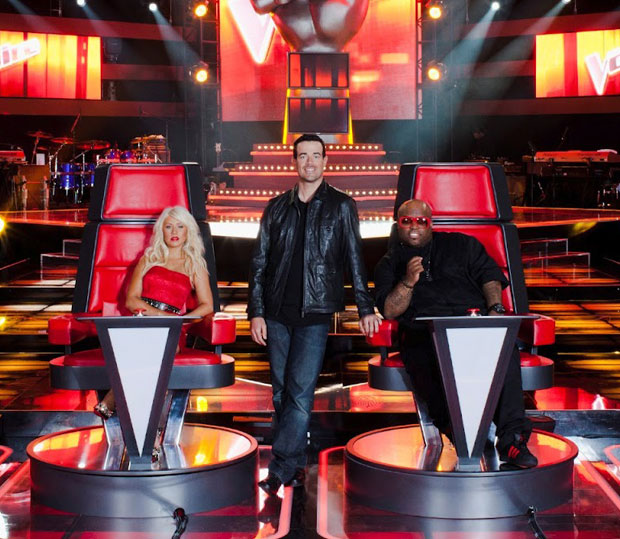 As someone who has attended nearly every live performance show taped on a Hollywood lot, I can verify that The Voice has something special — every night the vibe and the aesthetic are completely different, and it pays off with some insane audience energy. Yes, much of this has to do with the fact that Adam Levine, Christina Aguilera, Cee Lo Green, and Blake Shelton are in the room, but it's The Voice's Emmy-nominated production designer James Connelly who makes everything come together in one sparkly, rockin' package.
In the video below, Christina Milian grills Connelly on season 3, which he says "gets a little more gritty, a little bit more street art." During his brief off-season, Connelly has been focusing on different styles of graffiti… and ways to make the coaches' designed rooms a little bit classier. "We blow it up this year," he says.
But it's the end of the video that should get Voice fans singing: Connelly tells Milian exactly what he thinks about the various coaches' style. "Adam is super cool," he says. "Hyper-style, sleek and modern, and clean." Check out the video below to find out what he thinks about the rest of the gang (he even theoretically designs Cee Lo's "Vegas" bedroom), and be sure to see Connelly's work on The Voice's Sept. 10 premiere:
Follow Shaunna on Twitter @HWShaunna
[Photo Credit: NBC]
MORE:
Rob Thomas Joins 'The Voice' on Team Cee Lo
Emmys 2012: Carson Daly Talks 'The Voice' First Nomination and Season 3