'The Voice' Clobbers 'The X Factor' in Head-to-Head Ratings Duel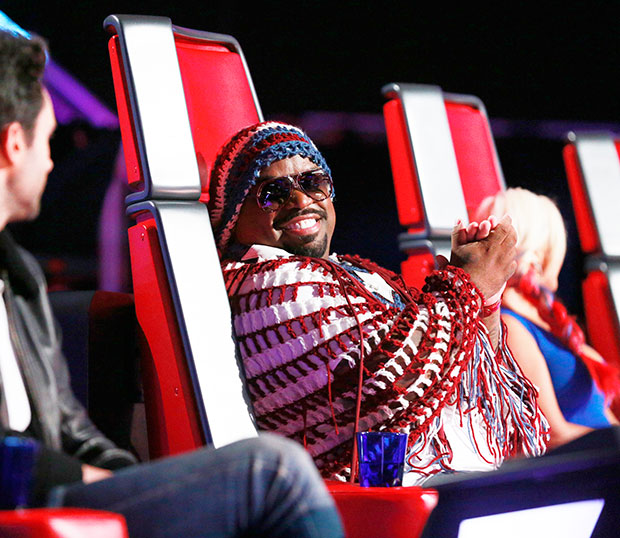 All season the drama between NBC's hit The Voice and Fox's struggling The X Factor has been focused on the ratings, and Wednesday night The Voice scored another victory against Simon Cowell, who is used to being on a ratings juggernaut. This can't be fun for him.
Usually The Voice airs on Monday and Tuesday and The X Factor on Wednesday and Thursday, so they rarely share the same airspace. Thanks to the election on Tuesday, NBC moved The Voice to Wednesday so it could show Fox what it's made of. It is made of glitter, rainbows, spinning chairs, and victory, apparently. The Voice serenaded it's 10.4 million viewers, while The X Factor tried to keep its 7 million visitors entertained. That's not just a little victory, that's a routing. NBC ended up first for the night (even Chicago Fire got a boost thanks to Adam Levine and company) with Fox in a distant fourth.
The bad news is that The Voice's numbers were down from their usual Tuesday night slot and The X Factor stayed strong, which shows that Britney can still hurt Christina, but Christina can't do that much damage on her own. When The Voice initially showed its might against its competition many were speculating that The X Factor would do better once it reached the live shows. The live shows have started and that hasn't happened and The Voice is still on top. Good for NBC, they really needed a hit.
Follow Brian Moylan on Twitter @BrianJMoylan
[Photo Credit: NBC]
More:
'The Voice' Shockingly Defeats 'The X-Factor' in the Ratings
A Singing Showdown: 'The Voice' Vs. 'The X Factor'
'X Factor' Ratings Dip Again: America Doesn't Want Talent?

Lady Gaga Dons Strapless Bikini Top, Waves to Fans in Brazil (PHOTOS)
(Celebuzz)