'The Voice' Coaches in Talks to Return: The Perfect Panel?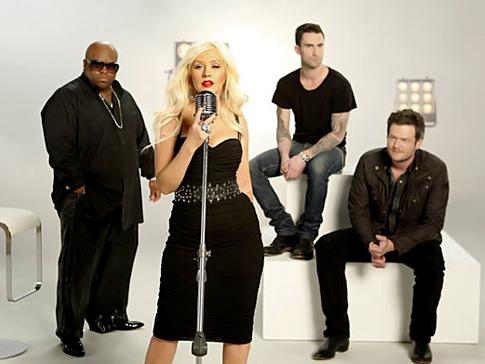 When The Voice debuted in 2011, it prided itself on being the reality competition that was all about the talent. Now in its popular second season, the NBC hit can say it's achieved that bragging right, but perhaps not in the way they had initially planned. With the exception of this year's potential mainstream breakouts like Tony Lucca and Cheesa, this season has been all about The Voice judges Christina Aguilera, Cee Lo Green, Adam Levine, and Blake Shelton. They bicker! They get along! They appear on magazines together! They wear amusing hats! They have a cat that may or may not be more lively than Carson Daly! (Sorry Robo-Daly, Purrfect has got you there.)
If you've continued to tune in to The Voice beyond the post-Super Bowl mania, there's a good chance it's because you want to see how much Adam and Christina can make each other uncomfortable or to fathom how you went this long in your life without being madly in love with Blake. So it's of no surprise that NBC is doing everything they need to keep the foursome firmly planted in their spinning chairs. According to Deadline, NBC is working on deals (read: salary hikes and scheduling) with all four of the judges to return for the third season, which the network is hoping to have start up in the fall.
While the judges are still arguably their biggest draw, it begs the question of how long The Voice can survive on that alone. Will viewers want to see some new blood in the coming seasons or do panel shake-ups, like the ones American Idol has seen over the past few seasons, only hurt the show? Plus, if Britney Spears does join X-Factor will all other competition shows be forced to up their game? (Then again, if The Voice can get Britney to stop by for "a real Mickey Mouse Club reunion" as Christina suggested during last night's episode, that could be the ultimate ratings dream come true. If they convince Ryan Gosling and Justin Timberlake to stop by too, you can pretty much expect the Internet to collapse in on itself.)
With Christina, Cee Lo, Adam, and Blake seem all but locked in for a third season, we still can't help but wonder if NBC were to go in a direction for Season 4 and beyond, who could replace them? Assuming they would stick to the same formula or archetype, here's who The Voice could have come on board:
The Diva: No Christina? No problem! (Sorry, Kate.) Aretha Franklin would be ideal an ideal replacement for her iconic voice and penchant for crazy hats, but if there's anyone more tailor-made for reality television right now than Mariah Carey, we'd be hard-pressed to find her. Plus, think of the reunion with Carson Daly!
The Swoon-Worthy Country Dude: We don't want to imagine a world without Blake Shelton, but if we had to, it seems like Keith Urban would be a good stand-in for country star with a famous wife and good sense of humor about himself.
The Flamboyant Soul Singer: Cee Lo's replacement would need soul and style to spare, which would make OutKast's terribly hip Andre 3000 the ultimate viable candidate. Bonus points if he also has a cat.
The Douchey Rocker: Adam pulls off being equal parts hot and douchey with total ease, but The Killers' front man Brandon Flowers, who loves to make comments that get under people's skin, is no slouch in that department either.
Are you glad The Voice judges seem to be on the track to return for Season 3 or were you hoping for a new mentors? Do you like our picks or did you have some other stars in mind to take a spin in the spinny chairs? Would the show sink or swim without Christina, Adam, Cee Lo, and Blake?  Sound off in the comments section and take our poll!'The Voice' Judges Poll
[Photo credit: NBC]
More:
The Voice Stars Talk Shocking Eliminations
The Voice Recap: Please Welcome Justin Bieber
The Voice Recap: Instant Eliminations! Just Add Ego. Serve Cold.