'The Voice': Finale, It's Over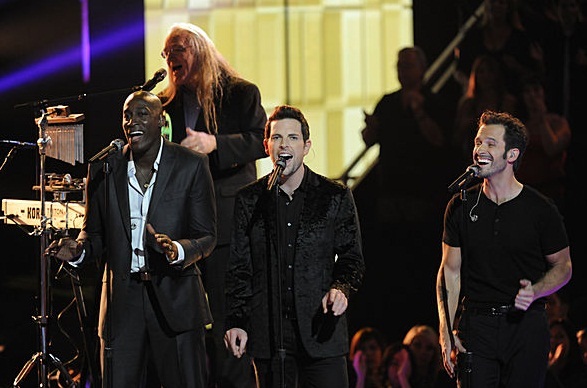 It's the finale! Finally! ¡Por fin! Enfin! Endlich! Yn olaf! This long and awkward road has come to an end and they're going to try and not let it peter out on that weird, vacant stretch down by the river. But no promises! At long last, Purrfect the Cat has spoken: we are finally ready, as a nation, to find out who in this great, wide, curious world has The Voice to end all voices! So we're going to get right to it, aren't we? Nope, no we're not! We're going to sing ourselves into oblivion. Might as well give all these kids one more chance to sing on a stage before irrelevancy kicks in, right? What? No! Who put that there! Bad intern, bad!
James, Jamar, and Pip are back to sing "I Want You Back" by the Jackson 5 with Jermaine. This is an adorable fellow explosion. This is the one direction other boy bands wanted to go down, you guys. I could gush about the total cupcake-status of all of these dudes, but I'm trying to come off as a totally blasé and apathetic blogger, so — you know. Whatever.
After Christina Milian's contractually obligated mistakes featuring Chris Mann's photobombs, we're treated to everyone's favorite actionable item: making celebrities seem like they're just like us. And what better way to do that than with the age-old blooper reel. Featuring: Noises! Carson's attempt at the funny ("as you'll see I like to do all my bloopers live") just makes us all kind of sad.
NEXT: Flo Rida is too wild to actually sing
Onward and downward to the sunshine state of mind that is lip syncing! Featuring the aptly-named Flo Rida, who is "performing" with Juliet Simms his new single "Wild Ones." Juliet was fine (still audibly sick), but Flo Rida is a catastrophe so you're not even getting a video link.
Chris Mann's last last last (last?) performance is The Verve's "Bittersweet Symphony" with Katrina Parker, Lindsey Pavao and her magical, bedazzled ear gunk. No one else is surprised he's wearing a velvet blazer, right? Just checking. This is actually a pretty interesting rendition considering how completely different they all are from each other.
Christina Milian talks to professional spiky giraffe weevil Flo Rida about dignitary relations in southeast Asia before moving onto the most pressing debate of our time: Is there a bromance afoot at the Circle K? The world is so captivated by the question: Will they or won't they? I imagine the producers (and Clarence St. Clair, to be honest) were salivating at the prospect of a potential homoerotic situation to throw Blake and Adam into. I imagine it went something like this.
NEXT: Hall & Oates: America's Original Bromosexuals…?
Hall & Oates are on the show because that movie 500 Days of Summer just came out, right? Oh, wait… you mean that came out years ago and there's no discernible reason they're here? Oh. Um. Well! They're performing "Rich Girl" anyway. Because they showed up, and who can resist the bountiful curls that sit atop the head of John Oates? Can you imagine if they performed "You Make My Dreams Come True" though? Probably too dangerous — Los Angeles would've experienced a self-imposed earthquake from all the dancing and joy. (I have a thing for old melodic pop bands. Here's lookin' at you, Steeley Dan!) Chris, Tony, and Jermaine are all up there playing second fiddle. I wish they had tambourines. Don't you wish they had tambourines? They should totally have some tambourines. Maybe some nice mod dresses with bowl cuts, too.
There's a few more video segments with the coaches but I can break it down for you as such:
Blake is the bumpkin
Cee Lo is the heartthrob
Christina is a diva
Adam is the hooker with a heart of gold
NEXT: The power of Ron Swanson is REAL
I want you all to know that we're in a fight, America. This thing is two hours long? No one told me this! I'm going to be up all night now. I'm getting too old, you guys. Too old for this.
"Superstition" is up next with some older rejects — they don't even get to perform with a finalist! I wasn't really paying attention though because that trumpet player has blinking lights on his fingers, so I can't even tell you what happened.
 …WAIT! Amy Poehler? Holy cats, I'm so happy. Cee Lo and Ron Swanson. Oh my, oh my, oh my. I am dying. Dead. On the floor. Here lies the body of Alicia Lutes. She was overtaken by ecstatic glee from the sight of Ron Swanson in a Voice-chair. I don't even care that this is some sort of integrated marketing scheme. I am a sucker for Nick Offerman's mustache 100 percent of the time.
Jamar is getting his second performance of the night with Juliet, RaeLynn, and Erin for "With A Little Help From My Friends" in the style of Joe Cocker. There are balloons! Because friends are like balloons — full of helium that makes your voice sound funny when you inhale.
I don't have to care about Christina Milian after this, right? Do you think she was offended when the producers managed to do not one, but two homage segments to Purrfect the Cat, but nothing about all the brilliant, prize-winning journalism she's been giving us all season?
NEXT: He wants you to belieb
"Wanted You More" by Lady Antebellum is apparently a song that America really enjoys! So they are here to play it. I never got on this train so I can't really comment on their performance but I like that one guy's red acoustic guitar. I'll throw you a video bone here if you're into that sort of thing.
One more Tony Lucca performance. Will it be his new single "I Hate You Christina, Na-Na-Na-Boo-Boo?" Oh, was that a secret? Whoops! Well, okay, here instead is "Go Your Own Way" by Fleetwood Mac with Jordis, who seems like a totally rad chick, but, meh. Here's some video for you Lucca fans who I've heard are now calling themselves Luccadoes (after his Twitter handle) because nicknaming yourself as a general fan base is always a really cute and fun and not-at-all annoying thing to do! Just go ask the Claymates.
Carson's been lying to me this entire time, too, FYI. It's been "a few short minutes" for 800 years. Not cool, Daly. So instead of just telling us who won the damn thing, we're treated to a performance by fetus sex symbol (ick) Justin Bieber. He has a new single! It is a song! I'm not going to say anything else because I have a not-so-irrational fear of the