'The Voice' Nabs Shakira, Usher to Sub for Cee Lo, Christina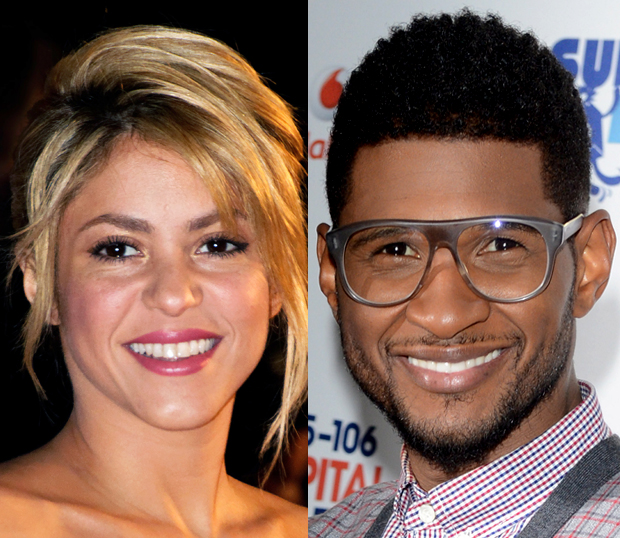 Better trade in your Team Cee-Lo and Team Christina shirts next season, because Shakira and Usher are stepping up to the plate! But have no fear, The Voice fans, because it's not forever–just for the next cycle. According to Deadline, NBC has confirmed the two superstar judges are taking a break for a cycle to focus on their other jobs–you know, the whole reason they're considered experts for the singing competition to begin with? Yep, those! So in their place we have latin-pop superstar Shakira and R&B crooner and Justin Bieber-mentor Usher.
The need for substitute coaches was expected after NBC announced it was expanding its successful singing competition to two seasons a year, since the whole reason the show chose the four judges (Adam Levine and Blake Shelton will continue their duties on the 4th season) is because they currently have active, popular singing careers. Allowing for these leave of absences not only brings new expertise to the show with guest judges, but allows the original four to stay on top of the challenges facing recording artists today.
"We are thrilled to welcome Usher and Shakira to The Voice," explained NBC chairman Bob Greenblatt. "The addition of these popular iconic artists continues the tradition established by Christina, CeeLo, Adam and Blake."
Perhaps, too, this means a wider variety of talent will be let into the show, since we know that Cee Lo is the man for the unique rocker types, and Christina loves a diva voice. Perhaps Shakira will be able to add a bit more of an international scope to the competition–and maybe Usher a real all-around entertainer? And bet your booties the girls will be tuning in with hopes that the Biebs himself will come on board as Usher's additional mentor. This temporary break with the format could really benefit The Voice and keep it fresh when other shows went a bit stale. We'll have to tune in and see.
What do you think of the coaching shake-up at The Voice? Are Shakira and Usher good additions to the show? Sound off in the comments!
Additional reporting by Shaunna Murphy.
[Photo Credit: WENN]
Follow Alicia on Twitter @alicialutes
More:
'The Voice' Shockingly Defeats 'The X-Factor' in the Ratings
Ryan Seacrest Is All That's Left of the 'American Idol' Brand
Christina Aguilera Reveals Her Body on 'Your Body' Cover Art — PIC