The Voice of 'SpongeBob' on Taking Christmas Under the Sea… Old School Style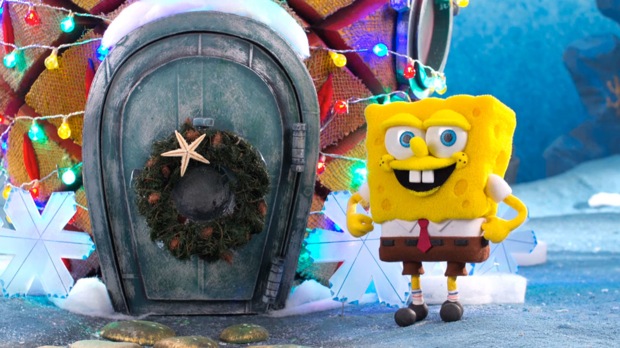 You may not know Tom Kenny, but you know Tom Kenny. As the voice of SpongeBob Squarepants since 1999 and nearly 300 other acting credits including cartoons, movies, and commercials, Kenny is one of the leading voice actors working in the business. He has an energy and passion for the job — as he tells Hollywood.com, it's not a job for everyone but it's the job for him.
This holiday season, one of Kenny's long-gestating projects is finally realized in the form of the It's A SpongeBob Christmas!, a fully stop-motion Christmas special (a la the classic Rankin and Bass era cartoons) that's airing now on Nickeleodoeon and available on DVD in time for the season. Kenny's enthusiasm for voice over work, music from the '60s and '70s, and general merriment collide in the special, which comes accompanied by a truly fantastic album of the same name, featuring songs written by the actor.
We sat down with Kenny to discuss life with Spongebob for over a decade and writing songs for the special:
How does every job differ from you compared to your consist work as SpongeBob?
Tom Kenny: I approach it like a session drummer would. Or a wrecking crew guy. I identify with those guys so much, those invisibly ubiquitous guys during the '60s and '70s. Everything from film soundtracks to TV theme songs to cartoon soundtracks to Frank SInatra records to Beach Boy records. It's all the same handful of people doing it all. I think that's how my job is.
It's amazing how something you think of as a one-off thing has this timed release. Like commercials, one of those things you did years ago, suddenly is brought up again and again and again. It has to do with kids who are watching things that was just an afternoon in your life. You don't realize that's some kid's main thing. There is some kid whose mind is being blown.
I'm sure you get that at Comic-Con.
Kenny: Everyone has something. And you think, 'Really, that?' For me it's video games. Early video games, like Spyro the Dragon, people who were kids when those games were out, they're older and … it's a really huge deal.
They bow down to you Wayne's World-style.
Kenny: Yeah, they want inside dope on the recording [laughs]. If you do the math — I did that in 1995 or 1996 — if those people were eight years old, they're in their 20s now coming up to you at Comic-Con saying, 'Dude, I got to meet Spyro, man!'
SpongeBob must get that too.
Kenny: That you expect because it's a big global phenomenon. I go to a remote corner of the world and you'll see some kid with a Spongebob t-shirt on. We were in a mountain village in Italy, way off the beaten track, and the waitress had a Spongebob t-shirt on. Doesn't even speak English. And if she does watch SpongeBob, it's not me. It's some guy using me as a template!
There are a lot of Christmas specials, but unlike the SpongeBob special, I don't recall many with great voice actors in them.
Kenny: Even as a kid when I was growing up, they used celebrities that were too old for the audience. Burl Ives, who? There are snippets of dialogue that stand out — like when Rudolph has that nasal voice when he has the black ball covering up his nose, or the dentist who wanted to be an elf. To my brother and I he had the funniest line for no reason: 'A dentist? Good grief!' And we'd slam the door. We'd do it all the time. But no, not a lot of memorable voice actors.
What's amazing to me is that you can sing in the SpongeBob voice and do so to great lengths in the Christmas special. Is that the hard part of the job?
Kenny: I do a fair amount of singing on SpongeBob and the other shows too. In fact, I wrote a lot of the songs on Spongebob, cowrote with a guy named Andy Paley. We wrote, 'Don't Be a Jerk It's Christmas' and that became the springboard of the special.
We wrote that in 2009 and just kind of handed it out as a gift to people on the show. And I remember it was just at a time when there was just this outburst of a**hole behavior: Michael VIck and his dog fighting thing, Joe Wilson screaming, and it was really grew from all that. Talking about seeds you plant and the whole Spyro thing…
Wow, so this special took years of being angry at the world to come to fruition.
Kenny: [Laughs] Not angry, just ashamed of my species. So Andy and I came up with this story line where there's an element called 'Jerktonium' and if a meteorite of jerktonium lands in your town, it turns everyone into jerks. And Plankton gets ahold of some and bakes it into fruit cakes for everybody and disseminates into an outbreak of jerktonium. A pandemic of jerkiness.
And the album… we had been trying to pitch a Christmas album for some years. Why do the Alvin and the Chipmunks and The Muppets but not SpongeBob — that's crazy. Ironically, we're able to use all those very old school, chameleon studio musicians from the '60s and '70s that I've always idolized. Corky Hale, who is a female harpist who's played with Billie Holiday and Liberace. She's played with Bjork, so she spans generations. James Burton, who was Ricky Nelson's guitarist and later Elvis in Vegas movies. Tommy Morgan who was the harmonica player on Green Acres and every legendary tv theme.
So we got the real guys who made those records sound the way they did. It's pretty cool. It's a fun labor of love. We wrote real songs. Let's do something for kids, write songs that sound like it came from 1961. Sandy's from Texas, and I love Western swing, like a Bob Wills record from 1940.
Looking ahead, I know you're doing another Spongebob movie. Have you begun work on that?
Kenny: No, but I'm excited about it. Not even close though — I know very little about it, but I know the show is on a break form awhile. We just wrapped on some of the episodes before the movie, because the writers get repurposed on to the movie. So it's a break. But we've renegotiated so I don't think the show is ending.
Speaking of sequels, you worked with Michael Bay on the Transformers movies — do you know if you'll be back for the fourth one?
Kenny: [Laughs] I haven't heard but I'm sending him some nice muffins….
Does Bay come in and direct the voice actors?
Kenny: Think about it for a minute: of course. Who is the bigger control freak than Michael Bay? He wouldn't turn that over to anyone. I get the feeling he likes that aspect of it. He likes being in with the voiceover actors. Sometimes his relationships with the on-screen actors aren't… the greatest [laughs]. And I think he likes to roll up his sleeves and get his hands dirty. He likes voice actors. He hangs out with the crew. He goes to bat for his people. He also won't take diva attitudes from anyone. And since voice actors are one step on the ladder above people who set up the Tilt-a-Whirl at the carnival, there's no diva behavior.
Check local listings for It's a SpongeBob Christmas!, running through the holidays on Nickelodeon and pick up the album available now.
[Photo Credit: Nickelodeon]
Follow Matt Patches on Twitter @misterpatches
More:
What Your Favorite Christmas Movie Says About You
Comic-Con 2012: 'Legend of Korra' Panel Reveals Book 2: Spirit Details
'Ninja Turtles' Star Mae Whitman Talks April O'Neil, '90s Nick Love, and 'Korra' Hopes
You Might Also Like:

20 Hottest Bikini Bodies of 2012: Megan Fox and More!