'The Voice' Recap: Ain't That Some Shhh?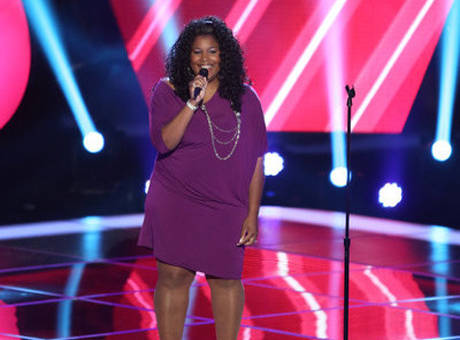 Over the weekend, while visiting my boyfriend's parents (both from Hong Kong), I watched my first episode of The Voice of China. Why? Because this is a 24-hour job, people.
China's Voice also features four coaches, in a vague demographic echo of the U.S. version: their number includes one woman, and one rap and R&B artist who is clearly the producers' tacit substitute for a black judge. (I swear I am not lying when I tell you he goes by the name Harlem.).
To be fair, my in-depth ethnographic study lasted all of 10 minutes, but a highlight among the performances I saw was a solid rendition of "Halo," in English. Nothing would give me greater delight than to force The Voice's American contestants to sing in Mandarin for a week, as I doubt many could muster as much as a ni hao.
Back to Hollywood. Last night's episode begins with Michelle Brooks-Thompson, whose twin daughters are apparently always dressed alike — fortunately skewing cute rather than utterly terrifying.
She belts the Tina Turner staple "Proud Mary," strutting across the stage and charming the audience to their feet. Michelle has her pick of all non-Blake judges, who sing (see what I did there?) the praises of her "flawless," soulful voice.
Michelle's Result: Team Adam
A native of Peru via Miami, Diego Val is a cutie cursed with a haircut that's a little too Gary Oldman-in-The Fifth Element.
As a child, he contracted Perthes Disease, a devastating illness that left him bed-ridden for more than a year. He now gives back by performing music at children's hospitals — the adorable sick kids he serenades seem to appreciate his company, but I can't help but think most of them would've preferred a visit from a face-painting clown or a puppy.
His smooth and breezy take on "Animal" (with guitar) wins him a place on Team Cee Lo. Um,