'The Voice' Recap: Battle Rounds Get 'So Weird'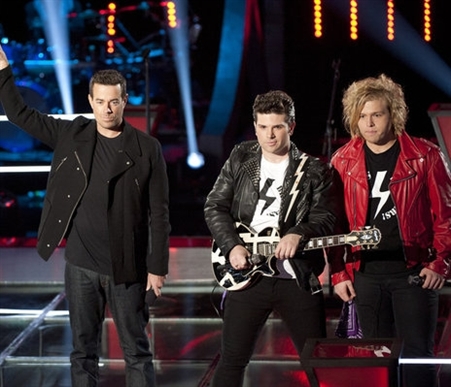 S2E7: The night started off with a Tweet sent my way from Voice contestants The Shields Brothers, saying the latest episode was "gonna be shocking!" It definitely started off that way with two great battles, one with the aforementioned Shields that absolutely was the craziest thing on TV since Gary Busey. The rest of the night cooled off a bit until the world witnesses the absolute strength of Erin Willett, who lost her father to cancer right after she wowed the world and made it to the live rounds. What a finish!
Neck Ties vs. Nerves
"Pip's the guy … he can do everything." – Blake
Pip, our favorite bow-tie-and-suspenders-wearing sprite, was pitted against Nathan Parrett; both are such old souls. Apparently Nathan did not bring it in the blind auditions because Adam kept gushing over how he improved, leaving Pip a little jealous. Robin Thicke did all he could to help the ultra nervous Nathan break out of his shell, but Pip stepped out on the stage and immediately sounded like Michael Buble singing "You Know I'm No Good." The battle was great and the two worked so well together; they're both stylish and their sounds blended so effortlessly. Adam chose the better performer – Pip – over the stronger voice in Nathan. Pip Wins!
Quiet vs. Riot
"That was so weird, that was so weird, that was so weird." – Adam
Former model Erin Martin came next facing off against The Shields Brothers. It was rock and roll punching America in the face against a fluttery beauty with an upside. What a song choice by Cee Lo: "What's Love Got to Do With It?" This has to be the most unique matchup The Voice has EVER seen. Erin, usually quiet, was showing her teeth early and became downright nasty at times. Ne-Yo wasn't impressed with the beauty either. "I see you. Okay, you're cute, what else you got?" Erin came out for battle dressed like the evil queen in Once Upon A Time or Snow White and the Huntsman and the Shields Brothers were their usual crazy selves in leather jackets and t-shirts. It was such an amazing, bizarre performance. It seemed like two different songs altogether. At times Erin sounded like a condor or a dinosaur but her unique style pushed Cee Lo to pick her. Don't fret, the Shield Brothers already have a retaliation video. Erin Wins!
Sexy vs. Seventeen
"When I was singing to Christina, I did get lost a little bit. I just kept looking into those beautiful Blue eyes." – Jonathas
Jonathas got a little too lost. There was no way to live up to the Shields Brothers, but Jonathas and Ashley De La Rosa sure tried. The two sang "No Air" by Chris Brown and Jordin Sparks; it seemed a perfect match for the two. At times, Jonathas really sounded just like Usher with smooth sounds and sensual rhythms but other times he was just flat and reached his plateau. Ashley started off slow and scared but had some fleeting break out moments that showed her potential. In the end, Christina picked the 17 year-old, who just needs a little training to take her farther in this competition. Ashley Wins!
Uptight vs. Unbelievable
"Jermaine, you took this song and kicked its ass man!" – Adam
Next came Jermaine Paul – Alicia Keys' backup singer – against Alyx, who's probably the most prepackaged, cold teen singer on the show. The two had to sing Billy Ocean's "Get Outta My Dreams, Get Into My Car" but it was never a contest. Blake tried to get the both to cut lose, which Jermaine took to heart. As for Alyx, even her cutting lose looked fake and pre-planned. Blake's wife Miranda Lambert said she doubted that the young Alyx has ever let loose or had pure fun. Jermaine was the complete opposite, impressing Kelly Clarkson so much, she offered to bring him on tour with her. We can skip the battle because it was more like a massacre. Alyx gave a lame attempt at the end to cut lose and screamed "What the hell," but no one was buying. Jermaine Wins!
Underdog vs. Uncomfortable
"As much as I love Angel's voice, I think Katrina just flat out won this battle." – Blake
Angel Taylor battled Katrina Parker next to "Bleeding Love" by Leona Lewis and from the start, this song was better suited for Angel, who is on the show after dealing with an abusive father, but that didn't seem to matter in the end when Hurricane Katrina brought it! Both of the coaches, Thicke and Alanis, wanted the two contestants to be vulnerable and feel the song. Adam even said to take those nerves and use them, even if you forget the words. When it was over, Christina compared Katrina to Adele – that's some big praise! Adam was hiding in his sweater when it was decision time, probably because he knew he had to go with the underdog who stole the show while Angel was kind of timid. Katrina Wins!
Country vs. Catastrophe
"I hope he knows I'm doing this for him." – Erin
He knows! No jokes here, what Erin Willett did next was nothing short of amazing. She faced off against her friend and country singer Gwen Sebastian singing "We Belong" but right before it was time to go on, she found out her father Chuck's cancer had taken a turn for the worse and he had 24 hours left to live. Before this Erin was concerned that she didn't want to overuse her powerful voice during the battle. That was all thrown out the window and the entire crowd, coaching panel and world was rooting for Erin. Even Gwen was smiling at Erin, rooting for her while they were actually battling. It was a finish to the show that had everyone a little teary eyed. Blake went with the powerful Erin, who sang her heart out for dad. Erin Wins!
This battle round was the epitome of a classic bookend show, where the beginning and the end really made it a great episode. After watching Erin's struggle, you forget about a flat performance or two and just get caught up in all the drama. Next week, we welcome the last battle round and prepare for the live shows. Every time you get comfortable, this show changes on you. Are you ready?
What did you think of Erin's performance? What did you think of The Shields Brothers? Do you think the right people were chosen? Let us know in the comments section below.