'The Voice' Recap: Blake and Julio Down by the Schoolyard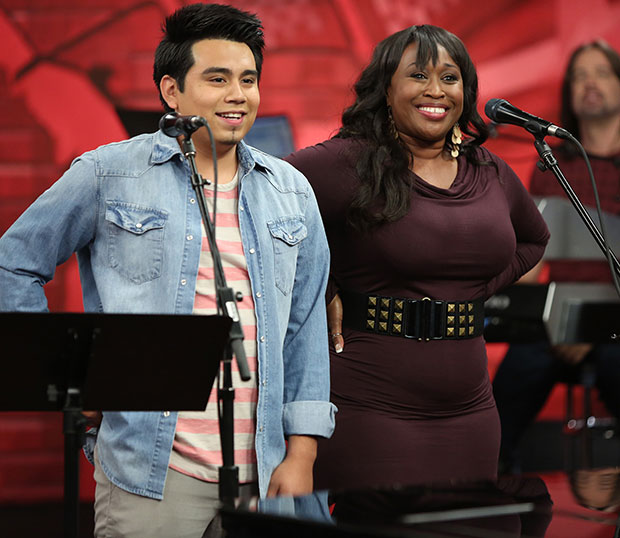 Welcome back to The Voice! Last night's episode marked another installment of the battle rounds, and another two hours of performances in a boxing ring — spoiler alert — without a single version of "Eye of the Tiger." Sometimes I don't know why I bother.
Team Blake's Julio Cesar Castillo and Terisa Griffin are up first. Mariachi Castillo and soul singer Griffin are evenly matched on Gloria Estefan's "Conga," a Latin dance classic that nevertheless relies on powerful female vocals.
As the pair rehearses, Julio struggles with learning the song's rapid-fire lyrics. "No one in the history of the world really knows the words," advisor Michael Bublé consoles him. I love "Conga," but I'm not sure it's the best choice for The Voice. Breath control may be important, but spitting out all those lyrics seems more like a party trick than a true showcase of vocal ability (I can recite the name of every U.S. president in order in under 15 seconds, but for some reason I still haven't been offered a reality show).
In their live performance, Julio and Terisa finally nail the song's breakneck pace. Julio wins, but Cee Lo is quick to steal Terisa for his own team. Eyes wide with terror, Blake immediately realizes his mistake: fiery Terisa isn't going anywhere, and "she's gonna want to shove that in [his] face." What did you expect? She won't be ignored, Blake.
Christina Aguilera matches up male Bratz doll Dez Duron and I'm-so-sorry-I-don't-remember-you Paulina on "Just the Way You Are." When Dez admits he's nervous, mentor Billie Joe Armstrong encourages him with his characteristic brand of surreal, Stuart Smalley optimism: "Be nervous — it's your friend!"
Rehearsals are rough, especially on Paulina's end. As the performer improvises yet another incongruous, pitchy riff into the song, Christina finds a diplomatic solution. "I don't think you, in particular, need to create ad lib situations," Xtina tells Paulina, which is really just a kinder way of asking her to sing less.
The live performance isn't a disaster, but both teammates lack charisma — even in comparison to Carson Daly, who emcees as commandingly as a confused audience member who wandered on stage while searching for a bathroom.
Christina chooses Dez, the lesser of two mediocres. Spotted backstage: Papa Duron and his clinically verifiable fivehead.
Adam Levine has racecar driver Benji take on bar manager Sam James (who appears to have lost about 10 pounds since his blind audition).
Benji and Sam cover Bon Jovi's "You Give Love a Bad Name" — this means that, as a resident of New Jersey, I'm legally required to stand and remove my hat for the entirety of this segment (if it were Springsteen, I'd have to write my recap in blood). Sam admits he's "not really a 'Bon Jovi guy,'" which is another way of saying he's an evil terrorist who hates America.
Their duet is a lot of fun; they aggressively swagger across the stage and interact with great, playful energy. Meanwhile, one of The Voice's more unfortunate chyrons identifies "SAM JAMES' GIRLFRIEND AND MOM" in the audience, and I at first mistakenly interpret this caption as referring to one woman (and an unusual family arrangement).
In the end, Adam picks Sam, and — although all the other coaches had been singing (boom!) his praises — Benji heads home.
Nicholas David, memorable for his five o'clock shadow (that being five o'clock in a very, very distant time zone), and Todd Kessler team up for Cee Lo on "She's Gone."In rehearsals, Cee Lo and Rob Thomas worry that Nicholas is too nice. He wants to collaborate with Todd, not compete with him — if Billie Joe were their mentor, they'd be sporting matching friendship bracelets by now.
Ultimately, Todd's reedy pop voice pales in comparison to Nicholas's flair for deep and nuanced blue-eyed soul. Besides, Blake tells David, "You look like Jesus, and people love that." Bye, Todd.
Next, Blake and Bubbles pit Louisiana native Lelia Broussard against music teacher Suzanna Choffel (girlfriend killed it on "Landslide" a few weeks ago). Blake believes these "kinda indie artists…with gypsy souls" were an inevitable match-up — though to be fair, Blake considers anyone who doesn't perform in cowboy boots to be an "indie artist."
Lelia's pitch wavers in rehearsals for "Dog Days Are Over," while Suzanna finds herself preoccupied with technical details. But by the live performance, the kinks have been worked out — the performers' styles beautifully complement one another. While I'm a fan of Broussard's, her teammate is arguably my overall favorite, so I'm relieved when Blake chooses Suzanna.
For the last battle of the night, Christina picks 17-year-old Joselyn Rivera and Egyptian-born Sylvia Yacoub. The ladies are tasked with Beyoncé's "Best Thing I Never Had." If The Voice's producers would finally break down and hire me as a consultant (and/or executive producer), Sylvia and Joselyn would have performed the song in identical, ornate wedding dresses.
In rehearsals, Sylvia steamrolls Joselyn, but their final performance escalates gorgeously, with neither singer overpowering her partner. The duet is 90 seconds of pure girl power that makes one of my fallopian tubes reach over and high five the other (the female body is a beautiful and mysterious thing, Paul Ryan).
Christina, loving Sylvia's "fire," sticks with Yacoub. But the episode ends on a high note (boom!) when both Blake and Adam vie to steal Joselyn — turns out she can't resist the man-dimples of Team Levine.
The Voice is back tomorrow night at 8 PM. with more battles. In the meantime, find me on Twitter @mollyfitz.
[Image Credits: NBC]
More:
The Voice Recap: Beg, Borrow, or Steal
The Voice Recap: Terry McDermott and the Sundance Kid
The Voice Preview: It's Time to Battle It Out!
From Our Partners:

Kristen Stewart and Robert Pattinson Cuddle at Chateau Marmont: 15 of the 'Twilight' Couple's Most Romantic Date Nights — GALLERY
(Celebuzz)

Reese Witherspoon Debuts Post-Baby Figure Two Weeks After Giving Birth — PHOTOS
(Celebuzz)