'The Voice' Recap: Bublé, Please Come Home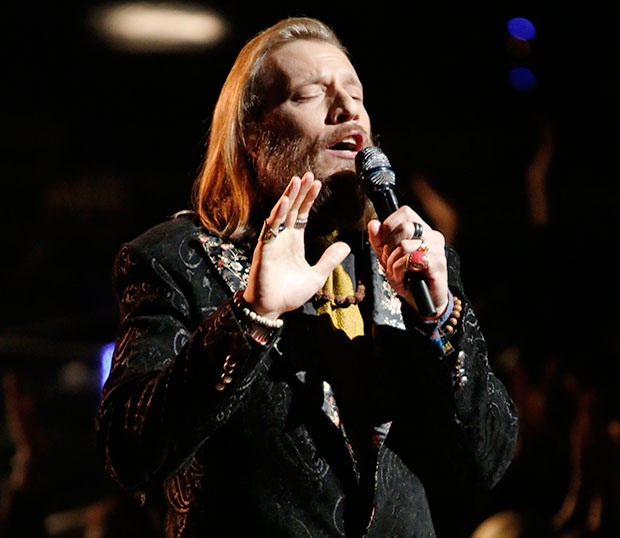 Welcome back to The Voice! The final four (this is what March Madness is, right?) will soon become three: not through a Human Centipede-style abomination of science, but America's votes. One contestant will be eliminated before next week's finals — who's it going to be?
My No. 19 celebrity crush — and veteran Voice mentor — Michael Bublé opens the show with "Christmas (Baby Please Come Home)." It's fun to hear fangirlish screams from the usually relatively reserved Voice audience. I like the snowflake set and the production's wintry white theme, as reflected in Michael's bright tuxedo jacket and big, pale face. Let's you and me make a large-skulled, anemic baby, Bubbles.
GALLERY: Best and Worst TV Episodes of 2012
For their part, the coaches seem to have enacted an unofficial dress code. Slim-hipped
Adam Levine
wears a jacket that's fit him since his eighth-grade graduation, and
Blake Shelton
dons a roomy three-piece suit that he might've found on the discount rack at Men's Wearhouse (which is not say you look anything less than flawless, my scruffy Southern angel).The show flew
Trevin Hunte
home to Georgia to visit his extended family, and the reunion is as tearful and wholesome as you'd imagine. In a scene cribbed from a teen movie dream sequence, Trevin is greeted with a standing ovation at an assembly in his honor at his former middle school. Back in L.A., Trevin offers "Wind Beneath My Wings," dedicated to those students back in Georgia. As he sings, he's flanked by vaguely angelic female musicians in flowing, ethereal robes. Maybe a little too on-the-nose? Trevin, as always, is almost boringly good. He sounds a little flat in the song's final, extended notes, but otherwise nails it.
Nicholas David
heads back to the Twin Cities to visit his family's newly purchased home for the first time. His super-pregnant wife is very sweet, as are his little boys, each with a miniature version of Nick's goofy face. They stop by the doctor's office to listen to the baby's heartbeat, which — to my disappointment — proves to have a normal, human rhythm and not a syncopated funk groove.
VIDEOS: 14 Most Embarrassing Singing Performances of 2012
Nick sings "You Are So Beautiful" in honor of his family, but damn, if anybody's looking beautiful, it's him. This is his first time appearing on the show without his glasses, and it turns out he's surprisingly dashing. I hope Lasik's marketing team is blowing up his voicemail about doing a commercial (for which he'll sing "
I Can See Clearly Now
" — I expect a job offer by Friday, Sterling Cooper Draper Pryce). Conspiracy theory: What if Nick never needed glasses, and planned this
She's All That
reveal in advance to secure a last-minute bump in votes? And what if
Terry McDermott
isn't really Scottish at all, and will from now on affect any accent America chooses? (My vote?
Minnesotan
.) Like "Wind Beneath My Wings," this is an infamously saccharine song, but the stripped-down arrangement works for me. In search of an emotional payoff, the camera repeatedly focuses on Nick's family in the audience. But, delightfully, the kids are too busy fidgeting and staring into space (my two primary childhood hobbies) to pay their dad any mind. Blake rounds up all his team members from this season to collaborate on a cover of "White Christmas." D'aww. Incidentally, by this point, the show's product placement has gotten so aggressive that I'm pretty sure there's an assistant whose entire job is to position Starbucks cups in the foreground of every shot. Unsurprisingly, "White Christmas" is essentially a Blake solo performance — I AM NOT COMPLAINING — with his team contributing only 10 or 15 seconds of singing on the chorus. Glad we paid to fly all of you out here, folks.
GALLERY: Best (and Worst) Songs of the Year
Cassadee Pope
visits her boyfriend and family in West Palm Beach, Fla., dropping in on a local radio station and accepting a key to the city. Coach Blake's influence has apparently rubbed off — Cassadee returns to country with a soaring yet controlled cover of
Keith Urban
's "Stupid Boy." I really like her version: it reminds me of a
Taylor Swift
B-side, minus the veiled references to
Jake Gyllenhaal
. Blake praises Cassadee's capacity for emotional expression and storytelling, both of which are key to country stardom. By the time you read this recap, this single will have charted on iTunes. Perhaps because
The Voice
is too cheap to foot the bill for transatlantic travel, Terry returns to New Orleans, his adopted home. He adorably surprises his son, then is himself adorably surprised by his aunt and uncle visiting from Scotland. In related news, I have lost at least 4 percent of my body weight in tears over the course of this episode. For the evening's final performance, Terry takes on
The Beatles
' "Let It Be." It's lovely, adjusted to a slightly higher register to suit Terry's voice. There are no high highs, because any rendition of "Let It Be" is always more about the song (which Blake calls "sacred ground") than the singer. Nevertheless, it's a great cover. Who would've thought that British rockers could succeed in America?
The Voice
returns tonight at 8 p.m., when one of the remaining four contestants will be eliminated. Follow Molly on Twitter at @mollyfitz. [Image Credit: Tyler Golden/NBC]
More
:
The Voice Recap: Pretty Girls and Unicorns
The Voice Recap: 50 Shades of Blake
The Voice Recap: The Cee-Bow Connection

Lea Michele Calls Her Breasts 'My Prizewinners'

Kim Kardashians Best Bikini Moments (PHOTOS)