'The Voice' Recap: Cee Lo, Blake & Christina Choose Grit Over Humility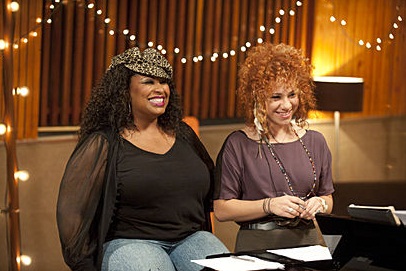 S2E6: The battle rounds picked right up where they had left off on The Voice; we find fierce competition and tough calls for coaches Adam, Christina, Cee Lo and Blake. It was a night of conflicting personalities and styles as a shy siren competed against a wild Jersey girl, and a gritty rocker went head to head with a folky, mellow performer. We also saw the two 50 year-olds get their first taste of single elimination. It was a solid show from start to finish, one that closed with some tears of joy for Jamar, an HIV positive contestant on a road to redemption. The teams for the live rounds are starting to fill up rapidly, so let's get it on!
Emotion Vs. Power
"I tell you how I'm gonna choose it, whichever one of these two singers turns me on the most." – Blake
Hold your horses, Blake; this was Christina's choice for her team when Sera Hill faced off against 51-year-old Geoff McBride. Sera brought her flare for the dramatic and Geoff brought his strong vocal prowess. Lionel Richie had almost no critiques and literally had to jump up from his seat after hearing Geoff, while Jewel predicted that volume only goes so far. She told Sera to feel it. Even with the better voice, Geoff was out of his element with Aretha's "Chain of Fools" and Christina took notice. Sera may have won the battle but rest assured the world will hear Geoff again.
Sera Wins!
Meek Vs. Mouthy
"I want to beat Lex so badly, I want to destroy her." – Charlotte
Tell us how you really feel. Up next, Charlotte Sometimes, the always outspoken Jersey girl, took on Lex Land, the shy introvert with a sultry, smoky sound. The two handled a new song, "Pumped Up Kicks" by Foster The People. Who knew Blake – of all people – loved this song? While Lex was blushing, Charlotte was commenting on her boobs. Talk about opposite personalities. Kelly Clarkson saw Charlotte's blind audition and said she is a fan of her fluttery tones, while Blake was concerned the young girl who battled a disintegrating jaw disease would try and entertain too much. In the end, we saw the first real "battle" as the two girls had aggression written all over their faces toward the end of the song, and Carson had to jump in to break up the melodic malay. Blake chose the gregarious Charlotte to move on.
Charlotte Wins!
Yodel Vs. Gravel
"Sarah, you're great but I'm not sure whether this song did your voice justice." – Christina
Yin and Yang was epitomized in our next battle. Folkie Sarah Golden couldn't have been matched up against a more different opponent in raspy rocker Juliet Simms. It might have been a bit unfair that Cee Lo chose Rod Stewart's "Stay With Me" as their battle song, a tune tailor-made for Simms. Ne-Yo had some choice words for Juliet, telling her to save her raspy scream for later in the song to keep it special. Sarah on the other hand, was overshadowed from the start of the song and Cee Lo kept the rocker Juliet, who rinses her mouth out with Listerine and gravel.
Juliet Wins!
Youth Vs. Experience
"Kim and I, we're both quote on quote powerhouse singers although she definitely her house is bigger than my house" – Whitney
"Whitney, you're like my little sis, but it's on and crackin'." – Kim
Earlier in the night, we saw one 50-year-old sent home, could all the elderly be gone from The Voice? Not so fast, as Kim Yarbrough was tasked with singing "No More Drama" against Whitney Myer. Alanis Morissette, a legendary powerhouse in her own right, warned Whitney against trying to overpower Kim but just hold her words longer. Robin Thicke wanted Kim to relate to and feel the pain in Mary J. Blige's words. This was a great battle from the start, and went back and forth the entire time. It left Blake flabbergasted, all he could say was "that was awesome!" Blake picked Carson, but the vote that counted, Adam's, went to Kim, who is not letting age stand n the way of her dreams.
Kim Wins!
Bizarre Vs. The Baker
"I'm not quite ready to go back to the bakery." – Lee
It was an alternative battle that would have Kurt Cobain smiling as Lindsey Pavao faced Lee Koch by singing "Heart Shaped Box." Lee was immediately at a disadvantage not knowing the words while Lindsey relished in the Nirvana song, one of her favorites. Even so, Lee actually came out smooth and this creepy, eerie battle was one for the books as it almost felt like a Cobain tribute with soft, saturnine sounds. It was over though when Christina gave Adam a knowing look during Lindsey's verse that almost evinced a "She's going all the way" feeling from Aguilera. Cee Lo compared Lee to Jesus but the big shock was Blake had never heard this song! Come on man! Christina was pleasantly surprised by Lee but still went with Lindsey. No fret, Lee said he is taking the family on tour and not going back to baking.
Lindsey Wins!
Friend Vs. Frenemy
"You Jamar, you owned it, you owned that whole stage." – Adam
The best story of the show Jamar Rogers, the former drug addict living with HIV, came next against his close friend Jamie Lono and this was probably the most lopsided battle of the night. Jamar had it from the start. The two sang "I Want To Know What Love Is" by Foreigner and Jamie almost lost it during rehearsal, his voice cracking twice. The song was all about emotion and Ne-Yo told Jamar to simply harness that raw energy and use it in a constructive way on battle night. It was tough for both competitors, good friends, who both sang their hearts out and bear hugged at the song's conclusion. Cee picked Jamar but the emotion after could be felt for miles. Jamie, a true friend, said maybe his purpose on the show was to propel Jamar forward. Maybe indeed!
Jamar Wins!
Yet another classic show from The Voice, the show quickly shaping up to be the best and take over for all other singing competitions. American Idol really has a formidable opponent in this show and better look because The Voice is nipping, if not gnawing, on its heels. Next week, we move one step closer to the live rounds and unfortunately will have to say goodbye to a few more contestants. Is it Monday yet? Who would have ever expected that question of excitement?
Let us know what you thought. Did you think the right people won? Did you tear up after the last performance? Who do you think will win it all? Hit us up in the comments section below, or on Twitter @TheRealRothman.