'The Voice' Recap: Flattery Will Get You Everywhere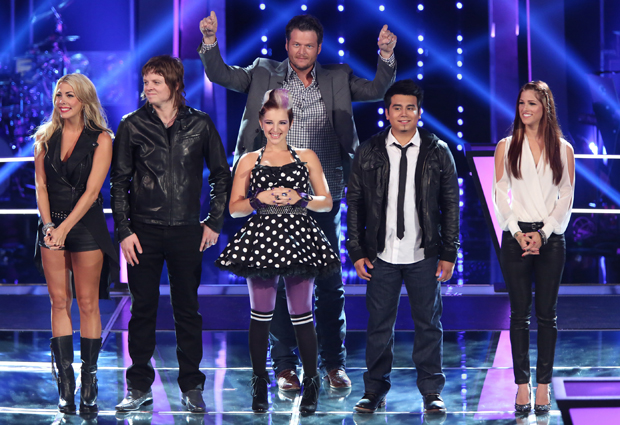 The Voice's final Knockout Round of the season aired last night, allowing both Christina Aguilera and Blake Shelton's teams to square off against each other for a shot in the playoffs (my dad would be so proud of all my boxing and football jargon, by the way). That's right, folks — we are now less than a week away from the live shows. Can you believe it? It's the end of an era!
But the contestants made sure to end things on a high note (see what I did there?) with a variety of memorable performances. 20 took the stage, but only 10 came out as victors. Find out who advanced to the next round and who found themselves in treble (okay, I'll stop).
Team Christina:
Team Xtina opened the proceedings with Devyn DeLoera singing Whitney Houston's "I Have Nothing," while Laura Vivas covered Marc Anthony's hit "I Need to Know." It's always risky to take on the song of a singing legend like Whitney, but Devyn managed to belt out some pretty solid notes…along with some not-so-solid notes. But all-in-all, she was able to hold her own. Laura, on the other hand, seemed to flounder at times (probably because she was concentrating on those impressive salsa moves). But her performance wasn't "caliente" enough for Christina, who opted to advance Devyn on to the next round.
Next up showcased Adriana Louise (singing "Already Gone" by Kelly Clarkson) and Celica Westbrook (singing "Never Say Never" by Justin Bieber). While there's no doubt Adriana has stronger singing chops – not to mention a certain Xtina-type appeal – I've got to give Celica credit for daring to emulate the Biebs. And it was actually pretty fun to watch. However, Christina didn't seem to feel the same way and ended up giving her mini-clone, Adriana, a place in the playoffs instead. Looks like someone doesn't have Bieber Fever.
Then came Alessandra Guercio singing "Take a Bow" by Rihanna and Dez Duron who sang "Stuck on You" by Lionel Richie. Like I said before, I'm relatively new to the show, but it seems like many of Christina's girl competitors have a tendency to emulate her vocal style. And while it's always great to have some Xtina flare, not every song calls for those big, belt-worthy notes — something Alessandra didn't the memo about. As for Dez…he's a hot guy singing a sweet, sensitive song. Need I say more? Dez is off to the live shows.
Next, Christina had Chevonne go up against De'borah, which turned out to be a bit of a no-brainer. Chevonne's rendition of "Dancing with Myself" by Generation X may have been fun and mildly entertaining, but it can't hold a candle to the type of vocal firepower De'borah brought to The Fray's hit song, "You Found Me.". Seriously, this girl's got some impressive pipes and will undoubtedly be sticking around until the very end. And Christina seemed to agree…De'borah is off to the live shows. Keep your eye on this one, folks. She's a keeper.
Last up for Team Xtina, Aquile took on "Grenade" by Bruno Mars, while Sylvia Yacoub sang Christina Aguilera's hit song, "Fighter." You'd think this would be an easy choice — where Aquile's performance was smooth, charismatic, and just plain awesome, Sylvia's was more of an attempt at brown nosing than anything else. Sure, her vocals were alright, but her song choice was clearly an just ode to Christina as a means to butter her up. Now some people (i.e. myself) could potentially find something like that annoying…but not Christina. Nope, she loved it and decided to keep Sylvia while tragically showing the talented Aquile the door. NOOOO! Now I'm really depressed, guys. Now if you'll excuse me, I have to go drown my sorrows in Halloween candy.
Team Blake:
For his first battle of the night, Blake pitted country singers Gracia Harrison and Liz Davis against each other in order to prevent splitting the vote between these two during the live rounds. Gracia chose to sing Aerosmith's "I Don't Wanna Miss a Thing," while Liz selected "Gunpowder and Lead" by Miranda Lambert. That's right, the Miranda Lambert — also known as Blake's wife. These contestants sure know how to schmooze their coaches, don't they? But either way, it seemed to work since Blake decided to advance Liz on to the live shows, claiming that she seems to know more of who she is as an artist. Either that or he was just happy she picked one of his wife's songs. I'm choosing to believe it's the former.
Next up were rockers Rudy Parris and Terry McDermott, who helped show just how important song choices can be when it comes to competitions like this. Rudy performed "Forever" by Chris Brown — a very bold choice considering his age (he's a grandfather, you know) and the type of demographic this song normally appeals to. It'd be like watching Betty White sing Carly Rae Jepsen's song "Call Me Maybe." Though, now that I say it, I'd really love for that to actually happen. But in this case, it just wasn't the right time or place for such a song choice. Terry, on the other hand, decided to try his hand at "Maybe I'm Amazed" by Paul McCartney, which led to absolutely stunning results. This guy is in a whole other league of singing and there's no doubt that he'll go far (plus that Scottish accent of his doesn't hurt things either). Blake advanced him through to next week.
Colin McLoughlin and 16-year-old Michaela Paige were the next two contestants to face off. While Colin picked "Breakeven" by The Script, Michaela got in touch with her hardcore rocker side with Pat Benatar's "Love is a Battlefield." Right from the get-go, you could tell Michaela was a clear favorite of Blake's and she definitely has the vocal strength to go far in this competition. Not to mention the fact that her song choice was absolutely perfect for her range. But…Colin is just so handsome! Back me up on this, ladies. I was hoping to be able to stare look at him for at least a couple more weeks. But to no avail. Blake sent Colin packing (call me?) and moved Michaela into the live shows.
In yet another display of Bieber affection, Julio Cesar Castillo chose to sing "Somebody to Love" by Justin Bieber, while his competitor, MarissaAnn, decided to tackle Labelle's "Lady Marmalade (which just so happens to feature her former coach, Christina). Coincidence? I think not. Both performances were decent, but after some serious contemplating Blake opted to send Julio into the next round since he's already invested so much in him. Way to go, Julio! Thanks for not conforming into all the brown-nosing.
And the final battle of the night went to Cassadee Pope (singing "Payphone" by Maroon 5) and Suzanna Choffel (singing Bob Marley's "Could You Be Loved"). Naturally, Adam was both flattered and impressed with Cassadee's interpretation of his hit song, which honestly wasn't half bad. Blake agreed and cited that Suzanna's song choice became her undoing in this round. So Cassadee will live to sing another day.
What did you think of Christina and Blake's decisions this week? Do you think they let the right people go? Sound off in the comments below and get psyched for next week's big three-night event of live shows where voters get to decide on the Top 12. America, it's up to you now. Do these singers justice!
Follow Kelly on Twitter @KellyBean0415
[Photo Credit: Tyler Golden/NBC (2)]
More:
The Voice Recap: I'm Going to Knock You Out
The Voice Recap: I Hate Myself For Watching You
The Voice Recap: Rosa-Biden 2012
From Our Partners:

Donald Trump Speaks Out on Ripping Kristen Stewart on Twitter, Warns Robert Pattinson: 'Back Off…She's Bad News!' — EXCLUSIVE
(Celebuzz)

Emily VanCamp, Lea Michele, January Jones: Celebrities Who Show Major Cleavage in GQ — GALLERY
(Celebuzz)