'The Voice' Recap: Hit the Road, Jack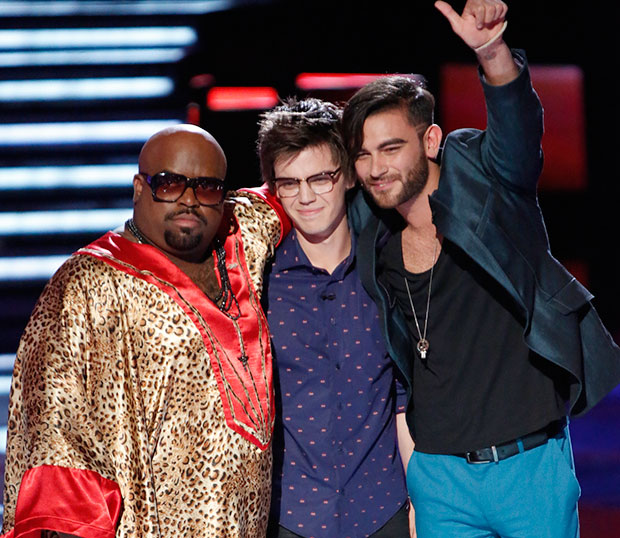 If you enjoy recycled content and watching strangers cry, you've come to the right place: the first Voice results show of the season! Last night revealed the consequences of Monday and Wednesday's live playoffs, after which fans voted to save their favorite contestants. The remaining 20 performers will be trimmed to only 12 — stay tuned.
To open the episode, Team Adam and Team Blake sing "Stronger" in the best group performance to date. With her hair pulled back, Loren Allred looks surprisingly like an older, brunette Taylor Swift. Surely there's an unaccounted-for Shriver heir out there somewhere?
The first contestant saved is Amanda Brown, still basking in the afterglow of Monday night's transcendent cover of "Dream On" — no surprise there. Second place is… Bryan Keith? Ooookay. I'm interpreting this not as a testament to the bland crooner's own talent, but as proof of how meh his teammates were this week. Adam wisely chooses to save my girl Melanie Martinez, the indie cutie-pie who recently wavered on "Hit the Road Jack," sending Loren and Joselyn Rivera home.Last season's winner Jermaine Paul makes an appearance to plug his new single, "I Believe in This Life." As Carson Daly tells him, "Welcome home." (Does Carson live in the studio? That would explain so much.) Jermaine's song is a generic Usher club hit — I like it — but the number of background dancers per square foot he squeezes onstage must be some kind of fire code violation.
Now bear with me, because I really have to tell you this. When I was about 10, my little sister and I were briefly enrolled in classes at a large children's dance studio in the next town over. Its owner and impresaria was a dancer named Miss Mariann, who was probably in her early 40s at the time — and, in retrospect, kind of a cougar. Every year, the school would stage an expansive, full-day recital with performances from each age group. But sandwiched between cheerfully clumsy routines by kids in sequins and leotards, one of the scheduled acts was an uncomfortably sexy solo number by Miss Mariann herself. Her burlesque (feather boa and all) was painfully awkward for everyone involved, students and parents alike. This, roughly, is how I feel watching Maroon 5 perform "Daylight" on The Voice.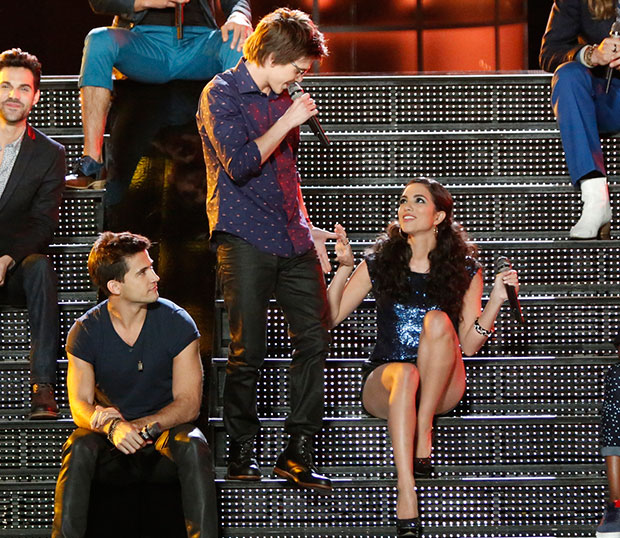 Team Blake is next on the chopping block. Scottish rocker Terry McDermott is saved first, on the heels of his memorable Journey cover. Cassadee Pope, one-time star of the band Hey Monday, is the audience's second choice. Blake's remaining team members — mariachi Julio Cesar Castillo, mini-punk Michaela Paige, and country singer Liz Davis — are all solid performers, and it's unfortunate to see any of them go. But Blake wisely picks Michaela, whose broad appeal improves her odds of advancing to the finals.
For their group performance, Team Christina and Team Cee Lo stage "Drive By" as a Glee touring number. Nicholas David, you are better than this; please forgive us.
On Team Christina, pretty-boy Dez Duron (boo) and Egyptian Sylvia Yacoub (yay) are crowned the winners by fan votes. For her third team member, Christina decides to save Adriana Louise, the endearingly self-effacing waitress from New York City. I love Adriana, but this means that the unparalleled De'Borah is sent packing. Oof… right in the feels.
For Team Cee Lo, 18-year-old Trevin Hunte — who I have tentatively diagnosed with Jack disease — predictably wins the first spot in the next round. To my surprise and delight, soulful weirdo Nicholas David is the second fan choice. Well played, America.
I would've bet 20 bucks (approximately 10 percent of my net worth) that Cee Lo would choose hipster Harry Potter Mackenzie Bourg for his final team member, but to my double surprise and double delight, he opts for loveable Arkansas native Cody Belew instead. Go Team Cody!
The Voice returns Monday night at 8 p.m. with the quarterfinals. In the meantime, follow Molly on Twitter @mollyfitz.
[Image Credit: Tyler Golden/NBC (2)]
More:
The Voice Recap: How Am I Supposed to Live Without Trevin?
The Voice Recap: Rock the Vote
The Voice Recap: I'm Going to Knock You Out

Ariel Winter's Mom Claims She Found Daughter in Bed With 18-Year-Old Boyfriend, Police Report Reveals (EXCLUSIVE)
(Celebuzz)