'The Voice' Recap: How Am I Supposed to Live Without Trevin?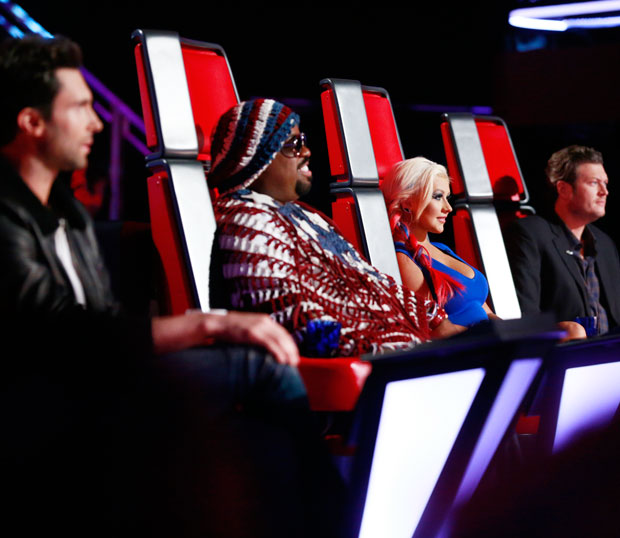 Last night, in the second installment of the live playoffs, Team Cee Lo and Team Christina took the stage. "The stakes couldn't be higher," Carson Daly says. Meanwhile, back in Rockefeller Center, an NBC executive chuckles over mock-ups of next season's on-stage guillotine and under-stage shark pit.
After a predictably incongruous group number takes three minutes of my life and throws them in the garbage, Christina's New York waitress Adriana Louise starts the show with "Firework." Congrats to everyone who drafted Katy Perry in their Voice fantasy league. I really like Adriana's version; the pitch isn't flawless, but she maintains a sweet tone and clarity to her voice while delivering on Perry's intensity.
Farm boy Cody Belew may not go on to win The Voice, but he's easily the contestant I most want to be friends with in real life. Coach Cee Lo gives him "One More Try," a George Michael ballad, to bring out his sensitive side — this worries me, because I love Cody for his Domo's ass-slapping exuberance. But predictably, I am a moron. Cody handles the song beautifully, with a young-Elvis warble to his voice.
Please give De'borah a bye directly to the finals. She proves to coach Xtina on Pink's "Who Knew" that she's a show-woman of the highest quality, thrashing around and electrifying the crowd. It's one of those rare moments where a Voice performance feels like an excerpt from a contestant's own solo concert. SHUT UP AND TAKE MY VOTES.
Oh, Diego Val, I had forgotten you were a thing; I am not super-psyched to be reminded. The way he talks to Cee Lo in rehearsal kind of reminds me of a bro-ier take on Chris Kattan's Antonio Banderas impression. Diego's cover of "Bailamos" (I know, right?) is adequate to meh.
Cee Lo has Mackenzie Bourg pawn his indie credit for a shot at One Direction's "What Makes You Beautiful." The result is adorable. Adam calls him a "throwback," a wholesome American Bandstand-style heartthrob for the edgier teenybopper set.
The coaches encourage him to step outside the box with his future song choices, but the Beliebers and their kin (and perhaps one day, Bourgliebers?) are a social media powerhouse. I expect Mackenzie will have no trouble making it through the next round of cuts.
Two stray observations about our beloved coaches: 1) Sometimes I forget that Blake Shelton is a country music superstar and not just a really friendly and excited man who's on the show because he won a sweepstakes; 2) I'm increasingly convinced that Xtina styles her hair by randomly dipping sections of it into pitchers of Kool Aid.
Christina has Texan Devyn DeLoera sing "Bleeding Love" to demonstrate a "softer side." Devyn's cover is good, in that bland but impressive way we've come to expect from her. Cee Lo and Blake are right to lament that this "powerhouse" song ultimately didn't offer room for much softness at all.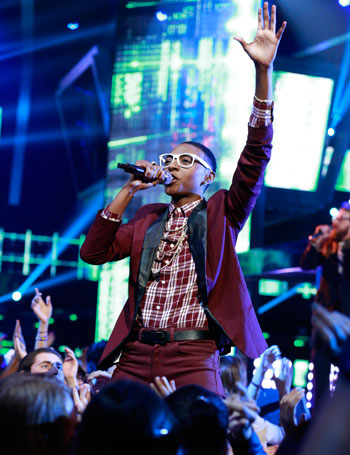 Offbeat soul singer Nicholas David performs Barry White's "You're the First, the Last, My Everything" for Cee Lo. Although his voice is reliably kick-ass, Nicholas stresses about whether he has the X factor the Voice requires (this sentence just caused an inter-network lawsuit): "I don't understand the whole swagger thing… I feel like a grandparent, like when a grandparent asks you how to work the VCR."
What's ironic about The Voice is that it's actually only purely about "The Voice" for one round — the blind auditions. At this point, a dude as abundantly talented as Nicholas David could easily get short shrift because he doesn't wear a dress as well as Devyn DeLoera.
Anyway, he kills it, to the collective delight of everyone anywhere, so please don't mess this up, America.
Sylvia Yacoub takes on Katy Perry's "The One That Got Away," accompanying herself on the piano. As was the case with teammate Devyn, Sylvia and Christina picked a track designed to showcase emotional vulnerability. But this choice is much more successful: Sylvia's voice escalates gradually and gorgeously, saving her power for the very end. Cee Lo calls it the night's best performance so far, and I have to agree with him.
Christina challenges Dez Duron with "Wanted," a country song outside his pop wheelhouse. Since dropping out of Yale, Dez has apparently enrolled in extension courses at the Diego Val School of Unlikeability. He does a fine job — and a quick Tumblr search demonstrates he's polling amazingly well with the besotted preteen demographic (eat your heart out, Nate Silver) — but to me, he's still forgettable.
For Team Cee Lo, Trevin Hunte delivers a stunning version of "How Am I Supposed to Live Without You" that almost makes me want to forgive Michael Bolton for his musical crimes against humanity. Almost. MOAR VOTES FOR TREVIN.
Find out who won the playoffs when The Voice returns tonight at 8 p.m. Clear eyes, full hearts, can't lose.
Follow Molly on Twitter @mollyfitz.
[Image Credit: Trae Patton/NBC (2)]
More:
The Voice Recap: Rock the Vote
The Voice Recap: I'm Going to Knock You Out
The Voice Recap: I Hate Myself For Watching You