'The Voice' Recap: I Hate Myself For Watching You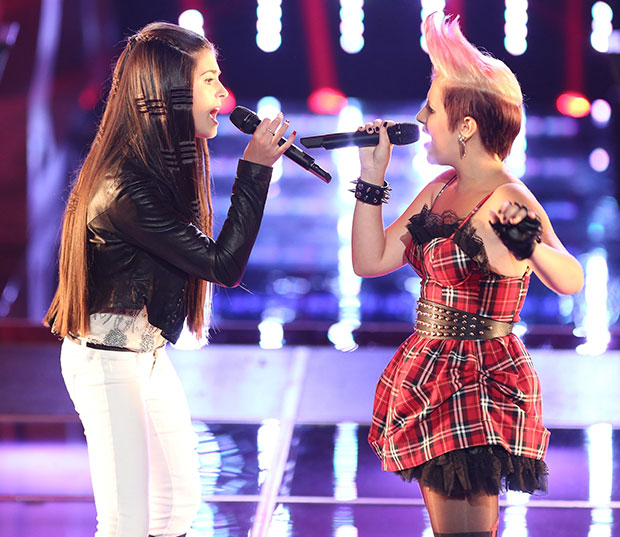 The Voice's final battles aired last night. This is where I'd make an elaborate World War II reference if the public school system hadn't failed me.
Team Christina opens the proceedings with Brooklyn-born Adriana Louise and Disney alum Jordan Pruitt, her eye on an ever-elusive post-pubescent career. Christina assigns them Katy Perry's "Hot N Cold" — kind of an obvious choice? After all, in the blind auditions, Jordan covered "The One That Got Away" and Adriana performed "Domino." (Yes, that's by Jessie J, but I thought it was a Katy Perry song for at least six months.)
Visibly nervous, Adriana is encouraged not to hold back in rehearsals. She's "just" a waitress, she worries aloud, whereas Jordan once toured with the Jonases. Hell, Jordan's probably even touched a Jonas, or at least uncomfortably shuffled past one in a narrow backstage hallway.
Despite its surprisingly low-quality karaoke backing track, their live duet is heated; Cee Lo calls the battle "the Olympics" of The Voice. Denying her Mouseketeer-Disney-Illuminati roots, Christina sends Adriana on to the knockout round. The other coaches have used up all their steals — Jordan is out of luck.
Next, Team Blake matches up country sweetheart Kelly Crapa (girlfriend thinks she can convince us it's pronounced cray-pa) and mohawked Michaela Paige. These young women are only 15 and 16, respectively, so brb while I chug a vial of Death Becomes Her potion.
Shelton chooses Joan Jett's "I Hate Myself for Loving You" for this battle. With a song like that, it's hard to think that the deck isn't stacked in favor of the punk rocker, but Blake nevertheless warns Michaela not to "oversing" and corrupt the melody. As they rehearse, Blake paces the studio with earbuds in; I have chosen to imagine that he's actually blasting one of his own songs to drown out all this god-awful non-country.
For their final performance, Kelly has aggressively crimped her hair into some kind of window treatment, while Michaela's ensemble looks like it was assembled after a Supermarket Sweep-style sprint through Hot Topic. Adam calls the performance "very sweet," "a musical pillow fight." To me, it feels like something out of Kidz Bop.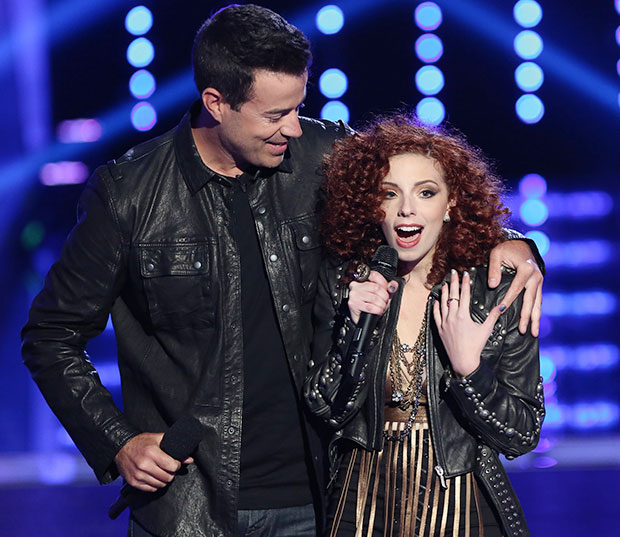 Kelly seems far more than a year younger than her competitor, and somehow frailer — despite the fact that she has at least six inches on Paige, not counting the mohawk. Unsurprisingly, Blake chooses Michaela.
The last battle of the season brings together Team Cee Lo's dancer-turned-singer Avery Wilson and Chevonne, a former backing vocalist for Lady Gaga. Both killed in their blind auditions — particularly Avery, whose "Without You" earned a four-chair turnaround. (Remind me why he went with Cee Lo?) I have a soft spot for tiny, badass Chevonne, whose body mass is at least 60 percent hair. At first, Chevonne's belting on "Titanium" gives baby-faced qtpie Avery the yips, but his voice quickly recovers its gorgeous body.
The live performance is one of the best we've seen, perhaps second to Trevin Hunte and Amanda Brown's. Their energy is intoxicating — both are headliners in their own right. All of a sudden, Chevonne is bending over backwards doing some kind of crazy Little Monster gymnastics, and then Avery's spinning and spinning more and I don't understand what's happening but it is excellent.
As much as I love Chevonne, Avery is next-level great. Cee Lo duly picks him. Christina instantly steals Chevonne, to her delight: This lady belongs on Team Xtina. And so the battles end on a high note (see what I did there?).
The Voice is back next Monday with a brand-new knockout round. Each team of ten will be reduced to only five — there are no more steals, and each artist will choose which song he or she performs. Pitch your best (and worst) cover suggestions to me on Twitter @mollyfitz.
[Image Credit: Tyler Golden/NBC (2)]
More:
The Voice Recap: Rosa-Biden 2012
The Voice Recap: 'We Are the Borg'
The Voice Recap: Blake and Julio Down By the Schoolyard
From Our Partners:

Donald Trump Speaks Out on Ripping Kristen Stewart on Twitter, Warns Robert Pattinson: 'Back Off…She's Bad News!' — EXCLUSIVE
(Celebuzz)

Emily VanCamp, Lea Michele, January Jones: Celebrities Who Show Major Cleavage in GQ — GALLERY
(Celebuzz)