'The Voice' Recap: I Was Blind, But Now I See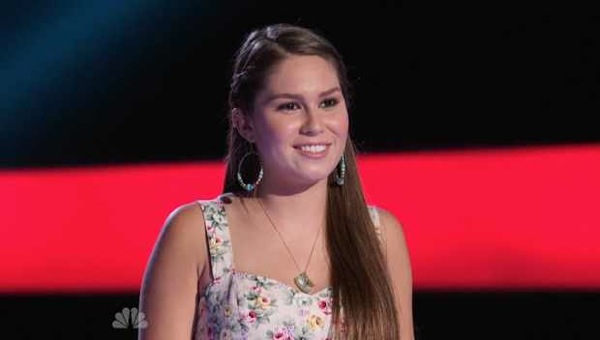 This episode marks the last night of this season's blind auditions. I, for one, am profoundly disappointed by the utter lack of blindness puns in the songs our hopefuls have chosen — no "Blinded by the Light," no "I Can See Clearly Now," nor nearly enough selections from the catalogs of Blind Melon, Third Eye Blind, and Stevie Wonder. Maybe our last crop of contestants won't disappoint.
Natalie Hernandez skipped both her prom and her brother's graduation — guess they filmed this at least three months ago — to audition for The Voice, making this the climactic scene in the teen movie that is her life. (Then again, when you're 15, every day is the climactic scene in the teen movie that is your life.)
Her earthy, distinctive voice shines on "White Horse," turning around Adam, Blake, and Christina.
Natalie's Result: Team Christina
The producers offer yet another defrosted pop star in Rod Michael, whose boy band B3 won fame in Germany — on a scale of 1 to Hasselhoff, maybe a 2.5 — but no recognition back home. You know a group didn't make it too big when it doesn't appear until the third page of Google search results for its name. (Coincidentally, were you aware that B3 is the vitamin niacin, as well as the name of a city bus route in Brooklyn? The More You Know™.)
Rod's adequate version of "Please Don't Go" has the ladies in the house screaming, but overall, he's simply not a standout.
Rod's Result: Team Nobody
Caitlin Michelle says that she discovered she could sing at the age of five, which raises the question, "What 5-year-old doesn't think he or she can sing?" A victim of intense anxiety attacks, she has found solace in music throughout her life. But I don't know, man. When I hear "panic disorder," I don't think "career in show business."
I like her retro microphone tattoo and winged eyeliner, a look perfectly complemented by her male friend backstage (siblings, or dating?) and his handlebar mustache. Caitlin brings a dramatic, bold flair to Florence + the Machine's "Cosmic Love," though it doesn't seem like an ideal song to showcase her voice.
Caitlin's Result: Team Adam
A modern-day Mozart, Nicole Johnson wrote her first song at age seven (her mom doesn't go into detail, but I think we can safely assume it was a full symphony).
Her family moved to Nashville from Louisiana so she could better pursue her music career — listening to Nicole's buttery-smooth "Mr. Know-It-All," it seems like that might not have been a huge mistake.
Nicole's Result: Team Blake
Kameron Corvet, a middle-school French teacher, sings — surprisingly — something other than "Frère Jacques." Self-accompanied on guitar, he offers a cover of "Crazy" (not the Gnarls Barkley "Crazy," unfortunately) that's good, but not good enough.
Kameron's Result: Team Nobody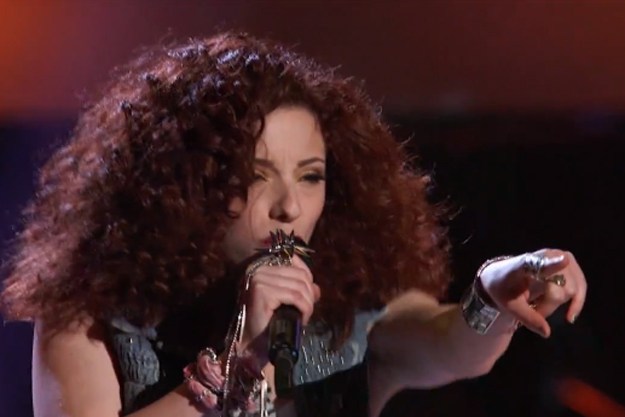 Chevonne sang back-up on Lady Gaga's Monster Ball tour, which is impressive, but it's this video that I just found on YouTube that's led me to declare myself a Little Chevonnester (the first ever?).
Her "Brass in Pocket" — oh my god, I love this song, y'all — is a lot of fun, and not unlike Gaga in style.
Chevonne's Result: Team Cee Lo
Seventeen-year-old Kayla Nevarez credits her father for fostering her interest in soul, R&B, and "doo-wops and stuff." Sadly, he isn't here to cheer her on because he's ailing from a serious liver disease — a crisis that has placed financial and emotional stress on their family. She sends a tearful greeting to him back at the hospital, and because I am a horrible person, I find myself considering the possibility that he may have died since this episode was recorded.
The coaches go crazy for Kayla's "American Boy," and rightly so. I love this song (although I have to ask — it might just be that I'm a freakish giantess — but whose ideal man is 5'7", Estelle?), and Kayla masterfully handles its fast, conversational pace.
"I'm your coach," Christina informs her, seemingly unwilling to take no for an answer — too bad, because a no it is.
Kayla's Result: Team Adam [and he's full!]
Still only 16, Celica Westbrook was offered a place on a Bieber tour two years ago, but it didn't pan out — we're never told exactly why, so I can only guess that it's because she got Justin pregnant. Also, "Celica?" It's like her parents picked a first name out of a hat full of Toyota models, and a last name out of a hat full of prominent NBA players.
Camry Durant's mature, effortless cover of "A Thousand Years" sets off a feeding frenzy among the three judges with spots remaining in their teams.
Celica's Result: Team Christina [and she's full!]
Jessica Cayne, a full-time musician from Georgia, has struggled all her life with insecurity and weight issues. She brings a bad-girl twang to "Good Girl" (honey, why you insecure when you pretty and you sing real nice?), but she goes unchosen. I have to say I'm actually bummed that no one picked her (ahem, BLAKE).
Jessica's Result: Team Nobody
(Suddenly, Cee Lo's cockatoo is perched on his head. I wish I could tell you what he's saying, but I have no idea, because as I said, Cee Lo's cockatoo is perched on his head.)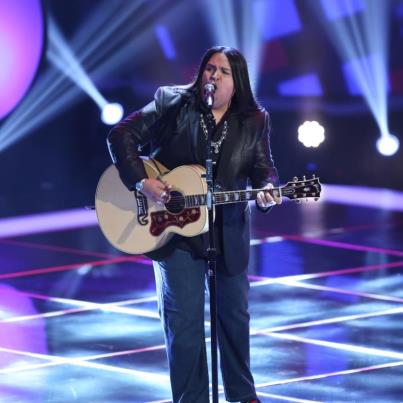 Forty-six-year-old Rudy Parris began playing music in the 1970s, but took a step back from his career to raise his daughter. Now a grandfather — though his long, jet-black hair might have you doubting that — he's ready to give it another try.
A cover of "Every Breath You Take" reveals his full-bodied country vocals, and I'm not surprised to hear that he's toured with Hank Williams III (whose real first name, Blake hammily points out, is Shelton).
Rudy's Result: Team Blake [and he's full!]
Cody Belew, the improbably (and charmingly) flamboyant son of a bull rider, believes that he must have been "an elderly black lady" in a past life. Of all the coaches, Cody prefers Cee Lo, admiring his innate sense of crazy.
His better-than-competent cover of "Hard to Handle" earns a last-second button-press from Cee Lo. Cody at first doesn't realize that Cee Lo has chosen him, so when he finally does, he lets loose with a joyful barrage of (heavily bleeped) celebratory cursing. Cody might not win The Voice, but he's certainly No. 1 in terms of s-grenades launched on air.
Cody's Result: Team Cee Lo [and he's full!]
Tonight, The Voice is back with The Best of the Blind Auditions. The battle rounds begin next Monday; I'll be preparing myself by reading books of World War I poetry and quietly weeping. Dulce et decorum est pro patria cantare.
Find me on Twitter @mollyfitz.