The Voice Recap: Instant Eliminations! Just Add Ego. Serve Cold.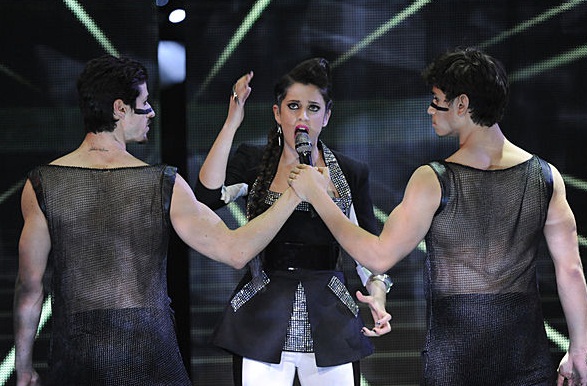 All right Voicelings, it's time! The… Quarterfinals? We're only at the quarterfinals? Oh, good God, Lemon. So, that puts us halfway through Act III of The Voice, I suppose; Act I being The Judgment, Act II being The War, and Act III being The Live Sacrifice. Monday night saw Teams Blake and Christina singing their little tribute hearts out and, courtesy of the coaches, some INSTANT ELIMINATIONS. Like Nescafe, but slightly less bitter.
But before we can partake in such stimulating acerbity, we have to sit through some more dog-and-pony shenanigans. This time, at least, the dogs and ponies are more relevant to us: The producers have noticed Adam's post-break-up funk and have agreed to let him and the rest of Maroon 5 perform one of their new songs, which is nice, because his team definitely isn't going to win this year. (I mean really, like someone's going to top Jamar? At least, I hope not.) Carsonbot tells us Christina and Blake will also be getting up on stage with their teams to perform. Well, let's go to, then!
Oh, kidding, apparently they're saving all that until later in the show. We're going right into the live performances. This constantly shifting structure is throwing me off, producers. Anyway, in case you forgot who's left: 
Team Blake:
RaeLynn
Jordis Unga
Erin Willett
Jermaine Paul
Team Christina:
Jesse Campbell
Chris Mann
Ashley De La Rosa
Lindsey Pavao
Remember, too, that the TV Gods have demanded that two of their scions, Blake and Christina, must each immediately sacrifice one team member tonight. Christina ain't happy with this. Blake ain't happy Carsonbot failed to comment on his beauty. Adam is feeling bloodthirsty glad they get to make this decision and not America, at least for now. Given the pushing through of some rather lackluster performers last round and the abysmal ratings for Awake, it's clear America isn't to be trusted, so I agree.
In RaeLynn's pre-taped interview with Blake, he calls her a true Texan, and both lose points for not saying "Texas Forever." Also, she doesn't have a boyfriend. "I don't need a boyfriend right now," she says. "Or ever," Blake Dads. She's going with "She's Country" by Jason Aldean. It's her usual fun, ass-kicking performance, bales of hay and country-stomping all over the place, but the breathiness is even more apparent than in the past.
Christina's a fan — RaeLynn makes her want to sing country. Cee Lo thinks it was her best performance, like if AC/DC did a country song. "Finally, Blake did something right," says Adam. Blake's the most proud of her he's been of anyone all season; she's proved "country can kick ass." I think we've always known that, there's just a bunch out there that's really bad, Blake. (As with every genre in every artistic medium, not just music.)
NEXT: Has his face always been like that?
Jesse Campbell's next. In his one-on-one with Christina, he looks like he's going to cry. Has his face always been like that? He's doing Beyonce's "Halo," which he says is a challenge for him. Good. …Oh, I'm going to feel awful writing this, because he's singing about his daughter, and there's pictures of the two of them hanging all over the stage, but… This is boring. I'm sorry. Even when he's tricking out the chorus like a Who at Christmas, I'm just bored.
Coaches? Cee Lo thinks it was just wonderful. Adam wasn't feeling the song choice until "it" kicked in, and thinks Jesse's definitely a contender. Blake concurs. Christina thinks he brought it on an emotional level, and liked the staging, but doesn't comment on the vocals, which is some nice foreshadowing.
Jordis Unga is super confident! Oh, Jordis. Careful. She gets "A Little Bit Stronger," and she thinks this is finally going to be her chance. She's emoting like a mother, and like with "Wild Horses" nails it vocally while still being more restrained.  
Christina thinks she looked lovely and likes when she's more vulnerable, like tonight. Cee Lo agrees. Adam loves that she's so connected to whatever she sings. Blake is happy with the side she showed tonight.
Ah, now we're going into the pre-taped packages. Christina is pontificating to her team on hunger and the importance of giving back in a special Starbucks that gives back and whatnot. They go to Crenshaw High School to hang out with the school's choir and invite them to come to the show. The kids' reactions are adorable, and another flake is chipped off my icy black heart. 
NEXT: More male strippers!
Christina has liberated her leather Playboy Bunny outfit for "Fighter." In fact, the theme of this performance is apparently leather. She also brought some male strippers seemingly just to molest Blake and makes it rain on him, and my neighbors start pounding on the wall because I guess I'm making really loud, undignified sounds. Ashley in particular acquits herself well, the others slightly less so. However, it's all so much fun that barely matters.
Speaking of Ashley, she's next. Christina was proud when she didn't cower in response to being in the bottom three. She'll be doing Jewel's "Foolish Games," adding more than a touch of rock. Not being a giant Jewel fan, I don't feel bad saying I'm quite enjoying this version. It feels range-y and original without straying into showoff territory.
Cee Lo "enjoyed it." Adam finds Cee Lo's use of understatement humorous — Ashley's been the biggest surprise for him, and he really sees now what a great choice she was. Blake thinks Christina's save was the smartest decision made this season. Christina loved the range, and loves that Ashley's growing so much.
Before getting to Erin Willett, Maroon 5 (and Wiz Khalifa) perform "Payphone," a very pop-y breakup song, during which Levine silently raps alongside Khalifa, which I find kind of adorable. He's winning me over, y'all.
NEXT: Set fire to Adele songs on The Voice. 
(Just FYI, the best part of this next package is a picture of Young Blake apparently wearing Wild Bill Hickok's hair.) Erin Willett's pleased with the decisions she's made over the course of the competition. Blake sympathizes that lost his dad just a few weeks after Erin lost hers, and they both get emotional before revealing… Oh, for… Another Adele song? "Set Fire to the Rain," this time. I've made my feelings about this abundantly clear, so I won't beat a dead horse, but… Augh. And look, she's very good. But it still feels like karaoke with way better production values than that hole in the wall in Koreatown. For example, actual flames.
Christina thinks Erin sang her heart out and made it special, though she too is always leery of Adele. Cee Lo thinks Adele would be proud. Adam "get[s] very Jewish, with the fire" (his own words) and was kind of scared for her. The one thing he would say was the phrasing could have used a little more focus, as he struggles with his own phrasing. Blake says not to listen to Adam — she was fantastic.
Lindsey's been dominating the iTunes aspect of the competition. She was going to do a medley of "S&M" and "We Found Love," but switches to Katy Perry's "Part of Me" instead because she connects with it more. There are still gimp suits onstage (giving me unfortunate American Horror Story flashbacks), so I guess the previous staging stuck. She's not really blowing it out of the water; her voice is just a little too soft around the edges.
Cee Lo's noticed the staging has become increasingly elaborate and thought she did a great job, though he hasn't heard the original. Adam offers that a few of the bigger notes got away from her. Blake says the good thing about her is that he's already a fan — he downloads her music. Christina adores her and thinks she's a grower, like Ashley. 
NEXT: Heartaches tonight.
Blake and his team do "Heartache Tonight" for us. They're sitting on gear. It's fun, but… "Fighter" it ain't. No one does spectacle quite like Christina.
Blake fangirls out about Jermaine Paul being in touch with Alicia Keys. He's doing Phil Collins' "Against All Odds." It's nice to see him slightly less theatrical. The crowd is at about a Bieber and a half.
Jermaine is Christina's favorite, mostly because he's so connected to what he sings. Cee Lo's a big Phil Collins fan ("He's got an awful lot of soul for a white guy," which Adam takes mock issue with) and thinks Jermaine did it real justice. Adam loved it, but wishes he'd tone the embellishments down a tiny bit. Blake says this is Jermaine's turning point tonight. I mean, it's not like he was in the bottom three before or anything. I'm pretty sure America already gets that this guy is really good.
Chris Mann has very real fears about the others beating him based on their more contemporary styles. So he's going with "Viva La Vida." I like the original (hush), but oof, I am not a huge fan of this rendition. There's something inauthentic about the performance — it's like a Dunkin' Donuts Artisan Bagel.
Adam comments first on Chris' wardrobe, which is never a good sign. He wanted to be really moved by Chris singing opera, and wasn't. Christina loves his growth and range. I'm not sure if he's really shown much range — everything he sings sounds opera-y. But I can barely be trusted to create a playlist for a party, so take that as you will.
We have a mere six minutes to axe two people, and the strain is showing on Carsonbot's cyber-organic mask. Christina's team is up first. She says an awful lot of nice flowery things and then sticks a fork in Jesse Campbell, who's very gracious about it.
Blake has no time to hem and haw, and unceremoniously flings Jordis to the wolves. Oh Blake, you cruel, cold scion. She's crying, and so sad, and can barely speak, but manages to choke out that she understands.
Tuesday, Carsonbot tells us, there's a surprise in addition to premiering Justin Bieber's video, and I could not possibly care less. Oh, they're going to get Bieber to perform, aren't they? In that case, get your earplugs ready, folks. Conditions are right for a Category Five Biebercane, and that ish is uglier than hitting your mother… As my mother used to say.
What did you think of the episode and the harsh cuts? Should Jesse and Jordis have gone home?
More:
The Voice Recap: They Can't Make You Love Them
The Voice Recap: Things Are Gonna Go Jamar's Way
The Voice Recap: Jay Leno and the Radio Are The Keys to a Burgeoning Music Career