'The Voice' Recap: Jewel & Ne-Yo Prepare the Troops for Battle (Rounds)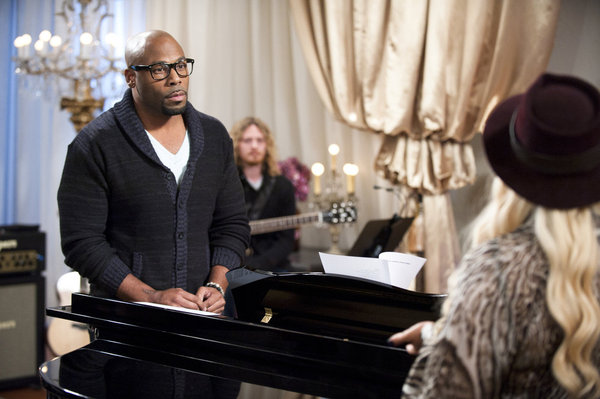 S2E5: Ding, ding, ding. It was a battle worthy of the Italian Stallion himself last night on The Voice. The battle rounds trimmed the fat as our coaches began to cut their teams to six for the live shows. We can look forward to a month of one-on-one battles where a singer's very own coach controls whether they move on or go home. Before these showdowns, the likes of Lionel Richie and Ne-Yo help our fledgling artists sprout into beautiful flowers before our very eyes in a crazy single elimination format. March Madness has got nothing on The Voice!
"You guys are going to be singing in harmony and secretly trying to destroy each other." – Adam
We started off the night with Adam's team and he brought us a true David versus Goliath match-up in the likes of heavyweight Tony Lucca against Chris Cauley singing U2's "Beautiful Day." If you're a sports fan, this was Duke against Western Kentucky, and we know how the world likes underdogs.
Adam brought in Alanis Morissette to help Tony and Robin Thicke to assist Chris. Alanis told Tony to dial it down a bit and stop working too hard, and Thicke wanted more body language from Chris, who admitted he has a tendency to rely too much on vocals. During the battle, Tony struggled at first and Chris soared but in the end, Adam could not cut his top seed and Lucca moved onto the live shows by the skin of his teeth.
"Prove to the freaking world that you can go soft as well!" – Kelly Clarkson
She didn't go soft enough. Our next battle was for Team Blake as he paired up sweet Rae Lynn against Adley in a classic test of power against finesse singing Tom Petty's "Free Falling." Kelly Clarkson was paired with her vocal equal Adley and Blake's wife, Miranda Lambert, went with little Rae, a small advantage if we do say so. Lambert was on the show Nashville Star at 19, so the two have this journey in common.
Clarkson told Adley to bring the range not just the power, which it seemed clear to Christina and Cee Lo that she did, picking her over Rae Lynn but that didn't translate to Blake. He cut the big haired powerhouse, even after a shaky start from Rae. Blake backed up his choice with the opinion that Rae Lynn told a better story with her song.
"Chris needs to really reach into his gut and find that hunger." – Christina
In one of the more emotional battles of the night, Chris Mann, our technical opera singer faced off against Monique Benabou. Lionel Richie helped out Chris, who really wanted to advance for his poor mother battling pancreatic cancer and Jewel guided Monique.
Monique kept playing those "Foolish Games" by playing the underdog role again and again. Honestly, the song "Power of Love" by Celine Dion is suited for a woman, so Monique should have felt the advantage. One moment did stick out, during the final rehearsal, Monique and Chris almost started to tear up a bit with emotion, and a possible chemistry between the two might have been struck. You heard it here first on Hollywood.com. The actual battle was absolutely neck and neck, and after Cee Lo called Chris one of the best in the whole competition, Christina chose him to stay.
"But the finger's got to stay off the trigger till you're ready to shoot." – Angie
Next up was Air Force veteran Angie against Chessa singing "Total Eclipse of the Heart," vying for the chance to stay on Team Cee Lo. Chessa was definitely the underdog here and even said if she couldn't strike that high note on stage, it was bye, bye competition. Ne-Yo was not impressed with Angie and she made a few military references about not bringing her power early. She really didn't bring it late either.
The competition wasn't really a difficult choice for Cee Lo, even with the moral support having to go with Angie and her service to this country. Angie has more talent but Chessa simply had more energy, so Cee kept her.
"To win this battle, I'm going to have to become this song." – Jordis
Blake selected his second singer of the night to move on to the live rounds, and chose between his two rockers Jordis and Brian. With Alanis on the show helping out another team, the two paid tribute to her by singing her classic tune, "Ironic." Blake was looking for an "it" factor from one of these two, something that would make him scream.
This battle was one of the big disappointments of the night. Brian couldn't shake not having a band behind him and Jordis was a wreck, psyching herself out during practice. Jordis got the first 30 seconds of the song, which was a huge advantage, but the rest of the song was flat. Blake was not impressed and even said at some point he was thinking "this sucks." He picked Jordis.
"I'm so upset right now that I have to make this decision." – Christina
The best was definitely saved for last as single dad Jesse went up against gospel singer Anthony for the right to represent Christina. The song choice "If I Ain't Got You" by Alicia Keys was perfect for the pair and this was clear by their electric performance.
Lionel had the best quote of the night with "How do you eat an elephant, one bite at a time," and Jewel inspired Anthony by calling him the clear underdog. This was clearly tough on Christina since both men were amazing and both had so much pure energy. I think an inspired "b b b baby" by Jesse mid-song pulled out the close win. But they were both classic. Jesse moves on.
It was a great two-hour way to start off the battles and really get this thing going. That's what's so special about The Voice. Just when you're ready for something new, they hit you with it and the world got a taste of this last night. So prepare for more battles next week and when you are ready for those to end, it will be just about the time the live shows start.
Let us know what you thought. Did you think the right people won? Were you blown away by the last performance? Hit us up in the comments section below.