'The Voice' Recap: Let's Stay Together, Cee Lo and Christina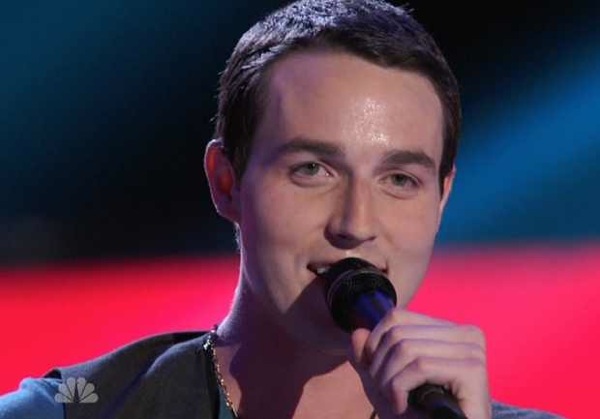 After the news broke that Usher and Shakira are set to substitute for Cee Lo Green and Christina Aguilera on Season 4 of The Voice, I sat down to watch last night's episode with a keen sense of separation anxiety. With Cee Lo and Christina officially leaving, are we about to enter whatever the opposite of a honeymoon period is? (I don't know its name, but it involves lots of crying and throwing your former loved one's possessions out of fifth-story windows.)
I grow even more nervous when Cee Lo's first talking head interview features him looking suspiciously normal in a simple black sweater — with neither a pair of ostentatious glasses nor an exotic pet to be seen. Don't give up on us yet, Papa Bear.
The auditions begin with Trevanne Howell, an exasperatingly gorgeous single mom from the Bronx. At 33, Trevanne is a relative ancient among The Voice's disproportionately young class of cadets.
She bites off a big mouthful of Whitney with "I Have Nothing," but it proves to be more than she can chew. Despite her general competence, I'm not moved — and neither are the judges. Christina gives Trevanne credit for an "ambitious" choice of song, but correctly points out that nerves had left her voice a little shaky.
Trevanne's Result: Team Nobody
Next up is Collin McLoughlin — not, tragically, Kyle MacLachlan, as my Dale Cooper-loving ears originally encouraged me to believe. Collin dropped out of a graduate-level business program at NYU to pursue singing, much to his parents' dismay. Mr. and Mrs. McLoughlin do admit that they'd finally feel validated about Collin's choice if even one of the coaches would turn around for him. So, no pressure there, kiddo.
Collin radiates a mellow, coffeehouse vibe on the Yusuf Islam née Cat Stevens classic "Wild World," accompanying himself on guitar (at this rate, a contestant could sing while simply holding a guitar and I'd still be impressed).
Well, Mama and Papa Collin can consider themselves triple-validated: three judges vie for their son's allegiance. He chooses Adam, who proclaims Collin to be one of the "purest" singers ever on the show.
Collin's Result: Team Adam
Born prematurely, 17-year-old Joselyn Rivera suffered from neurological problems in early childhood. When she turned five, a doctor "prescribed music" — hours of singing karaoke every day seemingly sped up her cognitive development. This is a touching story and all, but "prescribed music?" I'm not convinced that this was a real doctor and not an under-medicated stranger, equipped with a stolen prescription pad and a plastic Playskool stethoscope.
Joselyn offers a lively version of Kelly Clarkson's "Stronger (What Doesn't Kill You)," leaving the judges impressed with how "flawlessly" she nails the high notes.
Joselyn's Result: Team Christina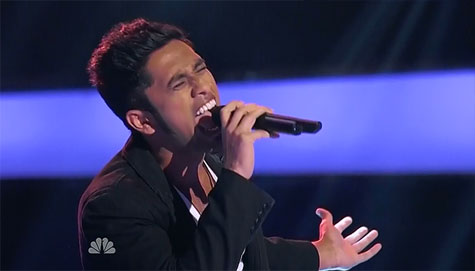 It's a bold move to go by only your first name, an even bolder move when you share that name with a beloved celebrity, and a bolder move still when that celebrity is a dog: meet Benji, a former race car driver. His "Knockin' on Heaven's Door" demonstrates self-possession and a "dynamic range" (Adam), though I personally didn't care much for his overwrought take on a song that's best left understated.
But Cee Lo, Adam, and Blake are all enthralled, particularly when it comes to Benji's capacity for screaming. (Fun fact: it's extremely loud inside race cars, and that's actually just Benji's normal speaking voice.)
Benji's Result: Team Adam
If Trevanne is our (would-be) cast grandma, Lorraine Ferro, at a youthful 52, is buried somewhere in its fossil record.
Vivacious, adorable Lorraine — a voice, performance, and songwriting coach — has the energy of a woman half her age, but is dressed in as many different prints as she is years old. Backstage footage shows her line dancing with what appear to be adult female twins dressed in identical, blue sequined tops, but this, naturally, goes unexplained.
Lorraine covers Demi Lovato's "Skyscraper," because there ain't nothing a 20-year-old can do that a 52-year-old can't do 2.6 times better. The performance exhibits her vocal power, as well as her decades of experience, but the exaggerated raspiness of her voice seems more appropriate for musical theater than pop.
Sadly, the judges don't turn for Lorraine. It's too bad; I was kind of hoping to watch this cougar devour Mackenzie Bourg alive.
Lorraine's Result: Team Nobody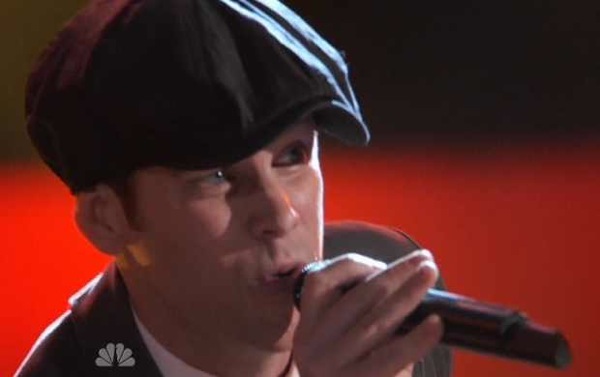 The evening's last contestant, Mycle Wastman, lost both his parents as a child, and the grandfather who raised him passed away only weeks before his blind audition. Oof.
His gorgeous, smooth rendition of "Let's Stay Together" is one of my favorite performances I've seen this season, proving an incredible vocal range. Cee Lo — no relation to Reverend Al — tells Mycle he's "more excited about him than anyone else today," and sways him away from Team Adam with his soul cred.
Mycle's Result: Team Cee Lo
In the episode's final backstage moments, Cee Lo sensually strips to his undershirt with no apparent provocation, to the horror and amusement of his fellow coaches. My earlier fears have been assuaged: the Lady Killer is here to stay.
The Voice returns on Monday at 8 for another night of blind auditions. I intend to spend the coming week curled up to a freeze-frame of Blake Shelton tenderly embracing his ACM Award.
Tweet me @mollyfitz while I get it cued up on my TiVo.
[Image Credit: NBC]
More:
The Voice Nabs Shakira, Usher to Sub for Cee Lo, Christina