'The Voice' Recap: Mackenzie Bourg and the Cockatoo of Secrets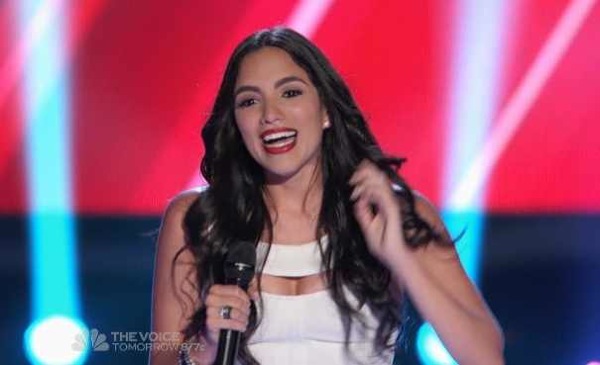 Welcome back to The Voice, your favorite reality singing competition that isn't The X Factor, or American Idol, or Eurovision. I heard Maroon 5's "Payphone" no less than seven times during my commute yesterday, which I knew was divine evidence that either a) Adam would have a great night or b) I should probably update my presets. Let's see what happens.
I like Adriana Louise's chances from the moment she's introduced, because nothing says "celebrity" like having two first names. Plus, like so many contestants on The Voice — a competition that doesn't judge, ahem, anything but your voice — she's gorgeous. I swear I'm not being catty when I describe her as a saner, prettier Octomom.
Adriana's mostly phenomenal version of "Domino" toppled the judges like so many… I don't know, things that you line up and then knock over, I guess? Personally, I thought she sounded a little pitchy on some of the sustained notes, but I can vouch from personal car radio experience that this song is hard to sing, America.
Adriana's Result: Team Christina (because, adorably, the first record she ever bought was one of Xtina's)
Competitive wrestler and country singer Casey Muessigmann proudly admits that his last name is, in fact, pronounced "music man." Is this real life?
Once Casey delivers an energetic cover of "Sweet Home Alabama" — complete with an instantly legendary "ass-spanking" dance move — there's little doubt as to where he'll end up. Blake's eyes bulged at the very sound of Casey's footwear as the contestant walked on stage. "Boots," Blake muttered, to no one in particular, perking up like a velociraptor at the clatter of fallen dishware. The other coaches didn't stand a chance.
Casey's Result: Team Blake
Now, I know what you're thinking. "Where are all the biracial Wyoming natives? Jesus, NBC, it's 2012." Well, boom — quota filled. Meet Aquile (pronounced "ah-QUILL," like how you might react to an assault by a porcupine), a professional guitar player and also, surprise, my new Voice boyfriend.
His "buttery," confident take on "Your Song" wins the interest of three judges, and of every pair of ovaries in the house. As Mama Christina puts it, "Aquile gives me the chills."
Aquile's Result: Team Christina
Always the bridesmaid and never the bride, Ryan Fogarty works as LeAnn Rimes' tour production coordinator. Rimes only learned that Ryan (who is, in her estimation, "the cutest thing in the world") was a singer when they went out to a karaoke night together.
Unfortunately, Fogarty's overwrought cover of Chris Young's "Tomorrow" sounds just like that… karaoke. His voice has a great tone, but lacks consistency and power.
Ryan's Result: Team Nobody
(Excerpts from a few more failed auditions zip by. Tonight's Least Valuable Player is someone named Matt Carr, who took the title of "Sittin' on the Dock of the Bay" literally — awkwardly perching on the edge of the stage for a warbled performance of the song. Nope.)
Mackenzie Bourg contracted "a virus that shut down all [his] organs" last year, at only 19. Let's pause for a moment to reflect on his incredible struggle for survival and the trials, both physical and emotional, that he and his family must have endured.
Okay, cool, now I am legally allowed to make fun of him. Mackenzie is a hipster Harry Potter, decked out in a bomber jacket and the kind of glasses you might wear if you worked at NASA in the 1960s.
The look may be Hogwarts, but the voice is John Mayer. (Jennifer Aniston's future daughter — I know you are reading this — stay away from this man.) Mackenzie auditions with a fun, vocally complex cover of "Pumped Up Kicks," then eagerly gulps the Cee Lo Kool-Aid.
Mackenzie's Result: Team Cee Lo
(HOW IS THIS MOMENT, FIFTY MINUTES INTO THE HOUR, ONLY THE FIRST TIME I AM SEEING CEE LO'S COCKATOO TONIGHT. Get your s**t right, producers.)
Julio Cesar Castillo no es marinero, es capitán. A mariachi veteran, Julio is here to perform the first-ever song on The Voice sung entirely in Spanish. Castillo fires up the crowd with "La Bamba" and, in Blake's words, his "technically great" voice.
The judges encourage Julio to continue to sing in Spanish, and even ask him to serenade them with a mariachi tune on the spot. That's like Johnny Carson inviting you over to the couch, you guys. In honor of Julio, I may even start writing my recaps entirely in Spanish — to be fair, they'll probably be exclusively about what food I would like to order and what color my house is.
Julio's Result: Team Blake
The black and red neon fever dream that is The Voice is back tomorrow at 8 pm EST for another installment of blind auditions. But be careful: they say that if you die in The Voice, you die in real life.
[Image Credit: NBC]
More:
The Voice Premiere Recap: "Hey, Soul Sibling"
The Voice Ratings Are Down, but Cee Lo and Co. Are Still First
The Voice Shows X Factor Some Teeth: Why It's All About Britney