'The Voice' Recap: Perfect Ten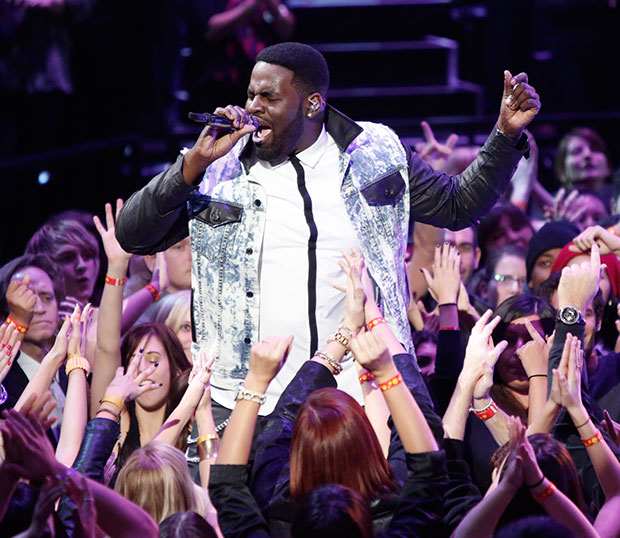 Welcome back to The Voice. The top 10 contestants brought their A-game for last night's live episode — knowing the bottom two will be eliminated tonight.
In support of Christina Aguilera's new album Lotus — which Carson Daly dutifully reminds us about every 45 seconds — Blake Shelton joins Xtina (who is, adorably, about three feet shorter than he is) for the country-tinged ballad "Just a Fool." It's a lovely song, but the absurd production values we've grown accustomed to on this show make anything short of a full-on fireworks display seem a little dull.
In rehearsals, 19-year-old diva Sylvia Yacoub is immediately upstaged by Coach Christina, in an uncannily matching coral eyeliner-lips-hair trifecta — that's why she's a superstar, people. This week, Christina is assisted by record executive Ron Fair, who I mistook as Elvis Costello for two wonderful seconds. Ron has clumsily donned a fedora, the universal symbol for "I'm not a suit, I'm totally creative, and this has nothing to do with my worsening baldness — right, guys?"
Sylvia is back on the piano for "Girl on Fire." Although she kills it on the refrain — a perfect fit for her powerful voice — it's not her best outing. But that's not saying much. Unless otherwise noted, assume all of Yacoub's performances are excellent.
It's amazing to see how Sylvia's metamorphosed since her blind audition — from a boxy blazer and teenage curls to expensive make-up and a metallic peplum (that's right, fashion, I know what your words mean) mini-dress.
The producers have clearly tried to work that same magic on unapologetically mulleted Terry McDermott, succeeding only in semi-flattening his hair. Blake sticks with Terry's classic rock strengths and assigns him "Summer of '69." How does he hit those high notes? "A good old wedgie," Terry explains.
As always, McDermott delivers. His rock-n'-roll style cannot be improved upon — I'm so relieved that the show hasn't felt compelled to push him out of his genre of choice. He's also the only contestant to regularly acknowledge the existence of his band members, playfully interacting with them like a real frontman.
If there can only be one, I wouldn't mind if it's Terry. I honestly don't think he'll win The Voice — though he's a lock for the top eight — but I'd happily buy advance tickets now for Terry's national tour, Sixty-Year-Old White Dudes' Favorite Songs Live.
Carson takes a moment to acknowledge the cast of Guys with Kids in the audience, including Jamie-Lynn "Why Is Meadow Soprano on a Crappy Sitcom?" Siegler, who — lest we forget — was once an aspiring pop star herself. "If you're here, where are the kids?" Carson asks, because he believes that all television shows are documentaries.
Melanie Martinez, the youngest remaining contestant, covers the White Stripes' "Seven Nation Army" on guitar. I do like Melanie, but as I've said before, her cutie-pie whisper has largely lost its charm. She identifies herself as a "softer singer," which seems like an understatement. If she stood within a few feet of Sylvia on stage, she'd be blown away like a tiny, two-tone tumbleweed.
"Seven Nation Army" is an interesting, relatively gritty song choice — Adam Levine reports that Melanie pressed for it herself — and I like that her own surreal, butterfly-heavy photography is incorporated into a slideshow behind the stage as well as the print of her dress. Nevertheless, she fails to impress.
Cee Lo Green's unsinkable Cody Belew is up next, co-mentored by — holy Dreamgirls, Batman — Jennifer Hudson, dangerously crossing the American Idol and Voice streams. I love it when male singers cover Beyoncé (He-yoncé?), so I'm excited to hear he'll perform "Crazy in Love."
I am still a [hashtag] Belewer, but this performance falls flat for me. Looking like an evil chain-mail Michael Jackson from the future (and a slick of eyeliner away from Adam Lambert), he brings the "bam bam," but the song doesn't really suit his voice. Hudson had advised him to adjust the key in rehearsals — I can't decide if it should be higher or lower, but it's still not quite there.
Yet, as Christina says, he "worked it like a true diva." Cody remains a force to be reckoned with.
Bronx native Bryan Keith takes on Billy Joel's "New York State of Mind" for coach Adam. Bryan is blossoming into a formidable crooner — his simple, lovely version of the song is anchored in his calm and confident stage presence. Cee Lo rightly praises him for singing "like a man's man." More Billy Joel, please. If you want to keep the Mom vote locked down, Bryan, how about a little "Just the Way You Are?"
After a relatively weak performance last week, Amanda Brown is ready to bring it. Grace Potter's "Stars" is a slower, more emotional choice than what she's offered lately, but the risk pays off. Her gorgeous, vulnerable performance has one-time coach Cee Lo pining for his "favorite mistake."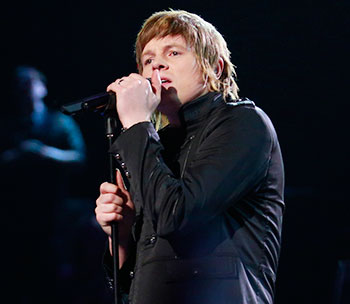 Even Nicholas David is looking suspiciously well groomed — his long locks have been lustrously blown out, and I expect it's only a matter of time before we see some Farrah Fawcett layers. Backed by a full gospel choir, he sings the Bill Withers classic "Lean on Me" and plays the piano.
I can't imagine a better song to showcase his talents — his cover is beautifully mellow and polished. On the strength of this performance, Cee Lo hails Nicholas as "the voice of a generation," and eager beaver Blake calls this the best episode of The Voice ever.
Oh, dear. Sweet, sweet Trevin Hunte is going rogue — against the advice of Cee Lo and J-Huds, he decides to abandon the ballads that have made his reputation and explore a new side of himself with Usher's "Scream."
I hate to say it, but this is the episode's weakest performance. Trevin can't seem to handle the accelerated pace of a dance song. He's off-key throughout the chorus, and there's an awkward disparity in volume between his vocals and the background track. The overall effect is uncomfortable.
I do appreciate the change in style, and I expect that Trevin — long a favorite to win the season — can overcome this misstep. To quote Adam, still confident in Trevin's chances, he "could sing the dictionary."
Cassadee Pope's outfit looks like she borrowed Miss Teen Minnesota's evening gown for the night, but then accidentally tore open the dress backstage with only thirty seconds to air and desperately threw on leggings underneath.
She covers Miranda Lambert's "Over You," a song co-written by coach Blake about the untimely passing of his brother. I'd written off Cassadee as a drugstore generic for Avril Lavigne, but this raw, poignant performance is a surprise. I love it.
A few seconds of watching a moist-eyed Blake proudly watch Cassadee perform "the most personal" song of his career aaaaaand I'm tearing up. I hope she'll continue to experiment with songs outside her pop-punk comfort zone.
Full disclosure: I'm not convinced that beady-eyed Dez Duron isn't a psychopath — something along the lines of Patrick Bateman, or worse, Tom Cruise. That makes it all the more painful for me to tell you that he killed it last night. His jazzy, confident cover of Nina Simone's "Feelin' Good" brings the house down. Dapper in a white tuxedo jacket, Dez doesn't just act like Sinatra, he somehow manages to sound like him, too.
The Voice returns tonight at 8 p.m, after all the votes have been counted. Follow Molly on Twitter @mollyfitz.
[Image Credit: NBC (2)]
More:
The Voice Recap: Stayin' Alive (Until Next Week)
The Voice Recap: hit the Road, Jack
The Voice Recap: How Am I Supposed to Live Without Trevin?

Miley Cyrus Debuts Even Shorter Shaved Hairdo (PHOTOS)
(Celebuzz)

Mila Kunis and Ashton Kutcher Kiss During Romantic Date Night in Rome (PHOTOS)
(Celebuzz)