'The Voice' Recap: Please Welcome Justin Bieber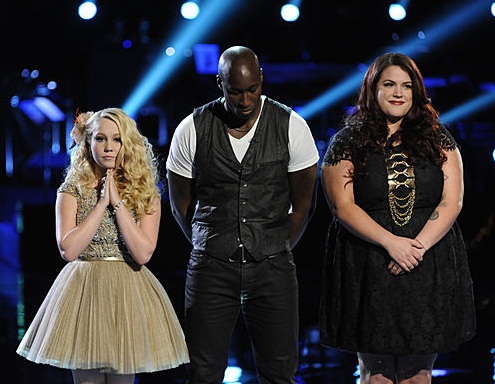 So, this recap is brought to you by lack of air conditioning in my apartment, which has made me cranky(…ier). That, coupled with the prospect of The Wanted and Justin Bieber, means we're at Maximum Curmudgeon. Apologies in advance for the crotchetiness.
Previously, on The Voice: Blake made a terrible decision and made Jordis cry, earning my enduring scorn — and Christina made a slightly less terrible decision and got rid of Jesse. (Personally, I would have booted Chris Mann.) Tonight, we return to our regularly scheduled format of one singer from each team being saved via the magic of iTunes and The Internet, the coaches each grabbing one from the jaws of defeat, and two tributes' dreams being crushed.
First, a quick What Are the Coaches Wearing?: The other three are much more casually dressed, but Cee Lo has busted out his jacket encrusted with rubies from the treasure stores of Casterly Rock.
The Wanted are doing something. It might be singing. These guys have absolutely nothing on the boy bands from my youth, sorry. The crowd, apparently composed solely of people who are really, really into these sorts of non-choreographed violations of the Three Laws of Robotics, is at three Biebers. Team Blake joins them towards the end to do absolutely nothing but say, "Oh oh oh oh oh," like if Shireen Baratheon's fool Patchface were split into multiple people.
Afterwards, Carsonbot more fully addresses the controversy surrounding Jesse's dismissal, which, speaking of Game of Thrones (season one spoiler alert!), was not unlike the shocking death of one of our main characters last season. Adam (our sly Littlefinger, if we're thinking of the coaches as members of the court) was surprised, but respects that it was Queen Christina Lannister's decision and knows she put a lot of thought into decapitating cutting Jesse. Cee Lo (Varys, obviously) likes how emotionally invested everyone is but cautions us all to put ourselves in the coaches' shoes. Cee Lo, people barely like putting themselves in their own shoes. Queen Christina makes this all about her and defends herself by saying it plays into her strategy, and that she also has to be true to herself. What that strategy is, we don't hear, but no doubt it will get her closer to the Red Throne of LA-steros. She has no doubt Jesse will be fine, and I don't think she's wrong.
After a quarter of the show has come and gone, Carsonbot obliges my desire to know who's safe already — and tells us that America has granted Chris Mann his life. Grobanites, I blame you for this. So Ashley and Lindsey are shooed off to prep for their "Lose Yourself" moments.
Blake Baratheon's heart is being louder than his mind right now. Don't play into that stereotype, Blake. Turns out America loves Jermaine Paul the most (it has his name in a heart on the back of its Trapper Keeper), meaning RaeLynn and Erin are left to see which can win Blake's noisy heart.
Ashley De La Rosa is doing "You and I," and I'm a little disappointed it's not the Wilco/Feist song, but that's just me, I think. She's good. Adam loves her, but didn't think it was her best performance, which is a shame. The audience is out of control and will not shut up, despite Adam's entreaties, and I imagine the mere presence of Ilyn Payne would accomplish in this case. Blake would keep Ashley.
NEXT: The performances continue.
Lindsey Pavao goes with "Please Don't Go" in her usual other style. Cee Lo thinks it was wonderful and that she's charming, and hopes her attitude keeps her warm. Also: "Good luck, darling," which doesn't sound like much of a vote of confidence. Blake, like his stubborn Baratheon counterpart, sticks to his Ashley guns.
Next: Bieber Fever!
Oh, but before we get Queen Christina's decision, Justin Bieber (who I generally just ignore but is irritating me enough right now that I will name him our Joffrey) premieres a clip from his video for "Boyfriend." I am pretty sure I can hear the audience here in New York. The clip is… whatever. He still looks like a child, so this all feels a bit icky. Apparently Adam and The Biebs are bros and were going to do a super group thing, which explains a lot about that song Maroon 5 did last night. Joffrey Bieber reveals that "Believe" will drop June 19. He'll be performing on the finale, possibly because he feels bad about NBC's ratings woes, so set your DVRs. He gets chummy with the judges as he leaves, except his mother Christina: she goes for the handshake, and he goes for the hug, and she treats contact with his virginal skin as though it were literally radioactive.
Next: Christina makes a decision.
Finally, it's time for Christina's decision. After being upstaged by The Biebs, she busts out the waterworks and whimpers about loving them both and going with her heart, which means Lindsey is safe. She hugs Ashley for all she's worth.
In case we forgot, this is hard for the coaches. We get into a pre-taped segment from that acoustic concert Blake and his team did a couple weeks ago in LA. Blake doesn't sugarcoat it. Most of the people there are there to see him — but not for long, he wants them to steal his fans. There's that Baratheon generosity! It's all very heartwarming.
Erin goes with "Proud Mary," an interesting choice. She kicks its ass. Queen Christina loved her spirit and energy.
Next: The final countdown.
RaeLynn does "If I Die Young." None of the things I liked about her at first come out in this performance, and she tries to leave the stage immediately before Carsonbot's Go Go Gadget Arm is activated and stops her. Adam qualifies that he's always been a fan, but would have curbed some of the tricking out she did.
What you gonna do, Blake? You only have two minutes, now. You're going to talk more about how hard it's going to be? For like a minute and a half? Okay. Carsonbot begs him for a name, we're running out of time, and… Erin. Blake saves Erin. I am thankful for Ilyn Payne's absence, because RaeLynn reminds me of my sister, who's also 17. I would be upset if she lost her head.
Well, that was less interesting than last night. But hey, maybe next week Cee Lo and Adam will have a really riveting conversation about power dynamics on the Small Council among the coaches. And their teams will give good performances, so we can hear some more about how difficult this whole thing is. Regardless, we'll see you back here the next morning to lovingly lambaste and coo and snark.
More:
The Voice Recap: Instant Eliminations! Just Add Ego.
The Voice Recap: They Can't Make You Love Them
The Voice Recap: Things Are Gonna Go Jamar's WayHollywood.com